Schedule Twitter Posts
Save time by scheduling your Twitter posts in bulk, and keep your Twitter audience engaged.
Get Started Today
Why Schedule Posts to Twitter?
Sometimes it's nice to have a break. Schedule your Twitter posts to go out on the weekend, or when you're not around. You can even batch schedule once a week to save time in-app.
Grow your followers.
Consistent Tweeting is one of the best ways to not only keep your followers engaged, but also attract new followers.
Pricing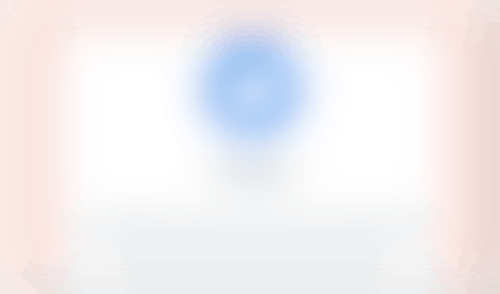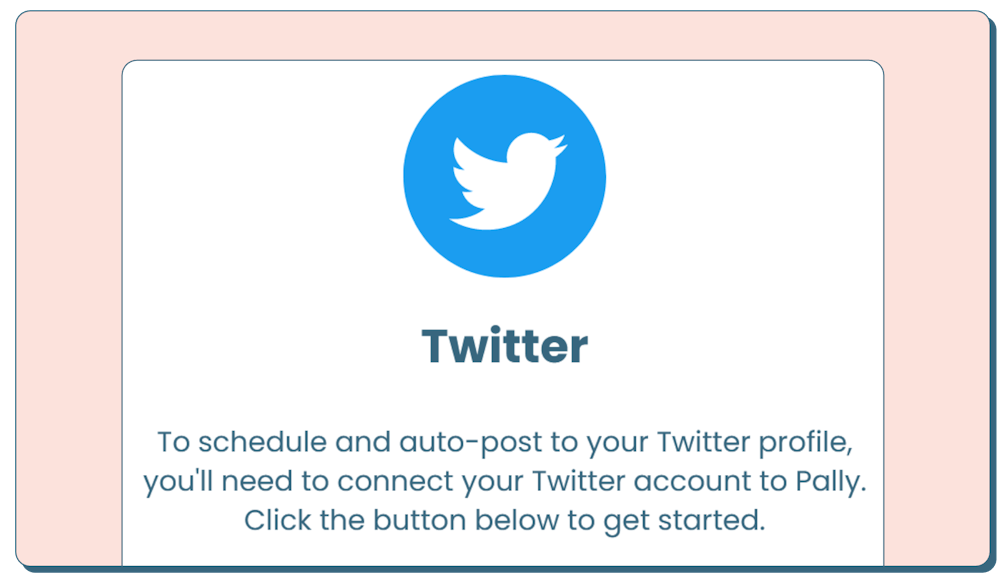 Save lots of time.
No need to spend hours in front of your computer or phone, Tweeting away. Schedule your Tweets in bulk, then go and lay in the sun!
Get Started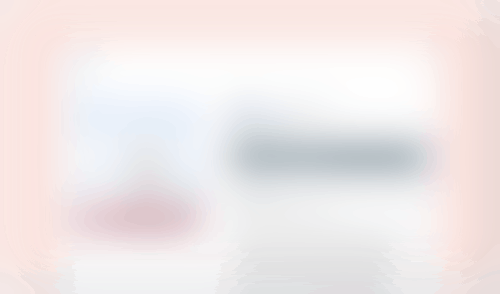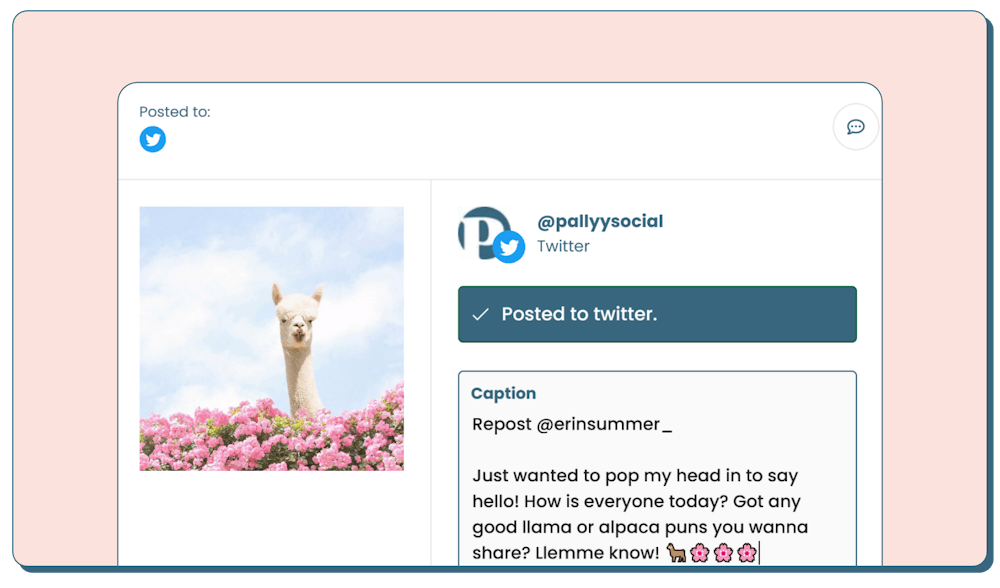 "I love the feature which allows me to send to Twitter and FB without media. I post a lot of links back to my blog. That little checkbox forces the destination to use the default image from my blog post, which is exactly what I want."
Bob Smith - The Static Dive


How to schedule to Twitter —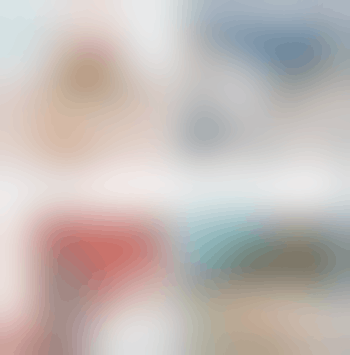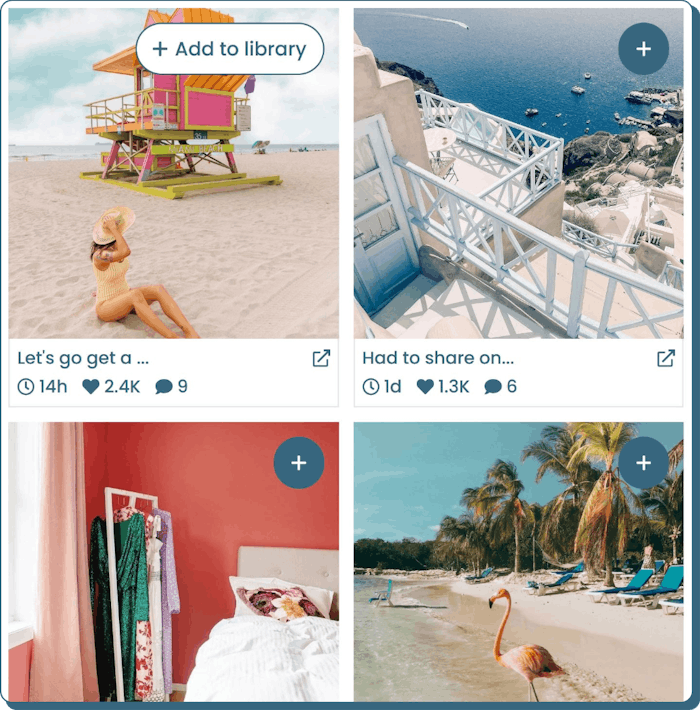 1. Upload your media
Upload media to use in your Tweet. Want to schedule a text only Tweet? No problems - just upload any image to use as a placeholder.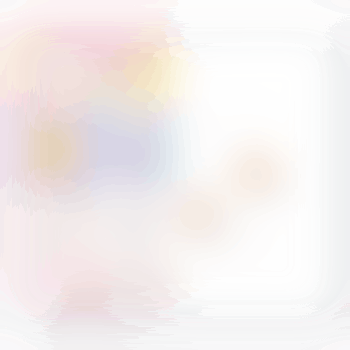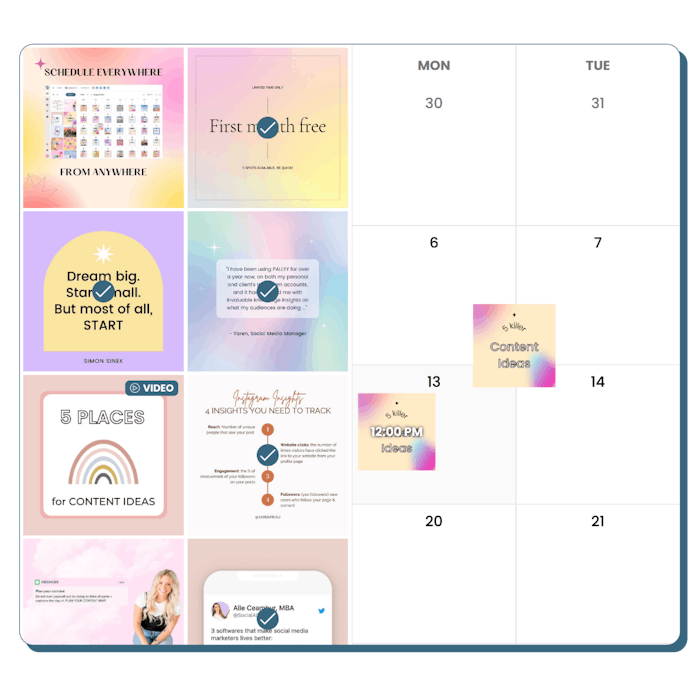 2. Drag to the calendar
Choose the media from the sidebar and drag it onto the calendar on the day/time you want it to post (can be edited later).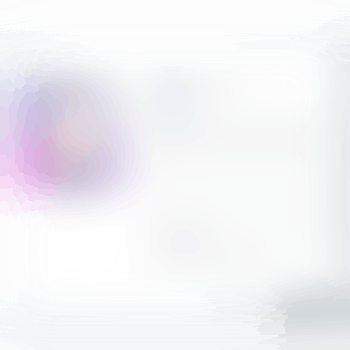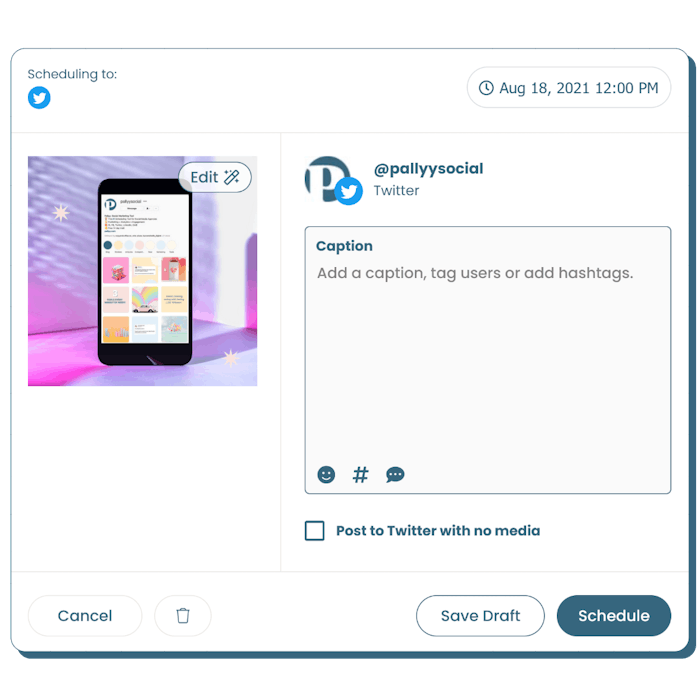 3. Add caption & schedule
Create your caption and schedule. If you want to post as text only - check the box and we will post as text only. Include a link and it will show the preview card on your Tweet.
"It really helped me show my clients that they can trust me to not just manage the accounts - but also understand and be better from month to month."
Yoav Moar - PRPL Digital Agency


FAQ
Does Pallyy support auto-posting to Twitter?
Yes, Pallyy supports auto-posting to Twitter. Just schedule your Twitter post and when the time comes, Pallyy will automatically publish it to your Twitter account!
Can I schedule a text only Twitter post
Is Pally approved by Twitter?
Can Pallyy schedule Twitter with other socials?
You can also schedule to —
Start scheduling to Twitter!
Ready to start?
Start scheduling on our Free plan - no credit card required, or trial Premium for unlimited scheduling, multiple social sets and full access to Pallyy.