An important part of any complete Instagram strategy is hashtag optimisation and planning. Hashtags are a great way to get your posts in front of your target audience, while also acting to categorise your content.
It's important to note that the best hashtag strategies aren't just about pure reach, but rather about targeted reach, and it's an incredibly effective way to grow your following when used correctly.
1. GO BIG
Depending on who you speak to, the ideal number of hashtags to add to a post vary from 3 to 30, with 30 being the maximum capacity. Where we're concerned, it's always best to give yourself the best possible chance of being discovered by using all 30. Bear in mind though, that all 30 hashtags used need to be tailored and relevant to your content, business or target audience.
You can use this hashtag generator to get ideas of hashtags to use.
Adding high volume hashtags that aren't relevant can seriously backfire, as there's the option for users to report your post which may result in Instagram hiding your content under that hashtag, AKA "shadow banning" you.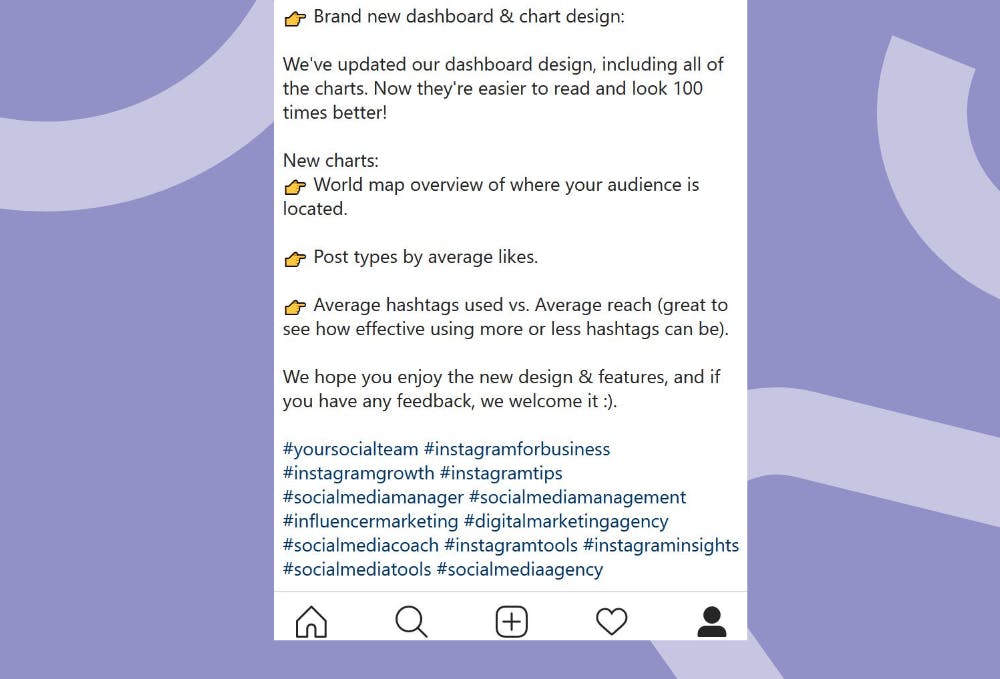 2. PLAN YOUR HASHTAGS
You know the saying; if you fail to prepare you are preparing to fail. Failing to plan your hashtags, and writing them on the go or just before you post isn't the best idea if you're wanting to take your content seriously. In fact, we recommend creating 'hashtag sets'. Hashtag sets are 3-5 groups of hashtags that all relate to each other, which can be applied to different types of content.
For example, you might create a set that relates to fashion, which you can then use on any post showing off your #OOTD, and another set that relates to sustainability which would be perfect for when you're showing off your morning coffee in your Keep Cup.
We also understand that finding relevant hashtags can be tricky, and especially when you need to find 30 unique ones. Here are three of our favorite methods for finding hashtags:
Search related hashtags
By searching for one hashtag that strongly aligns with your content, for example #EthicalFashion, you can view all the related hashtags that are often used in conjunction with it.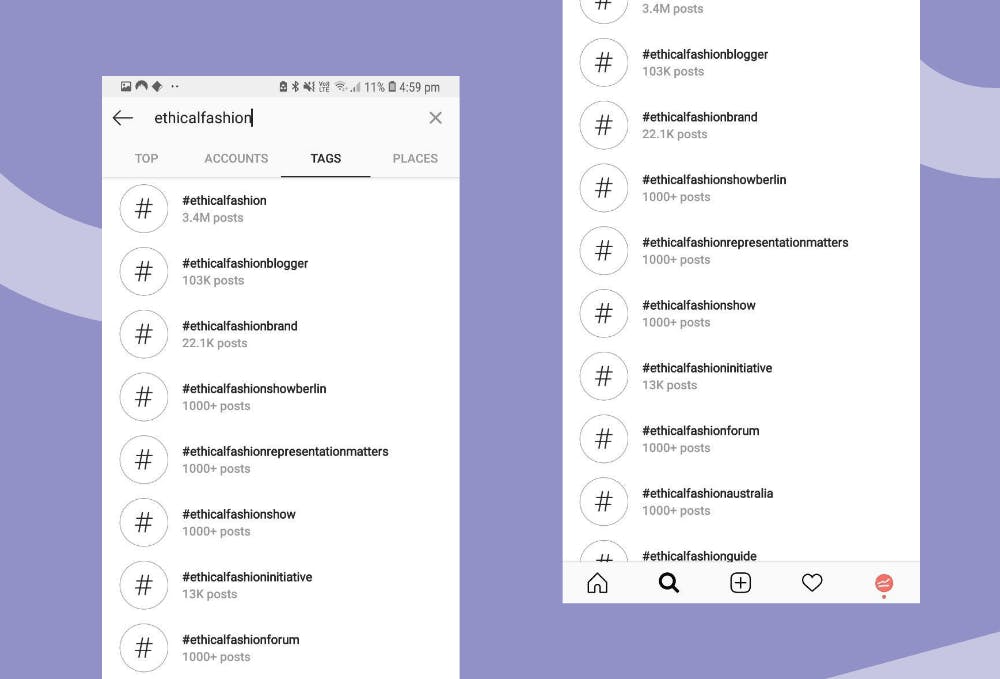 Review Your Competitors' Hashtags
We're not saying you should copy and paste your competitors' hashtags, but we are recommending using successful brands as a case study. Review their top performing posts and the hashtags that were used on them to gain some insight.
Let the Explore Page Inspire You
The Instagram Explore page displays content that is performing well and that the algorithm thinks you'll appreciate, so by filtering the content and choosing a post that resonates with you, you can gather hashtag inspiration from that content.
3. HASHTAG VOLUME
While you're sourcing hashtags, it's very important to take note of the usage volume of each hashtag. The higher the volume on the hashtag, the lower the chance of your discovery due to the fast nature of the posts. For example, the hashtag #Love has been used 1.7 billion times, with hundreds of new posts being added every minute.
Ideally, you'll create a mix of hashtag volumes, with a good rule of thumb being 10 hashtags with a volume of between 5,000 - 10,000, another 10 between 10,000 - 50,000 and the final 10 being between 50,000 - 500,000.
4. DON'T NEGLECT STORY HASHTAGS
In addition to static feed posts, Instagram allows you to add up to 10 hashtags per story. With many people 'following' hashtags as well as accounts, adding hashtags to your stories can be incredibly beneficial in extending your reach and introducing you to new audiences.
A popular method of 'disguising' your hashtags in a story is to shrink them down and place a sticker over them, or if you have a solid block of color, you can also shrink your hashtags down and set them to the color of the background, making them invisible.
5. REVIEW AND REPORT
An important part of any strategy is to set time aside for review in order to discover what's working well, and what needs adjustment. Our new hashtag insights tool allows you to do just that. Knowing which hashtags have gained you the highest volume of likes, versus the lowest volume of likes, enables you to optimise your hashtag sets and add new hashtags for testing.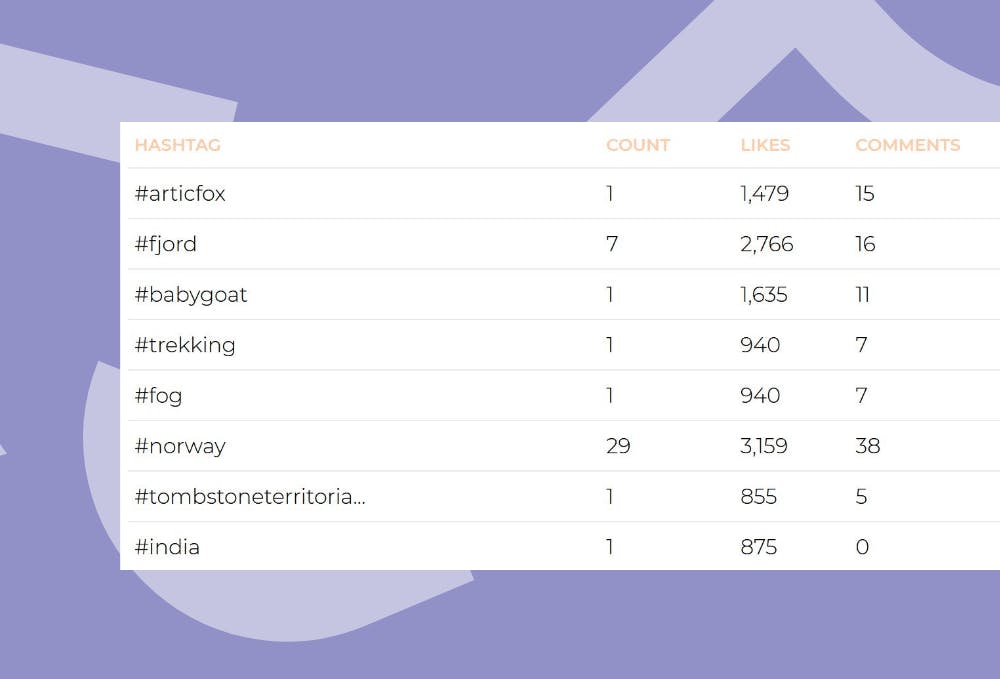 When applied correctly, hashtags are an incredibly effective method of building a strong and engaged audience on Instagram.