Knowing how to use user generated content is one of the best ways to promote your brand and build trust within your industry, not to mention, it allows you to fill your social media feeds with new and exciting content of customers using and reviewing your product!
This is a proven method for increasing brand loyalty, trust and sales in a variety of industries.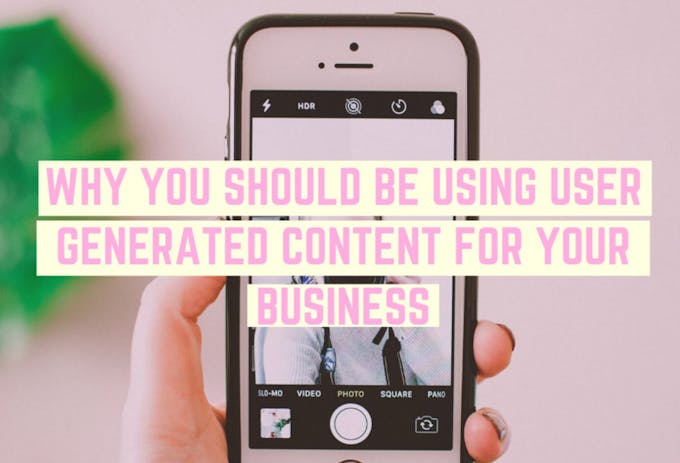 What is User Generated Content Exactly?
User generated content is content that is created by your fans, followers or customers. Anytime you snap and post that Insta-worthy brunch photo at your local cafe, or post your latest purchase you're excited about on your Instagram Story, you're creating user generated content (UGC).
For a business owner or brand, this is very exciting to see your customers actively sharing and promoting your product or service for you!
In a nutshell, UGC is content that has been created directly by the consumer, and not by your own company.
What are the Benefits of Using User Generated Content for your Business?
Statistics show that UGC is 50% more trustworthy than any other type of content. Why? Because it's the word of mouth equivalent on social media, allowing people to share their experiences, products & emotions with a brand.
Because of this, 75% of customers rely on social media when it comes to making a purchase decision. The more trust they have with a brand, the more loyal they will become. We all want our customers to be loyal to our brands, so UGC is one of the best strategies out there to promote brand trust and loyalty.
It's very important to create a user generated content strategy for influencing your customers to promote or post their experiences with their products - The more UGC you can create, the more it will become a trend and create itself. It's a flow on effect. But first it's all about getting the habit started with your current customers.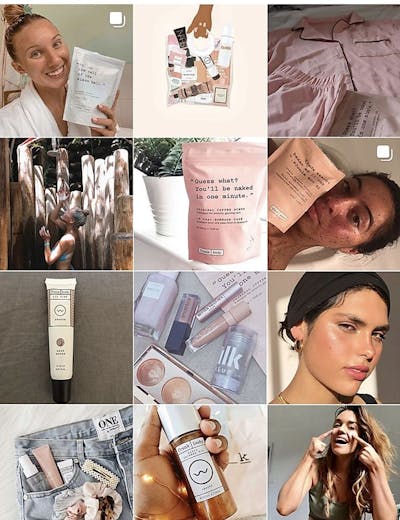 Check out @frankbody's Instagram account above.
Frank Body is a skincare company that use a combination of their own content, combined with images that have been taken of their customers using their own product.
This was a powerful strategy the brand used in the early days of the company, allowing customers to use and post their own results of the body scrub to Instagram. The business grew from this specific trend they created with their own consumer.
How to Develop a User Generated Content Strategy for Your Brand
There are a number of ways that your brand can create and deploy a strategy to increase the amount of UGC your customers create in showcasing your product or service. Below are two options that you could consider, keeping in mind the values and goals of your brand.
1. Create A Hashtag Competition
Create a competition for your customers to snap a selfie or make a video either using, reviewing or showcasing a particular product or service.
In order to be a part of this competition, create a particular hashtag that will need to be included in the entry. The more you can build hype about this particular competition, the more traction it can receive and turn into a social trend. Keep the hashtag and competition prize relevant to your brand to help drive awareness.
2. Incentivise Customer Reviews and UGC
Create a strategy to help customers offer reviews in a form of social media posts. You can do this by offering discounts, coupons or reward points in exchange for customers creating a review or sharing content about the product. Make sure that the incentives you offer are in alignment with your customers wants and needs.
How to repost User Generated Content?
Instagram stories are a great way to repost and share customer created images or videos.
Simply click on the airplane icon on a post, and then click "add to story"

Another great option is repost a story that your brand has been tagged in. You'll need to be tagged first, in order to repost.
You will receive a notification in your Direct Message Inbox. There will be an option to 'add this to your story'. Click this and it will be automatically posted to your Instagram Story.
Tips on how to repost UGC effectively:
1. Create some hype!
If you have a product launch coming up, send out the exclusive new product to select customers and ask them to send back reviews and product related UGC.
Once you gather all of your UGC content for this date, start posting this content as a lead up to the launch date, or on the selected launch date. This will create a hype and excitement surrounding your new product.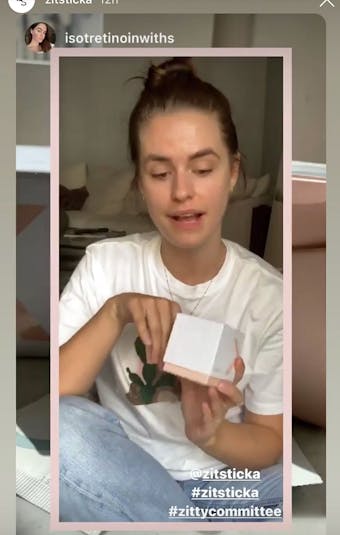 Above @zitsticka has reposted some UGC content from a customer using and reviewing their skincare products - This is a great way to build trust and gain more customers.
2. Share real life reactions
It's important to keep this hype going - make sure that you share any reactions your customers have had to your products.
Think of how you can creatively incorporate reviews and feedback from your followers who have used the product and LOVED it.
This is a great way to keep authenticity and build trust.
3. Re post images to your feed
In order to keep your social media feed fresh and exciting - use images that have been taken by followers, fans or influencers who are promoting your brand.
Please note, it's always important to ask for permission first, before posting your customers content.
Once you've got permission, simply screenshot or save the image and re post into your feed.
Always credit the original owner of the image and tag them to help promote your fans too! This is a useful tool to build relationships and even brand ambassadors.
What are you waiting for? Now that you know how to use user generated content, it's time to get out there and start creating your next UGC strategy!