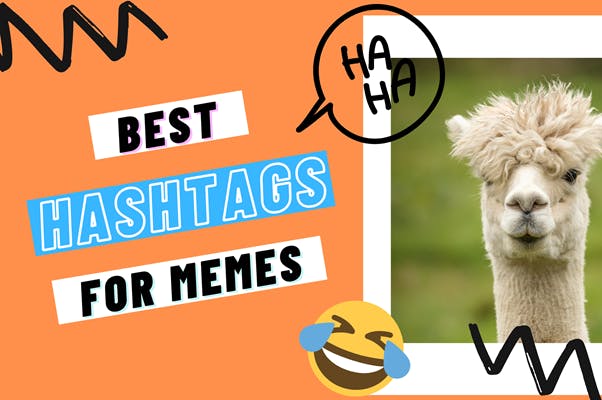 Everybody enjoys a good dose of good meme content. Funny jokes, dank memes and entertaining content and some of the most popular content on social media. Especially on Instagram, where they're often re-posted by accounts because they have the potential to help your account go viral!
So, are you looking for the best meme hashtags to help you grow your followers and reach more people? Then, you're in the right place.
In this post, we're sharing a list of the best meme hashtags for followers and growth. As always, you can easily copy & save these for the next time you post meme content on Instagram. But remember - only choose those hashtags that are relevant with your image/video - otherwise, they might not reach their full potential.
Ready to spike your post reach with the best meme hashtags?
Keep reading for more.
Jump to:
THE BEST MEME HASHTAGS FOR FOLLOWERS & GROWTH
Use some of these meme hashtags to grow your followers & reach more people with your Instagram content:
1. BEST MEME HASHTAGS - UPDATED 2020
Hashtags are an inevitable part of any social media channel and a great way to reach a large volume of people through your content. Using the right hashtags helps you attract the audience to your meme posts and become popular. Hashtags are one of the most powerful tools for growing your social media account and reach.
Running a meme page and account on social media channels like Instagram is fun and rewarding. It is also a way to ensure quick growth on these platforms. Some of the most popular meme pages have millions of followers with huge engagement. You can not only reach out a wide audience but even make some money if you can create some fun and interesting memes and present them to the right audience.
Hashtags is one of the most effective strategies for growing your account on any social media platform. These tags are used to categorize these posts and present them to the right people as per their interest. If you can use the right hashtags, your memes can reach to a larger audience and improve your visibility and popularity on these platforms.
These are some general meme hashtags you can use in almost any meme post. They are very popular tags with loads of images ( > 1mil photos) so they're best used in combination with smaller, more relevant tags.
Here are the best meme hashtags you can use to expand your reach on social media channels.
#meme
#dankmemes
#memesdaily
#memepage
#memestagram
#memess
#memegod
#memelife
#memes4days
#memed
#memetime
#wholesomememes
#funnymemes
#edgymemes
#dailymemes
#memesforlife
#surrealmeme
#9gag
#bossmemesquad
#funniestmemes
#lmaooo
#ifunny
#reactionmemes
#softmemes
#funnytextposts
#goodmemes
#nicemes
#nichememes
#nichememe
#epicmemes
#gamermemes
#savagememes
#viralmemes
#tiktokmemes
#cringememes
#memesrlife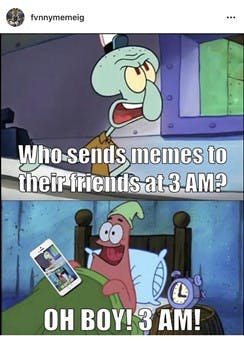 Source: https://instagram.com/funnymemeig
2. DANK MEME HASHTAGS
What are dank memes? A "dank meme" is an overused meme that has lost its appeal or value. They're not to be taken too seriously, and the desired reaction is usually a blank stare. Use these meme hashtags the next time you share a dank meme post:
#dankmemes
#dankmemesdaily
#dankmemesig
#dankmemesgang
#dankmemesmatter
#dankmemesaredank
#dankmemesvideo
#dankmemesonly
#dankmemes2k20
#dankmemesfordankteens
#dankmemessociety
#dankmemesforlife
#dankmemes4life
#dankmemescompilation
#dankmemesjokes
#goodmemes
#epicmemes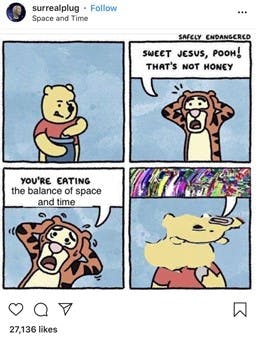 Source: https://instagram.com/surrealplug
3. INSTAGRAM MEME HASHTAGS & CHALLENGES
Use these hashtags when you share content that is specific to Instagram to get more followers and growth:
#instagrammemes
#instagrammemes4all
#instagrammemepage
#instagrammemepurge
#igmeme
#igmemegodz
#igmemesdaily
#instamemes
#instameme
#instamemers
#instamemesxp
#instamemesdaily
#instafunny
#instafunnypics
#instachallenge
#memechallenge
#tiktokchallenge
#igchallenge
Source: https://instagram.com/texasspeed
4. MEME HASHTAGS FOR FOLLOWERS
With the growth of social media, the competition is also increasing. Meme creators face a strong competition on Twitter, Instagram and other platforms. However, it is not hard to grow your social media account through memes. Take some important points into consideration and you can easily increase your followers.
Your success depends a lot on the social media profile and the quality of content you post. You can post something interesting and funny that users are already in search of. Such memes are sure to become popular as they meet the expectations of the users. Using meme hashtags appropriate for your meme page can help you increase your following.
If you post a specific type of memes, you can include tags describing that niche and sub-niche so that your content appears before the right type of audience. The social media channel will present your content to the most relevant users who are likely to be impressed and follow you in turn. Here are some of the best meme hashtags to attract followers.
#prettyfunny
#followers
#followforfollowback
#interestingmemes
#famousmemes
#schoolmemes
#followstagram
#dumbmemes
#mememaker
#relevantmeme
#oddlymeme
#fulltimememer
#memeuniversity
#gamingmemes
#originalmemes
#coldmemes
#creepymemes
#likablememes
#memebased
#followme
#memeboss
#memelord
5. MOST POPULAR INSTAGRAM MEME HASHTAGS
Using hashtags lets you catch the attention of the audience looking for trending memes on Instagram. When you use a great mix of trending meme hashtags with your meme post on Instagram, it becomes easy for users to find your meme. You can use a maximum of 30 hashtags with your post on Instagram. This means you should use the most relevant ones with your memes.
Though it is a good idea to use the most popular hashtags, you should avoid pasting the same block under every post on Instagram. You can consider changing the combination every now and then to make sure your post doesn't appear spammy to Instagram. Moreover, you can consider using them in the comment rather than filling up the caption to make it lengthy.
Here are some of the most popular tags you can use on Instagram for your meme posts.
#memestory
#memevibes
#memeworld
#memeculture
#memestagram
#partymemes
#funnymemesdaily
#funny
#memehumor
#memeimages
#memestuff
#todaymemes
#crazymemes
#justmemes
#laughingwithmemes
#instagood
#hahaha
#unusualmemes
#memefollow
#memefame
6. MEME CHALLENGE HASHTAGS
The meme challenge is one of the most trending things on social media. Following this trend, users post funny memes to show the most ridiculous moments and take different challenges that they complete. These memes are used to challenge other people as well. These posts and photos are made effective with the use of meme challenge hashtags. Some of the most popular ones are:
#memevideos
#memechallenge
#bbb20challenge
#sodepoisocarnavalchallenge
#meninasoltachallenge
#hitchallenge
#obrigadachallenge
#teprometochallenge
#daysofmakeupchallenge
HOW TO USE MEME HASHTAGS EFFECTIVELY
If you're just starting to use meme hashtags in your Instagram posts we recommend you stick with this checklist:
For best reach use all 30 hashtags Instagram allows you to add in a single post
Add your hashtags in your captions or in a separate comment (they both work!)
Use a mix of hashtags sizes for better reach (eg. large hashtags with > 1mil. posts, medium tags between 50k - 1mil. posts and small hashtags with < 50k posts)
Use relevant hashtags in each post to optimize their performance
When reposting a meme, always give credit to the original creator
Save your meme hashtags into groups based on different topics so you can easily copy + paste them in your posts
Stay on top of the latest hashtag trends & hot topics on social media
For best growth, post original content that is high quality & visually appealing
Track the performance of your hashtags on a monthly basis to find out which are the best hashtags to use on your account
Try following these meme hashtag tips, and we're sure your future posts will bring you more visitors and growth on Instagram!
CONCLUSION
Now that you have a better idea of what are the best meme hashtags to use on Instagram, you can start sharing more entertaining content to get discovered by more people. So, which meme hashtags will you try first? Leave a comment and let us know!