Instagram is one of the most popular and active mobile apps in the world. Millions of people log in each day to view and share images and videos of their lives.
Giving a post a "like" is one way to show your appreciation for a post, and keep track of the things you like.
You can go back at any time and look at all the posts you've liked quickly enough through the Instagram app, but you might be wondering, "how do I view my Instagram likes on my PC?"
While the mobile app is great, the desktop browser version of Instagram leaves a lot to be desired.
⭐️Pro Tip: The easiest way to view your likes count is with our Free Instagram statistics tool. You can use it on mobile or desktop and it will track your likes by the hour.
Here are some other ways you can track Instagram likes on a computer.
Method 1: Using the Instagram App for PC
Your first port of call when looking for desktop versions of mobile apps should be the Microsoft Store. Windows 10 has an excellent store that features lots of apps, including an Instagram app. The Windows Instagram App offers most of the same features as the mobile app.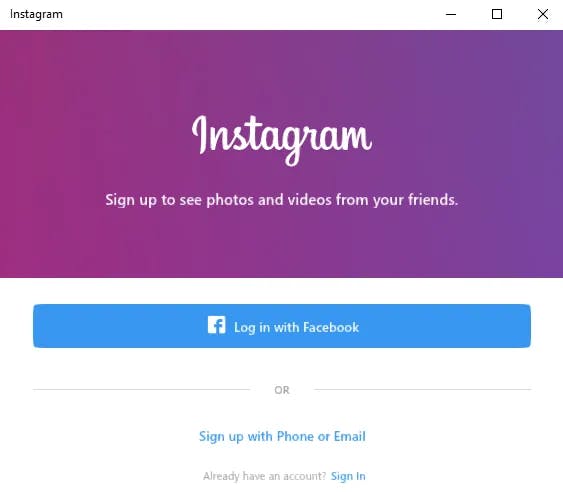 You can download the app for free, and it won't take up much space at all on your computer. Just load up the store and search for Instagram to find and install the app.
Given that the app is tied directly to your computer, notifications about your account will pop up on the display and send to your action center, much like notifications for other apps. On a surface level, the Windows 10 app looks and feels just like the mobile Instagram app.
Let's take a look at the Instagram app and see how it compares to the mobile version;
Overall Layout
The first thing you'll notice with the Instagram Windows app is that the layout is just like the mobile app layout. You have access to the options to access direct messages, refresh your feed, and upload photos and videos at the top of the page.
The bottom of the page is where you'll find stories, along with a taskbar that lets you access your homepage, search the social network, view your profile, and access your recent likes.
Adding Photos and Videos
One reason that people choose the desktop app over the browser version of Instagram is that you have the option to add photos and videos to your feed and story. You aren't able to upload new posts directly through a browser. You also can't access likes through a browser page, which is why people want to know how do I view my Instagram likes on my PC in the first place.
Uploading photos through the Instagram computer app is as simple as doing it through the mobile app. Just right-click on the taskbar and click on "New Post" to get started. You can take a photo or video directly using your webcam if you have one, or you can click on "Camera Roll" to choose a photo already saved to your computer.
Potential Problems
Of course, the app isn't perfect, and there are some potential problems to consider. For the most part, however, the app gives you everything you need to access Instagram on PC. The main concern with the app is that it can be sluggish at times. It can take longer for pages to load than they would through your mobile.
It can be a pain to log into your account too. You could be stuck at the login screen for a while before you actually get in. The experience is excellent once you are logged in, at least.
Method 2: Using a Browser Extension
They say there's an app for everything. There are browser extensions for most things that don't have an app yet. Accessing likes and getting the most out of Instagram on a web browser is one such thing.
The Improved Layout For Instagram.com extension is available on browsers, and it improves the basic functionality of the web version of Instagram. The problem with Instagram is that the app was designed for mobile devices. Not even the browser version of the website runs well on the computer, but the extension helps with that.
The browser extension also lets you view your collections and liked images directly through the web version of Instagram. Just use the 3-dots menu on the right to find and access everything you could want. The extension also adds functionality to let you right-click and download images directly from Instagram.com, something you can't do otherwise.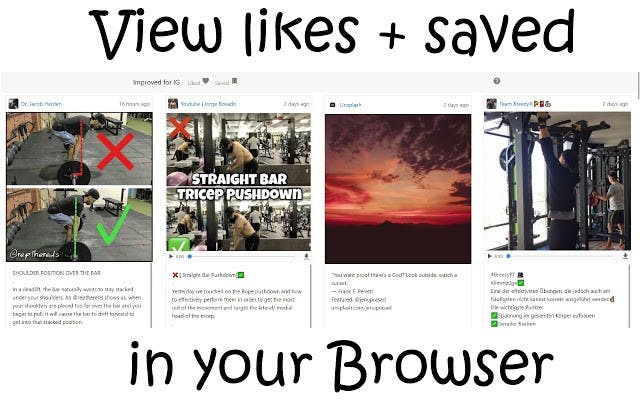 Improved Layout For Instagram.com in the Google Chrome Store
Method 3: Access Instagram on PC With Bluestacks
Do you want to be able to access the regular mobile Instagram app on your computer? If so, then Bluestacks is the app for you. Bluestacks is an Android emulator for PC and Mac that lets you turn your computer into a mobile phone. That includes being able to access the regular version of Instagram and access your likes on PC. Here's how;
1. Open the Bluestacks Website
First things first, visit https://www.bluestacks.com to download BlueStacks App Player.
2. Download BlueStacks
There should be a button to download BlueStacks to your computer on the webpage.
3. Install BlueStacks
Installing BlueStacks is a simple process. Double-click on the installation file, click Yes when prompted, and then follow the basic installation wizard.
4. Find the Program On Your Computer
There should be a BlueStacks icon on your desktop and in your Start menu.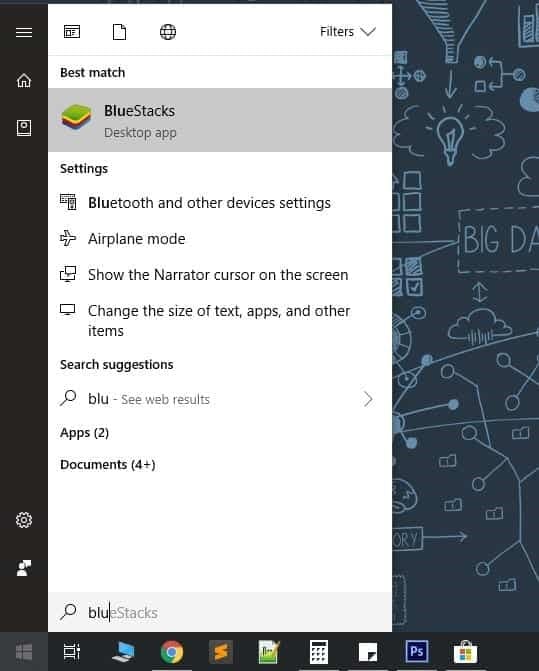 5. Open BlueStacks Download and Find and Install Instagram
6. Log Into Instagram
Given that Instagram is an Android emulator, it will let you do everything you could do on the mobile version. You are essentially using the mobile version, after all. This means you'll be able to post to Instagram directly from your computer, access your direct messages, view your recent likes, and anything else you want to do.
Conclusion
You have three choices for viewing Instagram likes on PC – using the dedicated Instagram app, using a browser extension, or using the BlueStacks Android emulator.
Try the app for yourself and, if you find it lacking, consider using the extension or BlueStacks to create a pitch-perfect Instagram experience on PC.