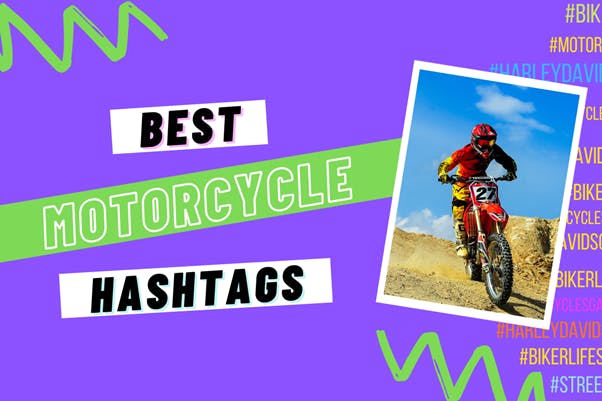 Are you looking for the best Instagram motorcycle hashtags?
You've come to the right place.
If you have an account in this niche or you're thinking of starting a new motorcycle page on Instagram, then you'll want to know which are the best hashtags to use for more exposure and growth!
Because let's face it, it's no longer enough to post pretty pictures on Instagram and expect maximum growth! But, don't worry, because we've got you covered!
In this post, we're sharing a collection of the best hashtags for motorcycles and bike enthusiasts to help you grow faster on Instagram.
READY to get more exposure for your Instagram page?
Then try using some of these hashtags and see which ones help you achieve the best results.
Here are ...
THE BEST INSTAGRAM MOTORCYCLE HASHTAGS
Jump to:
1. BEST MOTORCYCLE HASHTAGS
Large hashtags
These are considered to be the most popular motorcycle hashtags and they range from 500k posts to 25 million posts. Use these large hashtags to get an initial boost in the reach - but you should always combine them with smaller and niche hashtags that will keep your post on the explore page longer!
#motorcycle
#motorcycles
#motorcyclelife
#motorcyclesofinstagram
#motorcyclemafia
#motorcycleclub
#motorbike
#motorbikes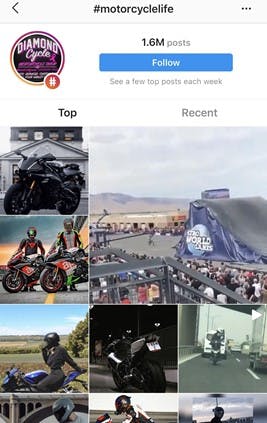 Medium hashtags
These are still hugely popular tags with 25k - 500k images per hashtag, but they're more specific and narrow in the target. Use these medium-sized hashtags in your posts to reach your ideal (target) audience.
#motorcyclephotography
#motorcycleride
#motorcycleadventure
#motorcycleporn
#motorcycleracing
#motorcycletouring
#motorcycleart
#motorcycletrip
#motorcuclegear
#motorcyclemadness
#motorcyclelover
#motorcyclist
#motorcycle_mafia
#motorcycle_moment
#motorcycledreams
#motorcyclediaries
#motorcyclespirit
#motorcycletour
#motorbikelife
#motorbikeofinstagram
#motorbiketrip
#motorbikeracing
#motorbikegirl
#motorbikeshow
#motorbiketour
#motorbikeexpo
#motorbikers
#vintagemotorcycles
#hondamotorcycles
#indianmotorcycles
#yamahamotorcycles
#husqvarnamotorcycles
#bmwmotorcycles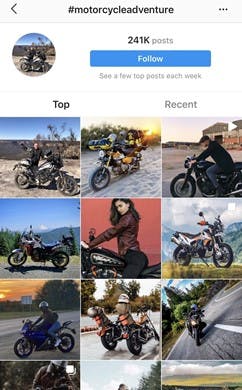 Small hashtags
Finally, here are some small motorcycle hashtags with less than 20k posts. Use these hashtags in your posts to get your page discovered by new people as a small account. Also, when you use small hashtags with fewer posts, you're more likely to stay longer on the explore page as compared to using large hashtags with millions of images.
#motorcyclesforsale
#mototcyclesclub
#motorcyclesshow
#motorcyclesales
#motorcyclesdiaries
#motorcycleselfie
#motorbikestunts
#motorbikeadventure
#classicmotorcycles
#motorcyclesdaily
#motorcyclesforlife
#motorcycleplanet
#motorcyclemechanic
#motorbikeshed
#motorbiketravel
#motorbikeadv
#motorcycleseat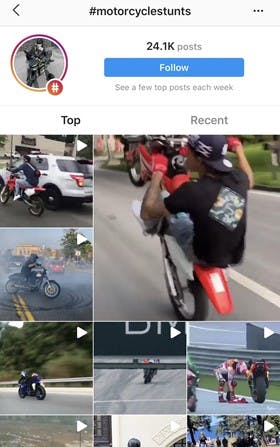 2. BEST BIKER / BIKER LIFE HASHTAGS
Use these biker hashtags to get more exposure for your lifestyle posts.
#biker
#bikerchick
#birkergirl
#bikers
#bikerride
#bikerlife
#bikergang
#bikerstyle
#bikergram
#bikerlove
#bikerace
#bikerracing
#bikersofinstagram
#bikerbabes
#bikerfamily
#bikerboy
#bikerboysofinstagram
#bikergirlsofinstagram
#bikers_lifestyle
#bikerlifestyles
#bikerlife24h
3. BEST STREET BIKE HASHTAGS
Use these bike hashtags to get more exposure and attract a niche audience to your Instagram posts.
#streetbike
#streetbikes
#streetbikelovers
#streetbikestunts
#streetbikefreestyle
#streetbikeracing
#streetbikegirls
#streetbikers
#streetbikenation
#streetbikesforever
#streetbikesworld
#streetbikekings
#streetbikelover
#streetbikeaddicted
#streetbikeaddicts
#streetbikeshop
#streettrialbike
4. BEST HARLEY DAVIDSON HASHTAGS
Use these hashtags to get your posts seen by Harley Davidson bike lovers.
#harleydavidson
#harleydavidsonmotorcycles
#harleydavidsonstreetglide
#harleydavidsondaily
#harleydavidsonaddicts
#harleydavidson48
#harleydavidsonmotorcycle
#harleydavidsonvrod
#harleydavidsonkings
#harleydavidsonnation
#harleydavidsonstreetbob
#harleydavidsoniron883
#harleydavidsonfortyeight
#harleydavidsonbrasil
#harleydavidsonindia
#harleydavidsonindonesia
#harleydavidsonitalia
#harleydavidsonamerica
#harleydavidsoncustom
#harleydavidsonteam
#harleydavidsonsoftail
THE FORMULA FOR INSTAGRAM HASHTAGS
Now that you have a list of the best motorcycles hashtags, you want to know how to use them. Right?
Here's what we recommend:
Q1: How many hashtags should you use?
A: To optimize your hashtags strategy, it's best to make use of all 30 hashtags Instagram allows you to add in a single post.
Q2: What's the best hashtag size to use?
A: We recommend you use up to 5 large hashtags (> 500k posts), 10 - 15 medium hashtags (25k - 500k posts) and up to 10 small hashtags (< 25k posts). But it all depends on finding the right mix that gives you the best results for your page.
Q3: Where should you put the hashtags?
A: There are two places you can write your hashtags: in the caption or in a separate comment (they both work the same!)
Q4: Do hashtags work in your Instagram bio?
A: There is no evidence that hashtags work in your bio. Instead, people use branded hashtags in their bio to encourage their followers to take part in a challenge.
CONCLUSION
Now that you have a better idea of what are the best motorcycle and biker hashtags to use on Instagram, you can start sharing your posts and get discovered by more people in this niche.
So, which hashtags will you try first?