There are big changes coming to Instagram this year. As a social media marketer, it's important to stay updated with how the Instagram algorithm works so you can make better, more strategic decisions about your content.
The good news? 🙌
We have all the facts you need to plan your Instagram content strategy. In this post, we'll discuss how the Instagram algorithm works in 2021 and what has changed.
Here's how the latest Instagram algorithm works in 2021
Change #1:💡Instagram has not 1 - but multiple algorithms
Since Instagram removed the chronological 📲 feed, many were confused about how the algorithm really works.
This has lead to market speculations and the spreading of fear 😫 that the actions you take will get you punished or blocked by Instagram.
In 2021 we finally know the TRUTH! 🙌
This time, from the CEO of Instagram himself.
The Instagram CEO himself confirmed that there is no single Instagram algorithm - but many different ones running in parallel.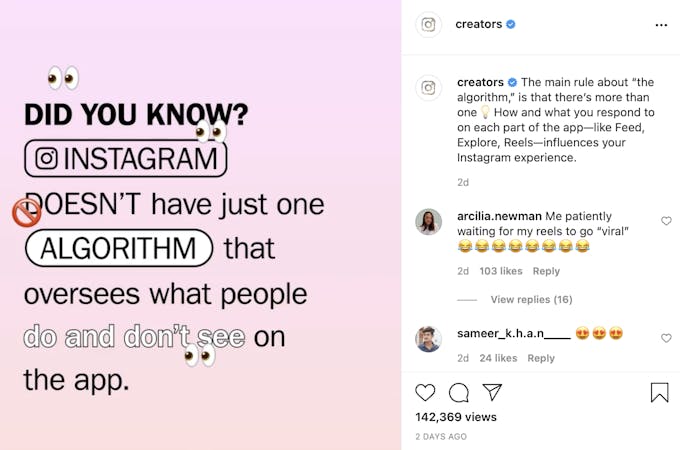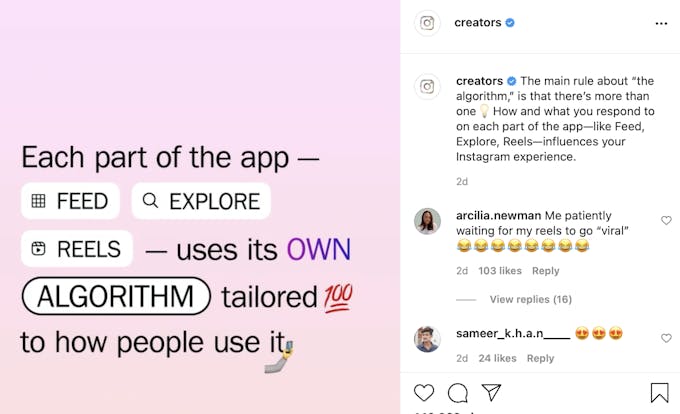 How you interact with posts, determines what you see 📲 on the different parts of the Instagram app:
Feed
Stories
Shops
Reels
IGTV
All these parts have their own algorithm.
Example: ⬇️
Your Reels can perform better on certain hashtags and regular posts for others.
And this all now makes sense: ✨there is no universal hashtag law that applies to all content forms. ✨
It all depends on how your followers interact 💖 and engage with your post.
Moving forward, ✨RELEVANCY✨ is the key to growing on Instagram.
Learn 5 ways to create amazing content.
Change #2: Instagram is moving towards becoming a VIDEO 🎬 and entertainment 🤸‍♀️ sharing platform
Instagram is "no more a photo-sharing app,' said the Instagram head, Adam Mosseri in a video he shared on Twitter and Instagram.

Moving forward, Instagram will focus more on entertainment and short video content after seeing the success of competitors like TikTok and YouTube.
Grab your popcorn and enjoy! 🍿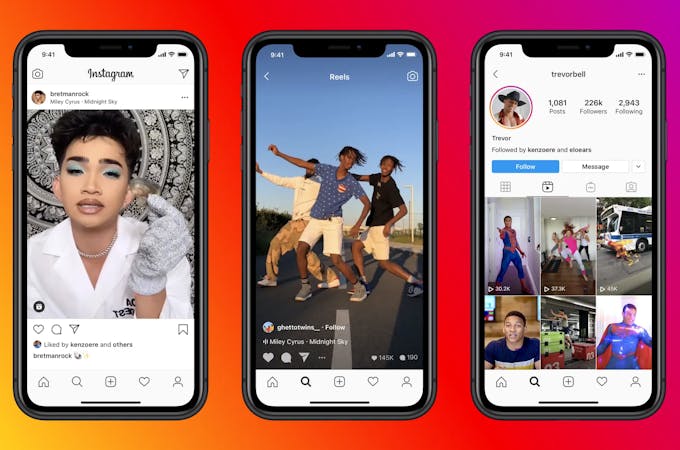 Now that you know how the Instagram algorithm works in 2021, you can plan your content with confidence.
Your turn: What are your thoughts ⤵️ on the new Instagram algorithm in 2021?