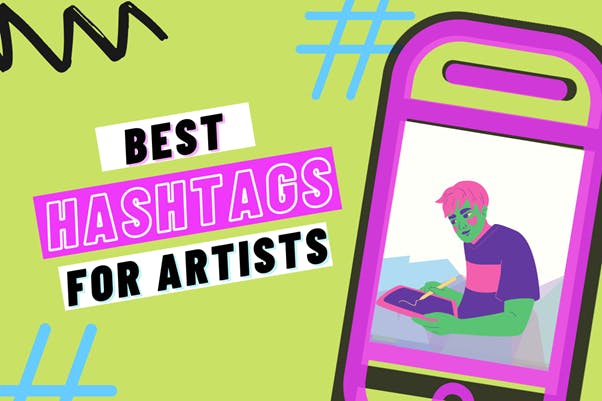 Are you looking for the best hashtags to promote your art on Instagram? If you find hashtags confusing, you're not alone! In fact, one of the most frequently asked questions I get is "How do I find the best hashtags for Instagram?". Because when you use the right hashtags you get more exposure and you reach A LOT MORE people.
So, if you have an Instagram artist page and you know how to create visually appealing content - but you need help finding the BEST hashtags for showcasing your art, we're here to help!
The best Instagram hashtags for Artists
In this post, we're going to share the best Instagram hashtags for artists to help you get more exposure for your art. READY to grow your art page? Then try some of these hashtags and see which ones help you achieve the best results.
Instagram art hashtags
Do you have a general art page? Use these Instagram art hashtags to showcase pictures of your art or behind the scenes of your life as an artist on Instagram!
#art_dailydose
#art_viral
#art_we_inspire
#artbynights
#artcollective
#artdiscover
#artfeatureland
#artfinder
#artfollow
#artinprogress
#artistoftheday
#artjournal
#artlovers
#artoftheday
#arts_promote
#artshare
#artshoutout
#artstudio
#artsupplies
#artsviral
#artsy
#courageouscreative
#maketimeforart
#carveouttimeforart
#dailyarts
#dsart
#foart1
#instaart
#lifeofanartist
#myart
#mywork
#sharingart
#studioscenes
#artistcommunity
#bestartiststudio
#workingartist
#creativeartisthelp
#creativeartiststudio
Best digital art hashtags
Are you a digital artist? Use these art hashtags to showcase your digital art on Instagram!
#characterdesign
#conceptdesign
#digital_art
#digitalart
#digitalartist
#digitalartwork
#digitaldesign
#digitaldrawing
#digitalillustration
#digitalpainting
#digitalportrait
#onlineart
#tabletpainting
#tabletdrawing
Best painting art hashtags
Do you paint? Use these art hashtags to showcase your paintings and promote your painting workshops on Instagram!
#stilllifepainting
#landscapepainting
#originalpainting
#botanicalpainting
#canvaspainting
#aquarellepainting
#portraitpainting
#paintingsforsale
#paintingprocess
#paintingclass
#paintingvideo
#paintingcontractor
#paintingworkshop
#gouachepainting
#paintwithme
#paintingforsale
#paintinginprogress
#paintingtime
#paintingoftheday
#paintingstudio
#paintparty
#paintingartists
#painters
#paintings
#paintingartist
Best graffiti art hashtags
Are you a graffiti artist? Use these art hashtags to showcase your artwork on Instagram!
#graffiti
#graffitiart
#streetart
#wallart
#publicart
#aerosolpaint
#graffitiporn
#graffitiworld
#instagraffiti
#lettering
#letteringstyles
#graffitiletters
#graff
#graffart
#graffartist
#grafflife
#graffitistyle
#graffitialley
#graffitilove
#graffitigram
#graffitibook
#graffiti_of_our_world
#graffitieverywhere
Best graphic designer art hashtags
Are you a graphic designer? Use these art hashtags to showcase your work on Instagram!
#behance
#creativedesign
#designeveryday
#designfeed
#dribbble
#dribbblers
#graphicdesign
#graphicdesignblog
#graphicdesigncommunity
#graphicdesigncentral
#graphicdesigndaily
#graphicdesigner
#graphicdesignerlife
#brandingdesign
#creativeart
#visualdesign
#vectorart
#illustrator
#illustrations
#logoideas
Best drawing and sketching art hashtags
Do you draw or sketch? Use these art hashtags to show your sketches, drawing and concepts.
#artdrawing
#artcomplex
#art_insanely
#artist_calls
#artofdrawing
#colordrawing
#creativeart_world
#creativempire
#draweveryday
#drawingart
#drawingdaily
#drawings
#drawingtime
#drawingexpression
#drawoftheday
#pencilart
#pencilsacademy
#sketchbookdrawing
#worldofpencils
#yourartspace
#top_drawings_art
#pencildrawing
#justdraw
#love_arts_help
#pencildrawingart
#risingshade
#sketchartist
#sketchartists
#sketchbook
#sketchbookart
#sketchbookpage
#sketchbookpages
#sketchbookdrawing
#moleskinsketchbook
#sencilsketches
Best calligraphy art hashtags
Do you specialise in hand lettering? Use these art hashtags to promote your art on Instagram.
#calligratype
#callipgraphydaily
#handlettering
#ilovelettering
#dslettering
#handtype
#dippencalligraphy
#letteringartist
#letteringco
#letteringdaily
#letteringart
#letteringlove
#letteringdesign
#moderncalligraphy
#modernlettering
#togetherweletter
#strengthinletters
#typematters
#typespire
#typographyinspired
Getting started with Instagram hashtags
If you're just starting to use hashtags in your Instagram posts or you want to know what's the best formula for Instagram hashtags - here's what we recommend:
Use all 30 hashtags Instagram allows you to add in a post
It doesn't matter whether you write your hashtags in the caption or in a separate comment (they still work!)
You should always use a mix of hashtags sizes
We recommend a mix of the following:
Large hashtags
These are hashtags with > 500k images and they give you a short boost of exposure to reach a wider group of people (eg. #artistlife)
Medium hashtags
These are tags with 50k - 500k images and they are commonly used by people in your industry (eg. #sketchdrawing)
Small hashtags
These are tags with less than 25k posts and they're going to help your posts get discovered for a longer time. (eg. #minionsart)
Now that you have a better idea of the best Instagram hashtags for artists, you can start sharing your artwork and get discovered by more people.
Related Articles