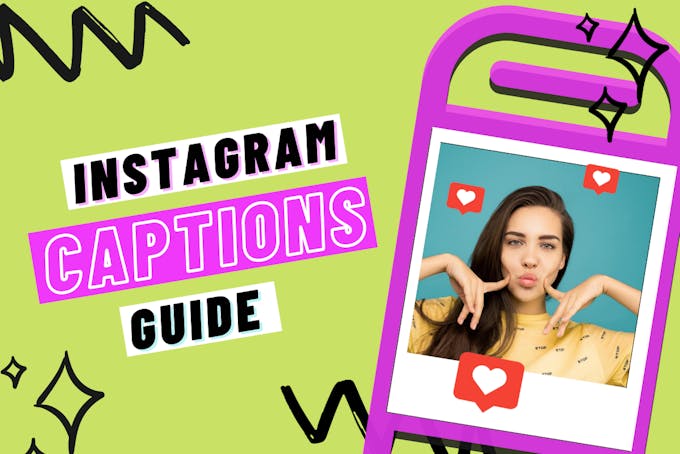 People say "A picture is worth a thousand words". Well, if you're an Instagram marketer, you'll know that a well-written caption is priceless. A good caption complements the photo, tells your followers to take action and makes your content more valuable.
In this post, we're going to show you a complete guide to writing captions for Instagram. We'll start with writing headlines that create impact, then move on to calls-to-action and even dive into some proven copywriting techniques that global brands like Coca-Cola and Starbucks use.
How to write Instagram captions
First of all, there isn't a single caption format that's going to work all the time for everyone. Captions need to be flexible enough to fit different types of content and different audiences.
That's why we've identified a few rules to help you write better Instagram captions. Before you start writing captions, let's go through some tried and tested caption rules. You're probably wondering, "so what makes a good caption"?
A good Instagram caption should have the following:
A strong opening line
Sharing valuable information
A clear call-to-action
Directing people to your bio
Asking questions
A lighthearted tone
Emotional connection
Use a caption-writing technique
Now let's look at some actionable steps involved in writing highly engaging Instagram captions. We've also included examples and fill-in templates you can use and customise to fit your Instagram posts.
Always capture attention in your first line
The first 125 characters are what your followers see before having to click "see more". So use this space wisely.
If you're launching a new product or running a promo, use the opening sentence to highlight words like "PROMO", "FREE", "15%OFF" or "OPEN NOW" - as Kate @kateperkovic did in her Waitlist launch post.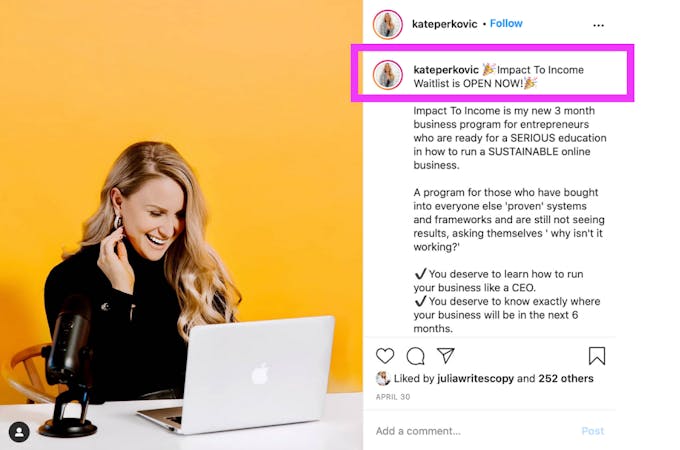 Examples of headlines that capture attention:
[New product] is now LIVE! Get your FREE [sample/trial] right now
WIN $1000! Guess the correct answer to this puzzle to win $1000 worth of prizes.
Did you know that [share a statistic, eg. "collagen is the most abundant protein in our bodies"]?
STOP! Read this before you [hire a business coach]
5 Mistakes That Are Ruining Your Skin (And How to Fix Them)
You won't believe the SECRET ingredient in this vegan pizza
✅ Pro Tip: You only have 3 seconds to capture attention. So, to make your headlines pop, and stop people from scrolling you should use emojis and uppercase fonts.
Check out our guide on how to write irresistible headlines for your captions..
Tailor your Instagram captions to your marketing goal
Don't have money for ads? Then sharing FREE content for your Instagram is one of the cheapest ways to get in front of your customers.
But how do you know which type of content your audience loves? In content marketing, we use a content matrix to come up with post ideas that have been proven to appeal to the different stages in your buyers' journey.
Below are some caption ideas you can use to write different types of captions based on your content goal:
Goal 1: Educating your Audience
If you want to educate the audience on your product or service you can use your captions to write mini-blogs, how to's, and lists. The key purpose of writing educational content is to share value to your audience and educate them.
Examples:
Share a numbered list
"[UPPER ARM] EXERCISE. Since a lot of you have been asking me what's the best way to [include topic], I'm here to help you! THE WORKOUT: [list individual exercises] Pro tip: Do 3 reps of each, 4 sets with 1 break intervals. Enjoy & don't forget to have fun!"
X steps to [achieve end goal]
"5 Steps To [Achieve the Desired Result]. [Describe steps 1 to 5]. Now that you know how to [achieve the desired result], [let me know below if you're willing to try this method]."
Direct people to read a blog post
If you have an active blog where you share educational content, you can use your Instagram captions to tease your audience and direct them to read your article through the Instagram bio link feature.
"My Weekly Workout & Diet Routine. Today I am sharing the answer to a popular FAQ: "How do you keep fit?" Learn all about my favourite weekly workouts and diet, through the link in my bio."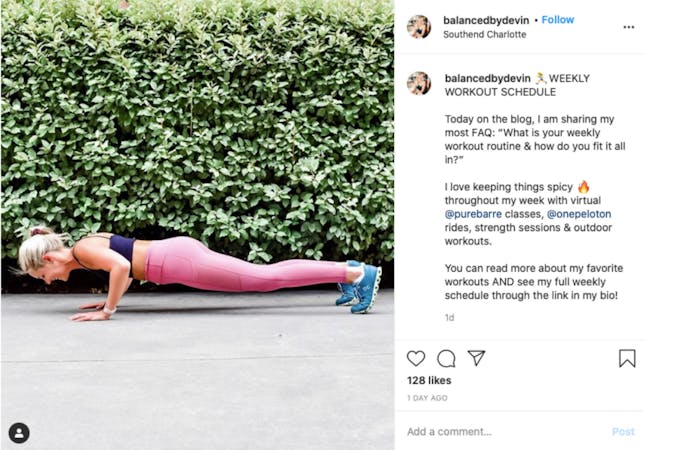 Goal 2: Entertaining your audience
Funny memes, quotes and games have always been a popular type of content. And they're some of the most re-shared posts on Instagram. When it comes to entertaining memes, sometimes it's best to let the image/video do the hard work.
Goal 3: Inspiring your Audience
Talk about your personal journey or challenges
"Let's get REAL. I feel that everybody is trying to make [your profession/industry] seem easy. It's not. Balancing your [business, work] and [kids, personal life] is challenging. And before you know it, you're spending [18 hours/day] working. When I'm feeling overwhelmed, I [eg. "I take the day off/silence my phone"]. Your turn: what do you do when you're overwhelmed?"
Share a Motivational Quote
If you share a quote with the text on the image, you can use your caption to remind people to share your post or tag their friends in the comments.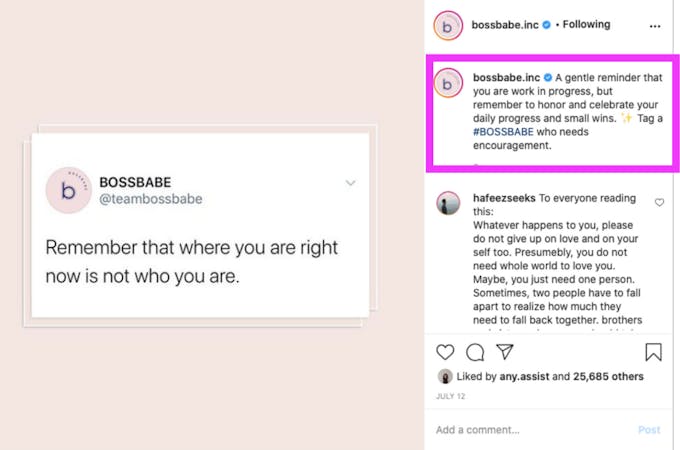 Source: @bossbabe.inc
Share a productivity hack
"Ugh, I wish I'd known about this sooner! [describe a productivity hack, an app that helps you save time, a tip that helped you work efficiently]. Comment "Hell yeah!" if you've tried this tool and you love it too!"
Goal 4: Promote yourself or your brand
Introduce yourself & your services
"Let's talk [your profession; eg. copywriting] If you've read my bio, then you know that I'm a [profession; eg. copywriter]. But I am so much more than that. Here are 5 things you didn't know about me: [List your hobbies or facts about yourself] But enough about me. I want to hear from you: do we have anything in common?"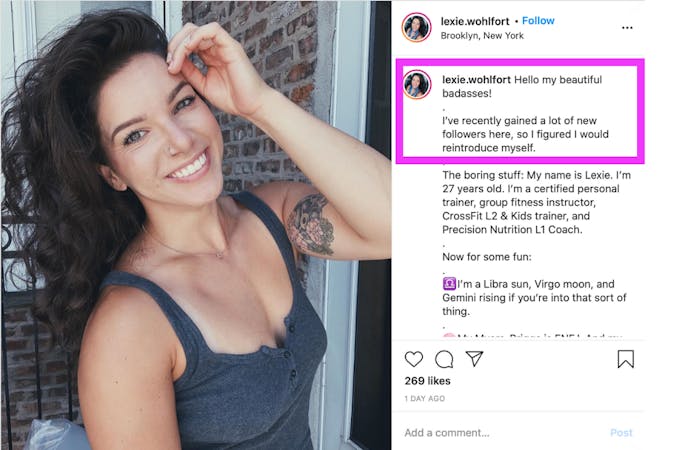 Source: @lexie.wohlfort
Introduce a new team member
"Let's welcome [name] to the team! [Name] joins us as the new [job role] in charge of [tasks]. Expect to see more of [Name]'s work on our profile."
Source: @kapwingapp
Answer Your Audience's FAQs
"The No.1 question I get about [my business/my services/product] is [how do you get clients]? There are many answers I could give, but there are 3 things I want you to know:
[list the 3 things]. Tell me, how do you [get clients for your business]?"
Talk about your product ingredients and benefits
"Have you gotten your daily dose of [vitamin C] today? Our [product] infused with [ingredient] is just what you need for a [brighter complexion]. Why is this ingredient the best? [List 3 of the benefits here]."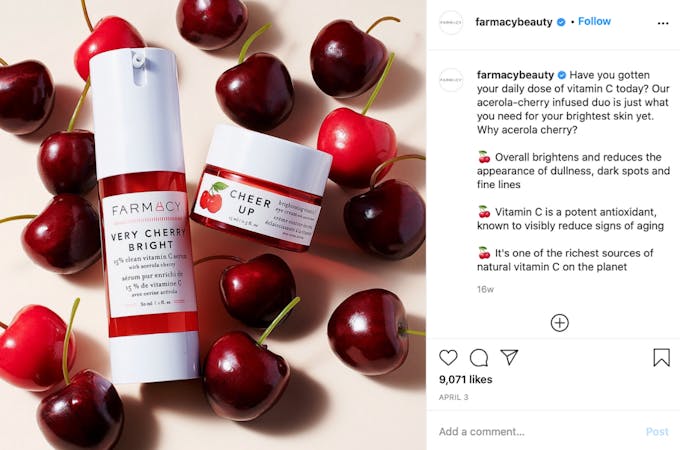 Source: @farmacybeauty
Give a discount code
"SALE! UP TO 70% OFF SITEWIDE. Use code: ABCDE for 30 - 70% off.
Shop on www.yourwebsite.com"
Use a clear call to action in your caption
What is a call to action?
A call to action, also known as a CTA, is a term used to describe the phases we use to tell the users exactly what action to take after reading a post.
This can be as simple as directing users to "Buy now" or a sentence like "Want to learn more about marketing? Subscribe through the ink in bio so you don't miss a post."
Two types of call to actions
On Instagram, there are two types of calls to action that every brand can incorporate into their strategy. These are:
Engagement CTAs
Conversion CTAs
Engagement call to actions
You need to incorporate engagement calls-to-action to develop a personal connection also known as a "Know-Like-Trust" relationship with your audience.
Use your captions to ask your audience questions and encourage them to interact with your Instagram post by leaving a comment, sharing or saving your post.
Examples of Engagement CTAs:
Ask your audience to tag a friend
Ask your audience to share the post with a friend
Ask your followers to leave a comment or drop their favourite emoji if they agree with your statement
Ask your audience to answer a question in the comments section
Do a 'A or B" poll
In their Instagram post, @starbucks chose to use a simple CTA to drive engagement "tag a friend who's always there for you".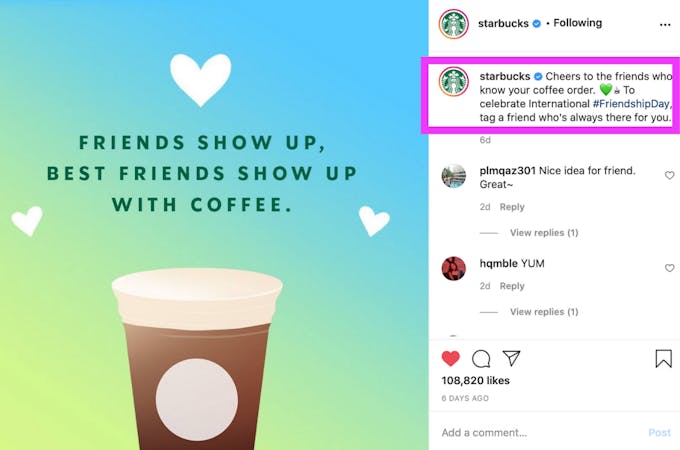 Conversion call to actions
These are a MUST when you're writing a promotional type of post and you're trying to close a sale. Use your captions to direct your audience to take action towards completing a sale.
You will typically have to ask them to click the link in your bio to visit your e-shop and make a purchase. Ask your audience to "click the link in bio" to:
shop/ buy a product
subscribe to an email list
register for a workshop
book a consultation
enrol into a course
get a free trial
read an article to learn something
fill up a survey form
share a review
watch a YouTube video
download an ebook
But why limit yourself to a single CTA? @jennamarbles combines two CTAs (engagement and conversion) in her Instagram post below.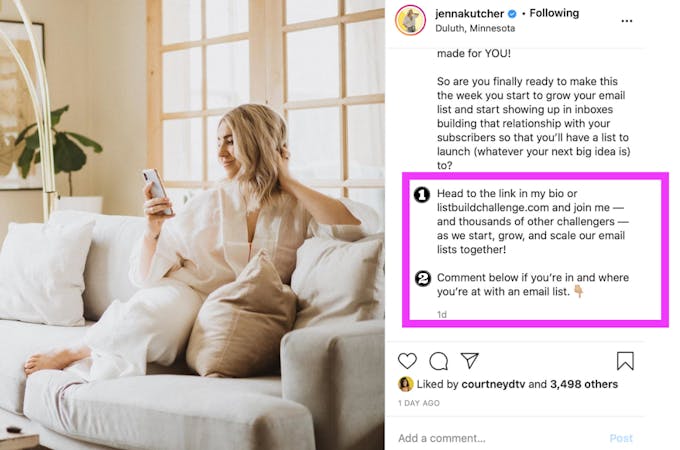 Source: @jennakutcher
Consider using a caption-writing formula
Captions can be tricky to master until you've found the perfect formula for you. So, a good place to start is using a popular caption writing formula. One such formula is the AIDA technique.
Attraction - Grab attention with your headline
Interest - Introduce a problem your reader is facing
Desire - Build desire for your product/service by explaining how you will solve the problem your reader is facing
Action - Direct the reader to take an action using a CTA phrase
Example of caption using the AIDA method: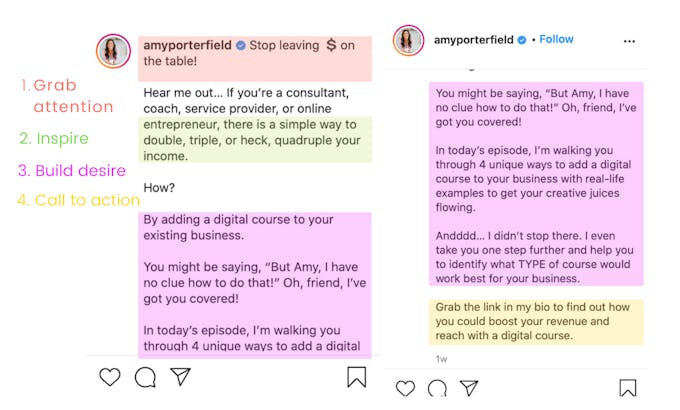 In this post, Amy @amyporterfield used the AIDA technique in writing her caption to promote her online course. She starts with a catchy headline: "Stop leaving $ on the table!" that intrigues the readers and convinces them to tap "See more".
Then, she builds interest by addressing directly her readers ``if you're a consultant, coach, service provider" - check! Next, she introduces a problem her readers are facing "want a simple way to quadruple your income".
Now they're hooked and they can't wait for her to give them the solution. But she continues to build desire by dropping hints of what end result they're going to achieve.
Finally, her CTA directs people to tap the link in bio and sign up for her course. Clever? I think it's the technique that makes it so effective.
Write in a conversational language
Content writing doesn't use over-complicated language or buzzwords. Writing your captions should be the same. So, use the same tone as when you're speaking to a friend when you're writing captions. Think of writing in a friendly, informative or a lighthearted voice.
Using words like "you" and "yours" will help you create a connection with your reader, so don't be afraid to get personal with your audience.
Don't worry about the caption length
A photo may say a thousand words, but sometimes a caption can describe the image in just a few words. They say that captions between 65 - 75 words (400 characters) get the highest engagement on Instagram.
But that doesn't mean that you should leave out important information, just because you're afraid this will make your caption too long and nobody will want to read it.
Use hashtags for 12.6% more engagement
According to research, posts with at least 1 hashtag get 12.6% more engagement (source) so make full use of all 30 hashtags Instagram allows you to use in one post!
If you aren't sure what hashtags to use, use the Instagram search tool, and type your industry. Instagram will auto-generate popular hashtags for you to use in your post.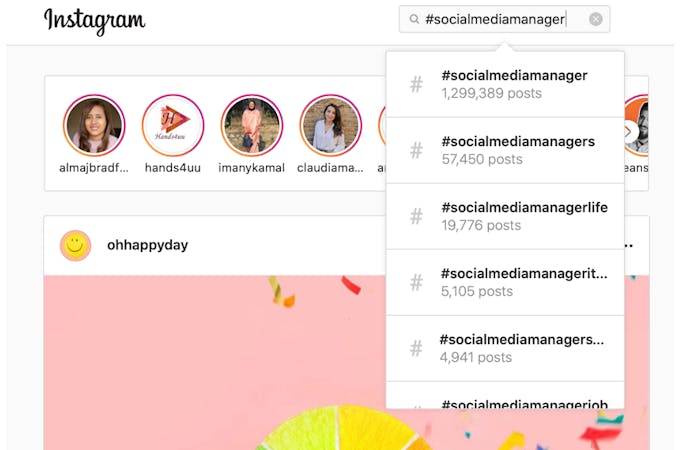 Don't forget to credit your sources
Even though social media writing is not the same as academic writing where you MUST use references, you should still credit your sources of information. This is the moral and ethical way to do if you're planning on using someone else's words, work, quotes, statistics or images.
Even if you're reposting images from your brand ambassadors or influencers, tag them in your post and credit them in the caption.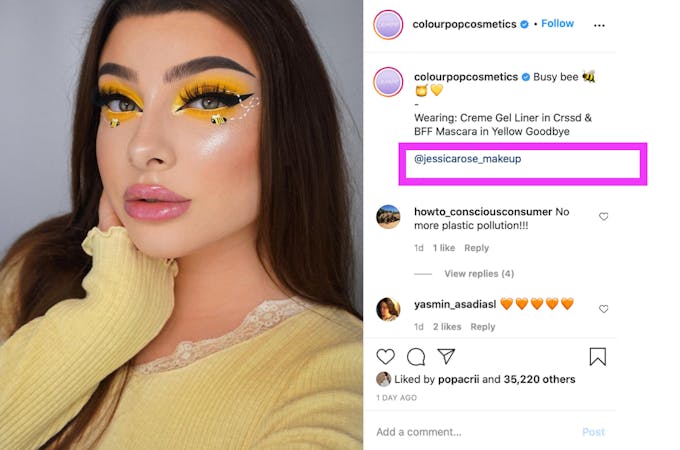 Source: @colourpopcosmetics
Format your Instagram captions so they're easy to read
There's nothing worse than coming across a post that has a solid block of text as a caption. It's really hard to read and most people will give up! Don't forget that most people use Instagram on their mobile phone screens, so try to make your captions EASY to digest so people can skim through the text.
And this sums up our guide to writing Instagram captions. We can't wait to see you try these caption tips and let us know if we've helped you!
Related Articles