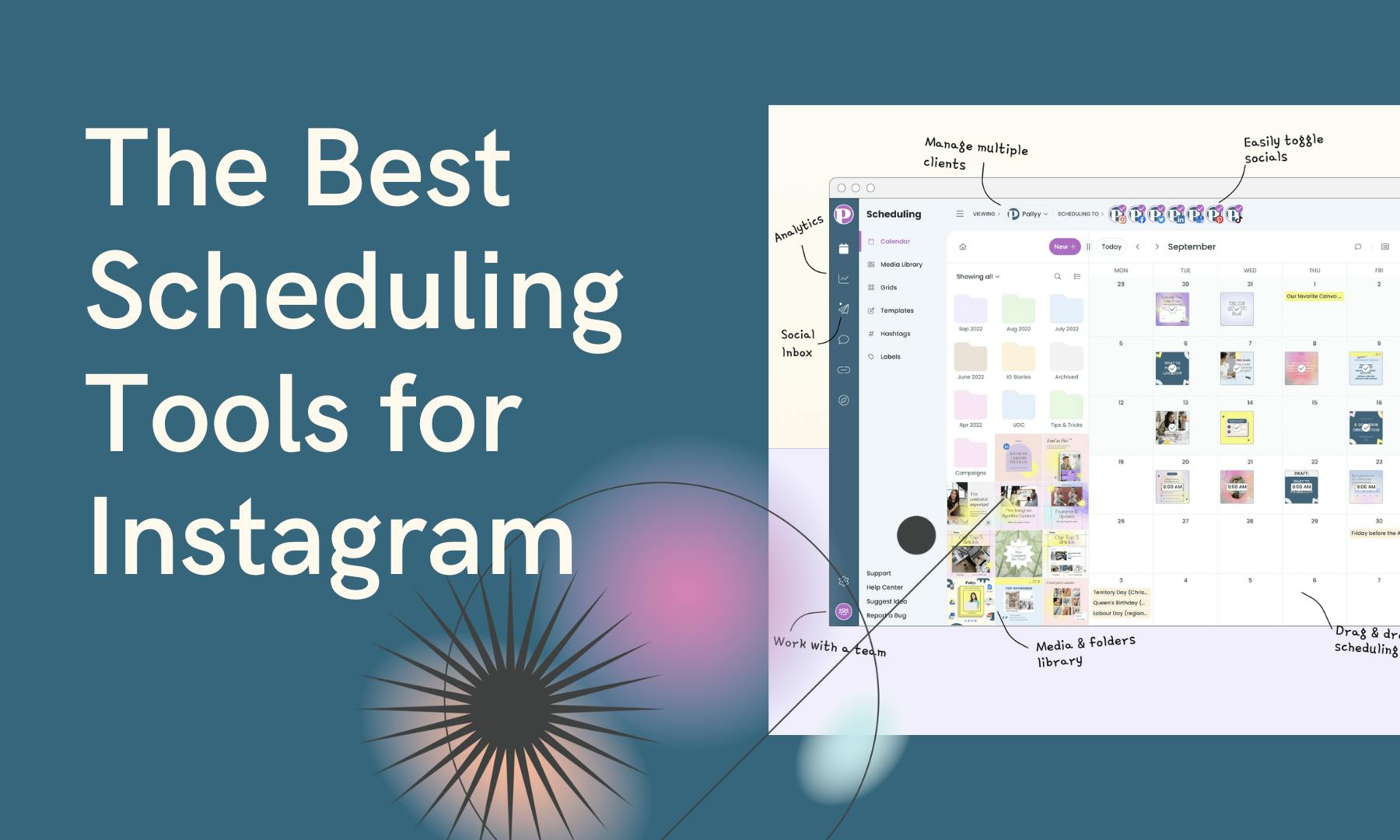 With more businesses starting to use Instagram as an integral part of their business, we've seen an increase in content being published on a daily basis so it's no surprise that we have started to see so many Instagram scheduling tools come to our rescue.
Not only do these tools make your life easier, help you save precious time, but there's are also loads of apps that come at a minimum cost - or even free.
The top Instagram scheduling tools in 2023
1. Pallyy
Pallyy makes scheduling super simple, I was able to upload bulk images and schedule them all in just a few seconds. You can also write your captions and schedule content on the go for improved efficiency without downloading any mobile app (most other tools make you download an additional app to use it).
Also, Pallyy can schedule the same content to multiple platforms like Facebook, Instagram, Twitter, LinkedIn, Pinterest, Tiktok & Google My Business at the same time - which saves a lot of time!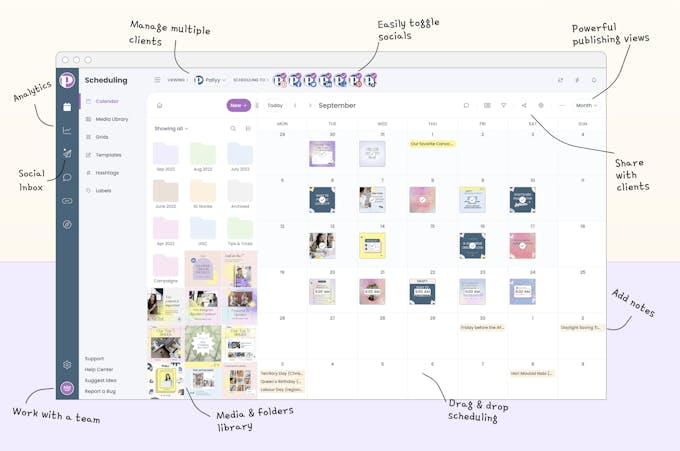 Pallyy is the best Instagram scheduling platform for social media agencies managing multiple clients, as it's so easy to switch between your clients. Definitely check it out!
2. Creator Studio
Facebook Creator Studio is a free Instagram scheduler that allows you to schedule your posts on both Instagram and Facebook. It's first on our list of tools because it's the official content scheduling platform created by Facebook.
The dashboard is fairly easy to use and it shows you some basic Instagram analytics too but if you're looking for more advanced features and better analytics, you should use it in combination with a stand-alone analytics tool like Pallyy.
Overall, Creator Studio is a great choice for beginners, anyone who doesn't need advanced analytics and is on a tight budget.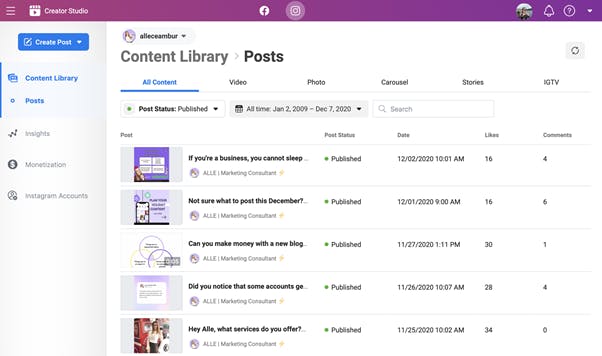 3. Planoly
Planoly is a visual content scheduling tool for Instagram that is popular amongst bloggers, influencers and product-based businesses. The free version of the app comes with 30 posts, a visual calendar, hashtags grouping and comments management.
Planoly is best for influencers, bloggers and brand owners looking to schedule Instagram and Pinterest content but not for you if you manage multiple Instagram accounts or looking for advanced analytics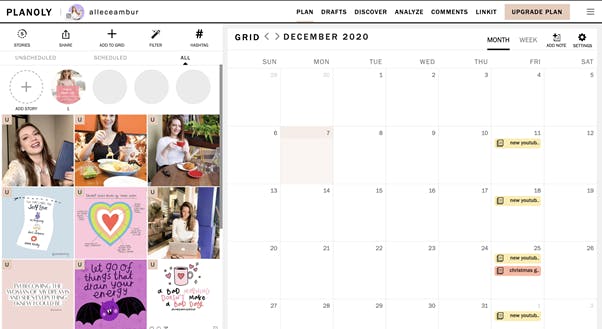 4. Later
Later is a great choice for anyone who wants to get more out of their Instagram scheduling tool. The app is easy to use, comes with an interactive calendar view, a hashtag search tool, a media library and post analytics.
However, the best stuff is only available on their paid plans. So you really need to try it to see whether it's something you're looking for before investing.
Later is best for brands, social media agencies and teams up to 10 people.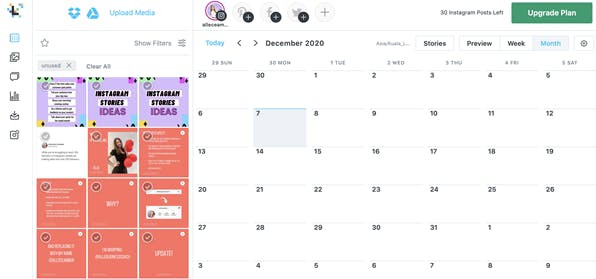 5. Hootsuite
Hootsuite is a powerful social media scheduling and listening tool. It's targeted at professional marketers and social media teams managing accounts across various platforms.
The free version comes with 3 platforms of your choice, a content calendar, streams for social listening and integrations with 3rd party apps.
Their paid plans include 10+ social profiles, an unlimited number of posts and access to advanced analytics. If this interests you, know that you can get a 60-day free trial with any of their paid plans.
Hootsuite is best for large social media teams and brands managing content across 3+ social channels
6. Iconosquare
Iconosquare offers automatic Instagram scheduling along with advanced analytics. The scheduler comes with a simple calendar view that allows you to schedule posts by selecting an image from the library and dropping it into one of the pre-set time slots.
Their monthly plans start at 59 Euros (60+ USD) and include social media scheduling for 3 social profiles, up to 2 team members and advanced analytics & reporting.
If you're managing 3+ social profiles and looking for an Instagram scheduler that comes with a calendar and robust analytics & reporting - you should try it!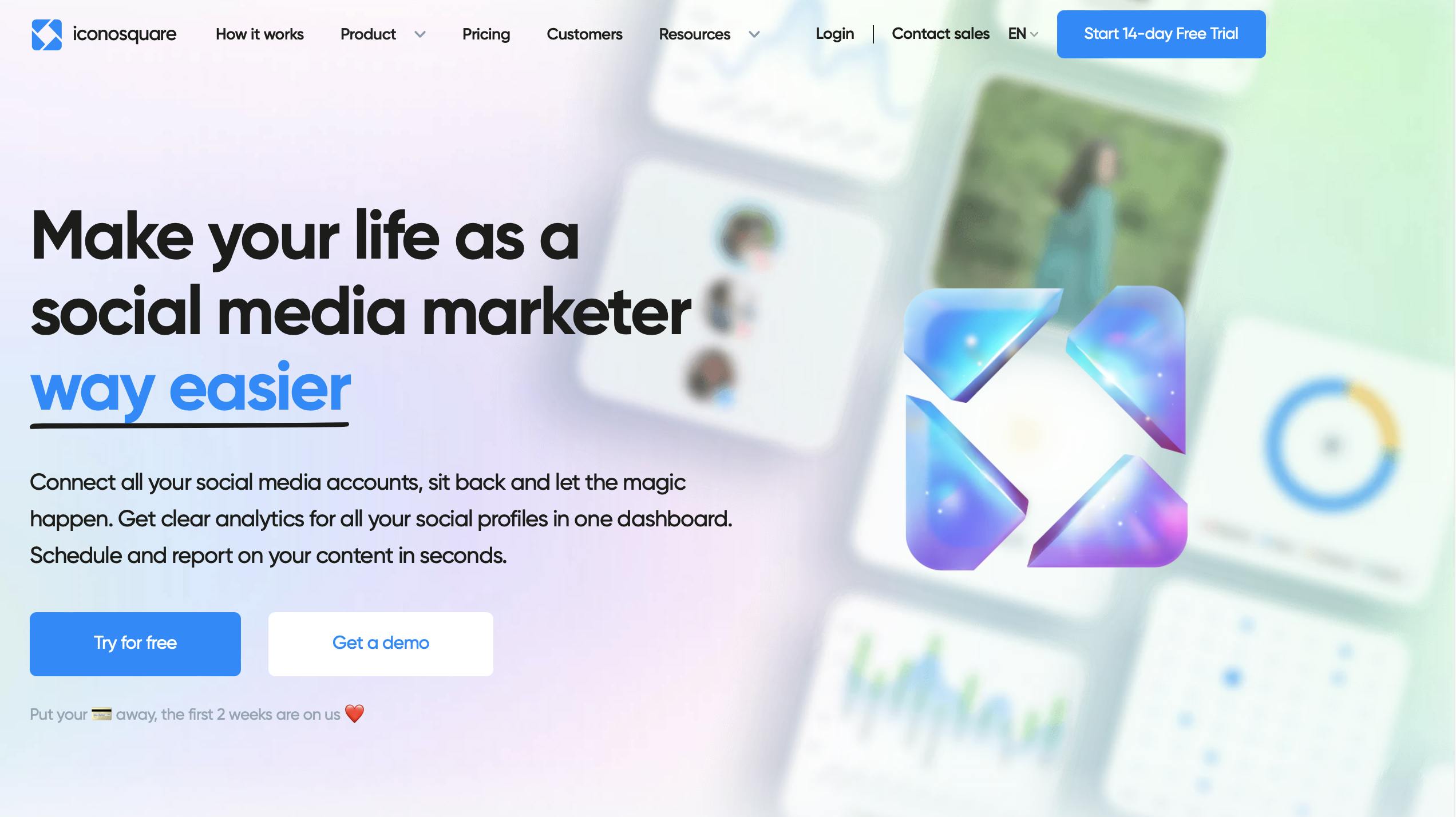 7. Social Pilot
Social Pilot is a social media management tool that supports posting to 10 platforms, including Instagram. Great for working in batches, this tool has features to help you save time such as bulk scheduling & CSV upload, and Dropbox & Canva integrations.
Their monthly plans start at 30 USD and include 10 social profiles, and 1 team member. If you're looking for detailed analytics and PDF reports you should try their Small Team plan (50 USD/mo).
Social Pilot is built for social media agencies, but if you're a freelancer you may also find it useful.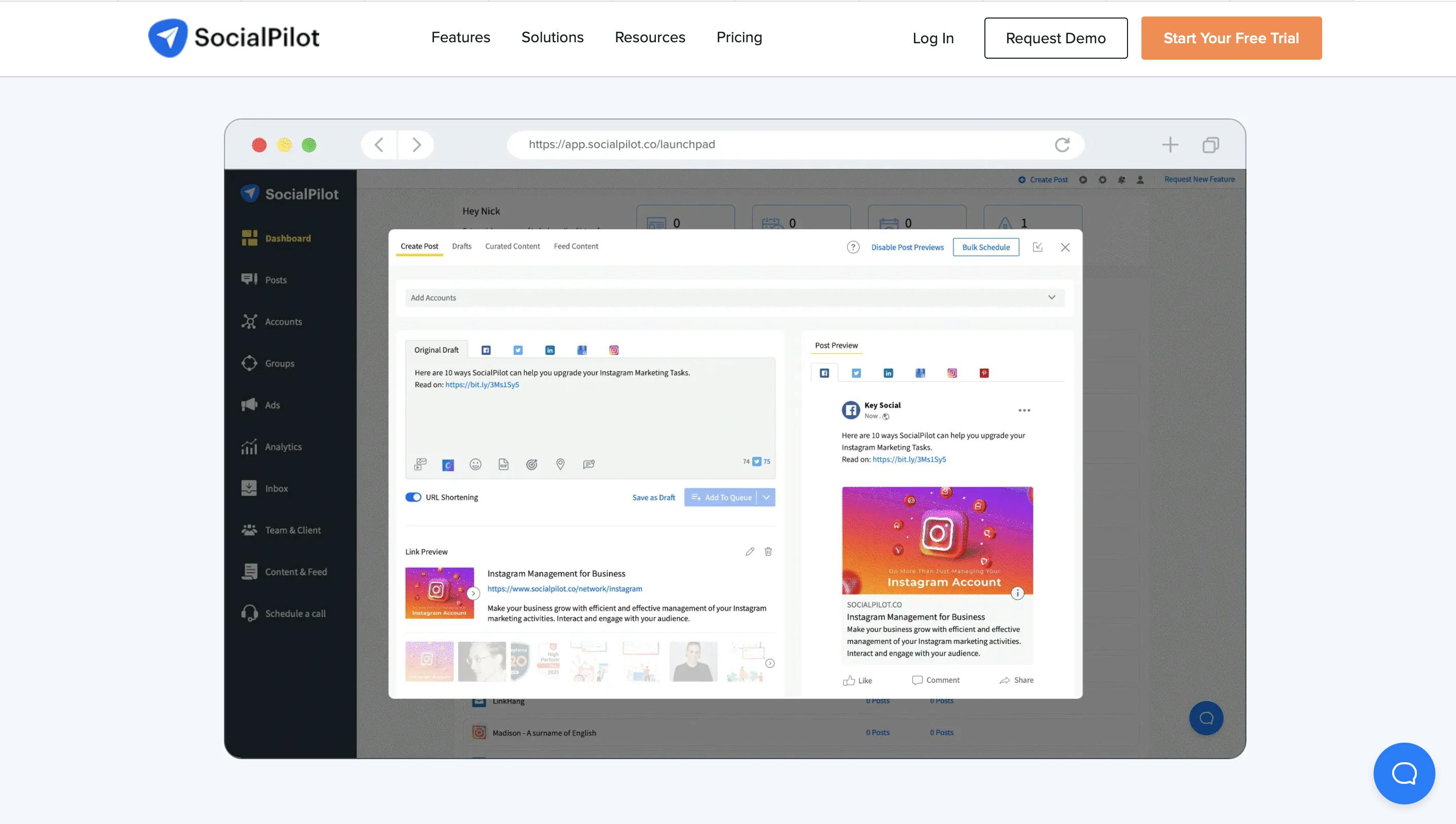 8. Sked Social
Sked Social is an "Instagram-first" social media scheduling tool. This means you can expect to find all the tools you need to manage and streamline your Instagram marketing. It includes a visual planner, a link in bio tool, a social media inbox, and shoppable tags for products.
Plans start at 21 USD/mo. for a single Instagram profile, while shoppable tags and products are available on the Essential plan (from 63 USD/mo.)
Sked Social is best for retail & fashion brands, e-commerce brands and freelancers managing product-based businesses.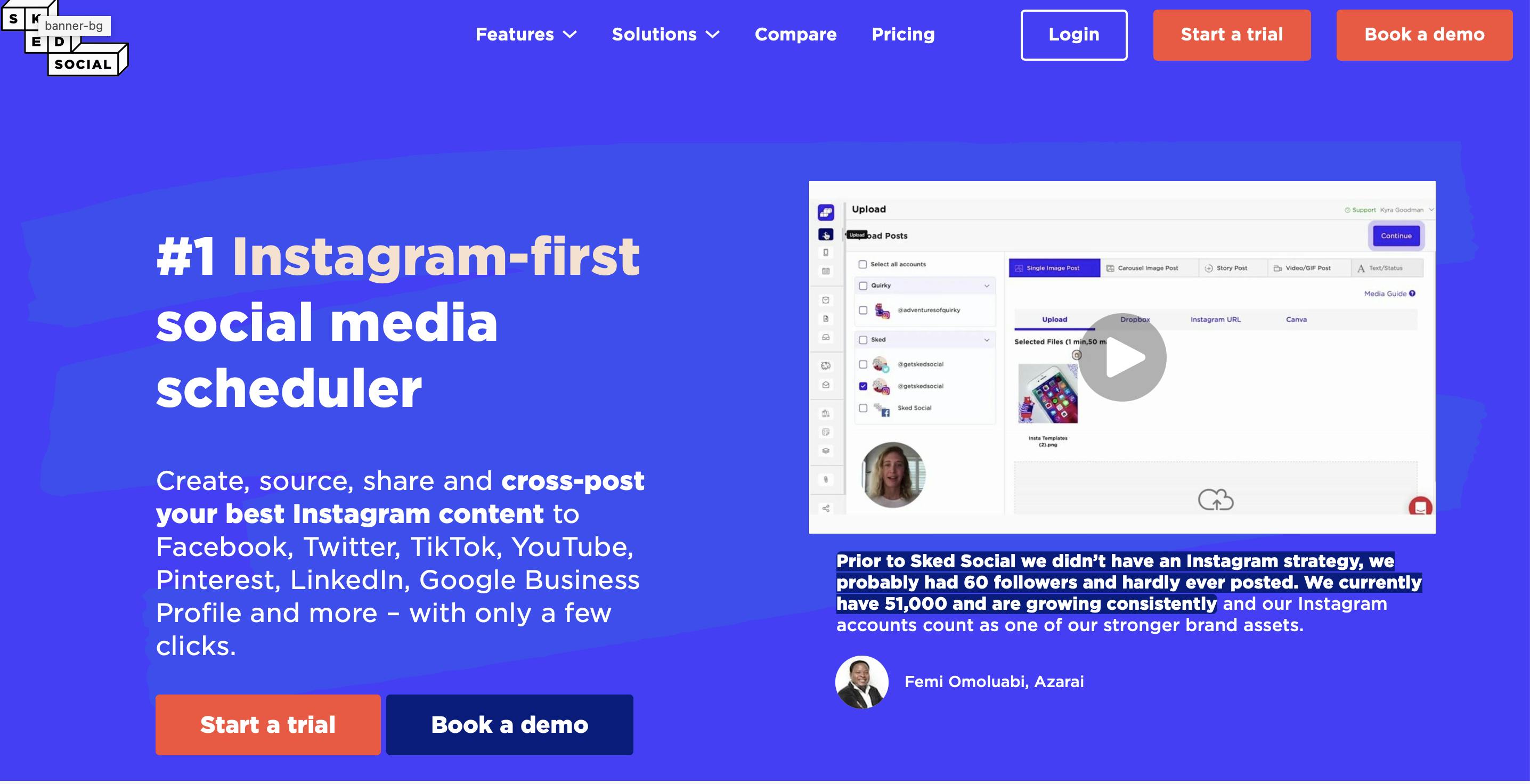 9. Tailwind
Tailwind is another scheduling tool for Instagram. Their free forever plan allows you to create a link in bio and schedule up to 20 Instagram posts/mo. across Instagram, Pinterest and Facebook for free.
With their paid plans you can get 1000 to unlimited posts/mo. and up to 5 users - but it's missing an inbox & advanced analytics features.
While it's lacking some features, Tailwind it's still a great social media scheduling tool worth a try! At its best, it's fully optimized for Pinterest marketing and supports scheduling to Instagram as well.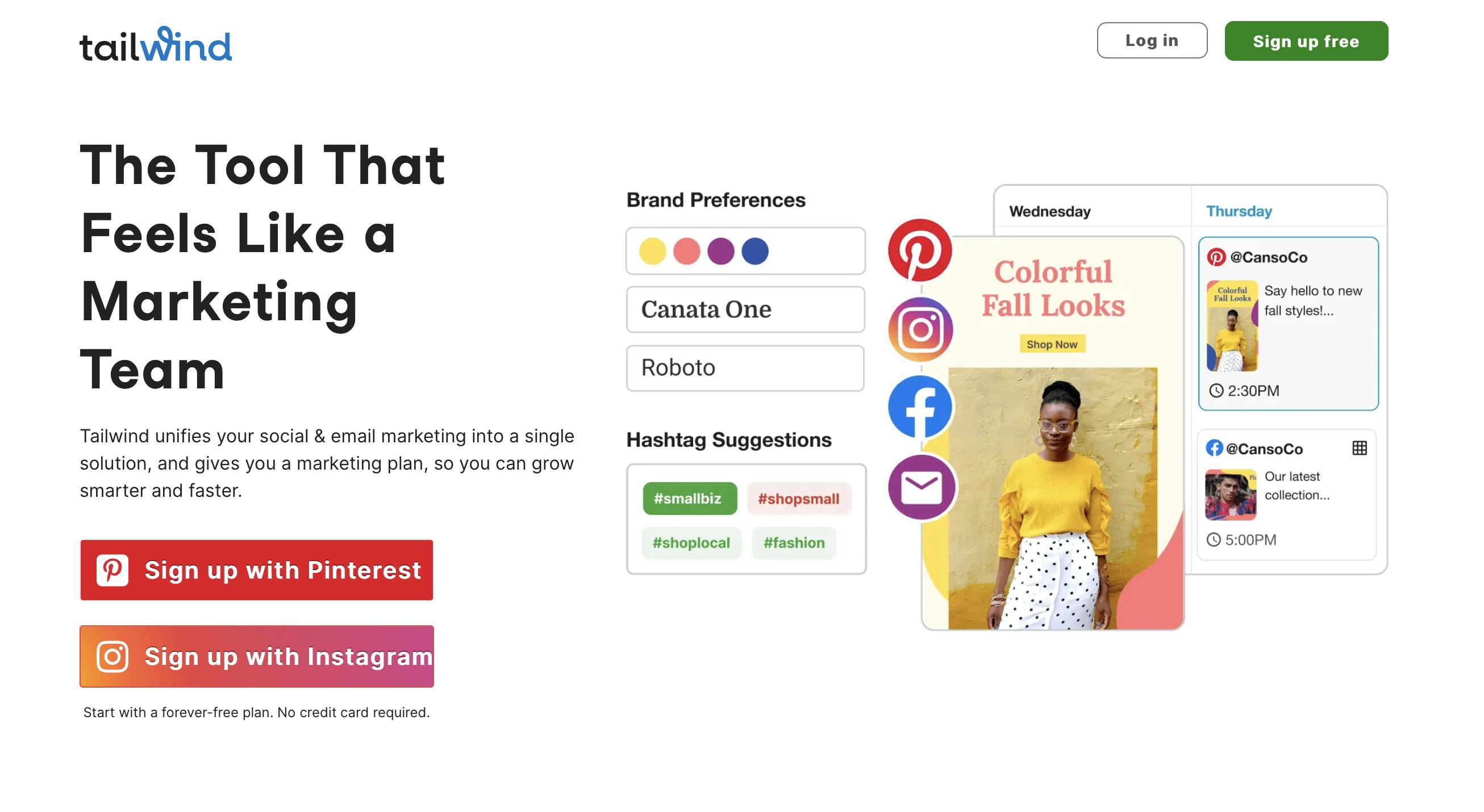 10. Sendible
Sendible is a mobile app that's perfect for managing your Instagram content on the go. It comes in 2 different apps (for IOS and Android) to support your entire Instagram marketing strategy:
1. Sendible Publish - to draft, schedule & approve content from anywhere
2. Sendible Engage - to monitor and reply to comments in real-time
Their plans are suitable for freelancers, social media agencies and brands who manage between 1 - 7 profiles and want to monitor & reply to comments in real-time. Pricing starts at 29 USD/mo. for 1 brand, and can be trialled for 14 days.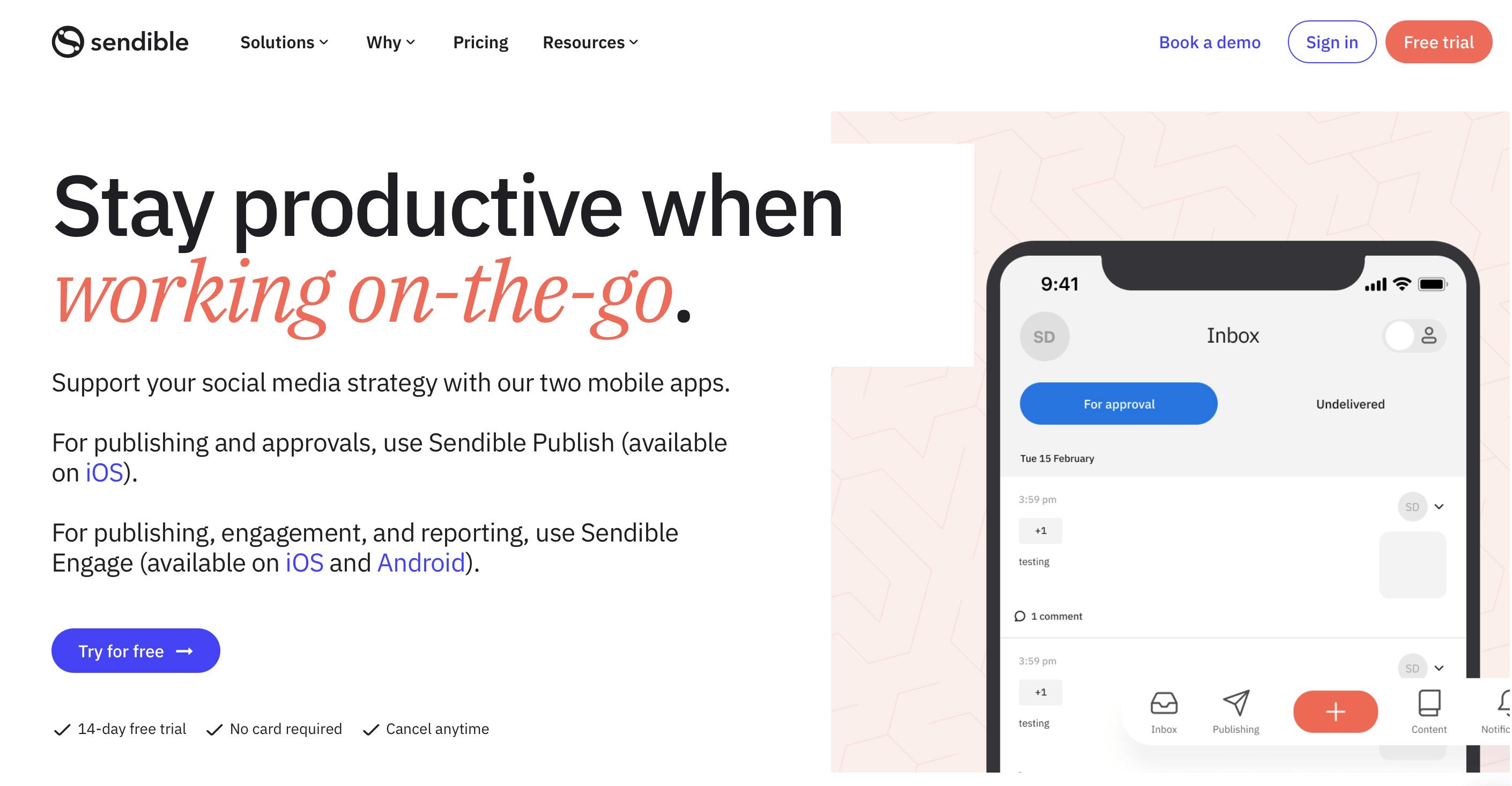 11. Preview
If you're like me, and you like to take photos and edit them on your mobile phone - you will love Preview app. It comes with all the features you get in a desktop version including a scheduling calendar view, a media library, photo filters and custom hashtags lists to add them to your posts. This app is so easy to use even by beginners and makes scheduling Instagram content fun!
Anyone can use Preview, but it's most suitable for personal brands, entrepreneurs and small teams who don't need complex scheduling features or analytics.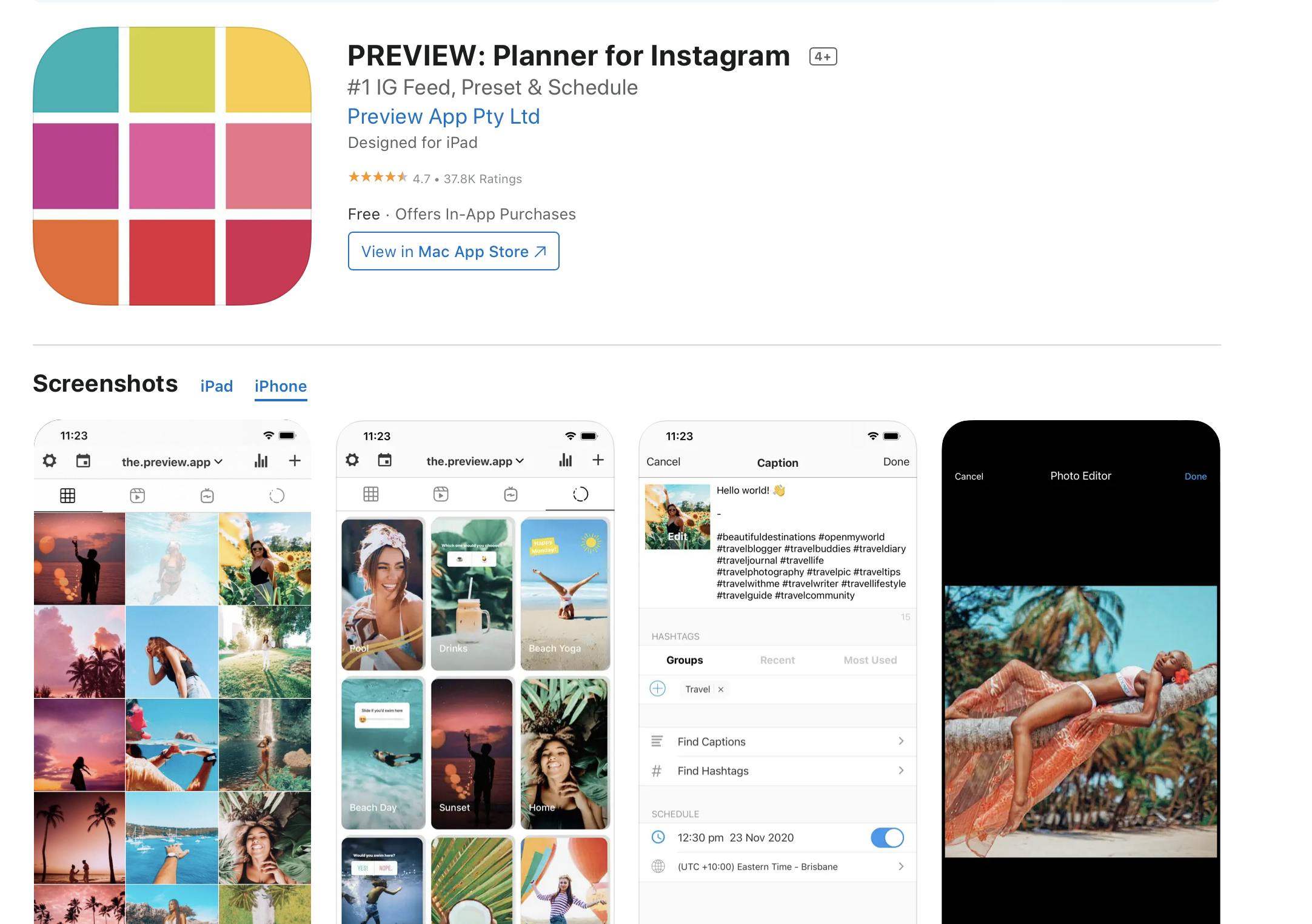 Related Articles