Bio link tools are great for guiding your audience where they want to go, but these days there's so many tools to choose from.
In this list we'll show you the top 5 Instagram bio link tools people are using in 2023, as well as a little review about each of them so you can choose one that's right for you..
Top 5 Instagram Bio Link Tools
1. Pallyy
Pallyy allows you to create a mini-website for your Instagram bio. Besides multiple links, it also offers some unique features such as social media buttons integrations, embedded YouTube videos and thumbnail images for your links.
You can also customize the theme of your Pallyy bio link with custom images and colours. When you're done, you'll get a custom link to add to your Instagram bio URL section and you can even view analytics to see which links get the most clicks.
Here's a list of the all the features available with Pallyy's link in bio:
Use your Instagram posts as a background, or as link thumbnails
Embed videos anywhere on your page
Add your Instagram, Twitter, Facebook, Youtube and Tiktok.
Colours, backgrounds, images, buttons, borders and more
2. Linktree
Linktree is one of the oldest Instagram bio tools on the market and still one of the most popular. It has a free version that allows you to create an unlimited number of links, choose from existing colour themes and view the total number of times your Linktree has been viewed and how many times each individual link is clicked.
Here's what you get with the free Linktree version:
Unlimited links
9 Themes to choose from
Upload your own profile image
Views - Know how much traffic your link gets
Clicks - View which links get clicked and when
Share your link offline with QR codes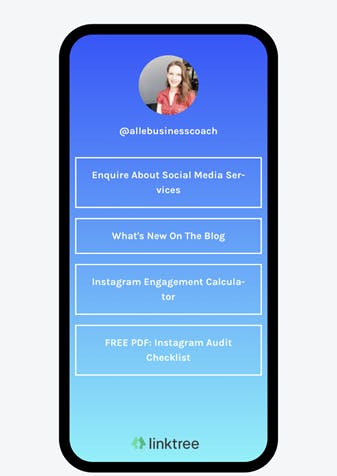 Linktree Pro includes advanced analytics and more customisations but it also integrates well with other marketing tools like Mailchimp, Facebook, YouTube, and more.
3. Milkshake
Milkshake is a mobile app that allows you to create a website for your Instagram bio link in just a few minutes. It's very easy to use and you can get started without any design or web skills. If you're looking for a tool to create a simple website with a few pages, I highly recommend Milkshake.
Here's a complete list of Milkshakes features:
Cards - Create swipe able pages to introduce your brand & more
Links - List multiple links into one page
15 pre-designed templates
Upload your own images
Analytics - Clicks and views
Rather than just displaying a boring list of links, Milkshake really makes an effort to make browsing more engaging for users.
Users can swipe through different pages (or "cards") for a more interactive experience. The cards come with pre-designed templates that you can customize with your brand colours.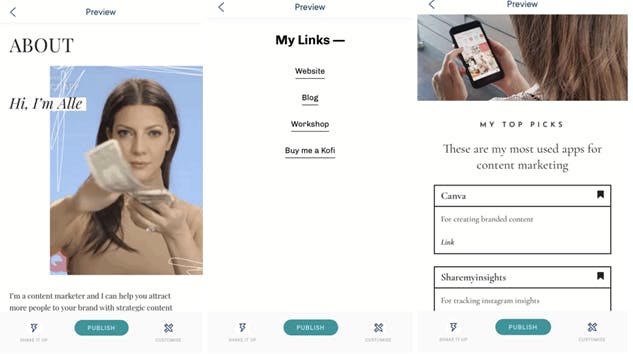 4. Shorby
Shorby's Smart Pages allows you to get more out of your Instagram bio link by creating a custom landing page filled with links to content you want to feature. It doesn't have a free version, but you can sign up and test out the features before investing.
Here are the features you get on Shorby:
Custom themes
Upload your own images
Links to messenger services – you can add a phone number, Facebook Messenger, WhatsApp, and more
Animated blocks – you can animate content blocks using pop animation
Dynamic content – you can display content from your latest blog posts, Shopify, YouTube videos and more
Scheduling – schedule your links to go live at specific times
Price tags – these are ideal for products
Facebook pixel tracking
Google analytics
Custom domain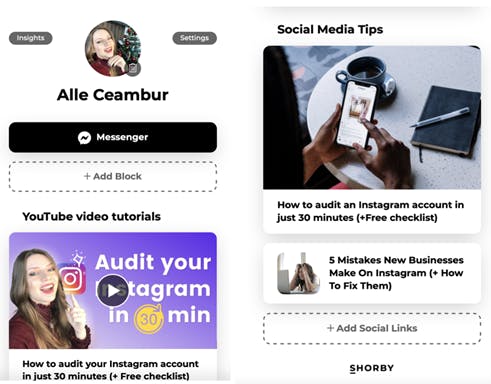 5. Link in Bio
Linkin.bio by Later is tool that allows you to recreate your Instagram feed on your landing page so you can add links to individual posts.
Here are Link in Bio's features:
Add links to your feed posts
Add up to 5 links per post
Schedule your links in advance
Track clicks and views for your links
Add your Shopify store
Track revenue and sales from Instagram
UTM tracking for Google Analytics
The main feature of this tool is to make it possible for you to actually share links through your Instagram posts instead of having to constantly change the link in your bio.
When users click your bio link, they'll see a recreation of your Instagram feed and if they want to learn more, they'll be able to click the link you wanted to insert in that post.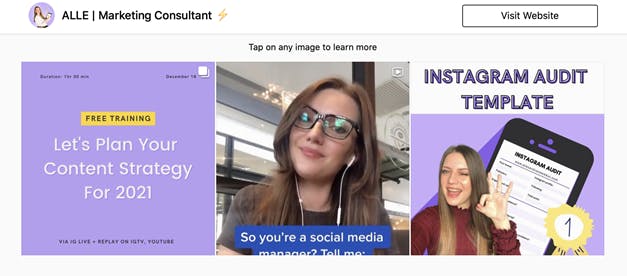 Related Articles