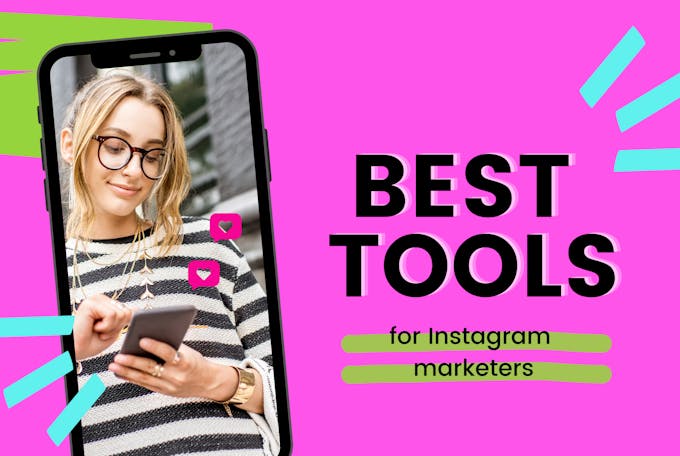 Want to know what are the best tools to spice up your Instagram marketing efforts and help you create better Instagram content?
Whether you're looking for content creation, automation or analytics tools, we've rounded up the best tools that you can use to grow your Instagram account.
The best Instagram tools in 2023
Pallyy
Pallyy is an all-in-one social media management platform. They allow you to create, schedule and publish content, analyze your posts & engagement, create reports, reply to conversations, create a bio link, plan your feed and so much more.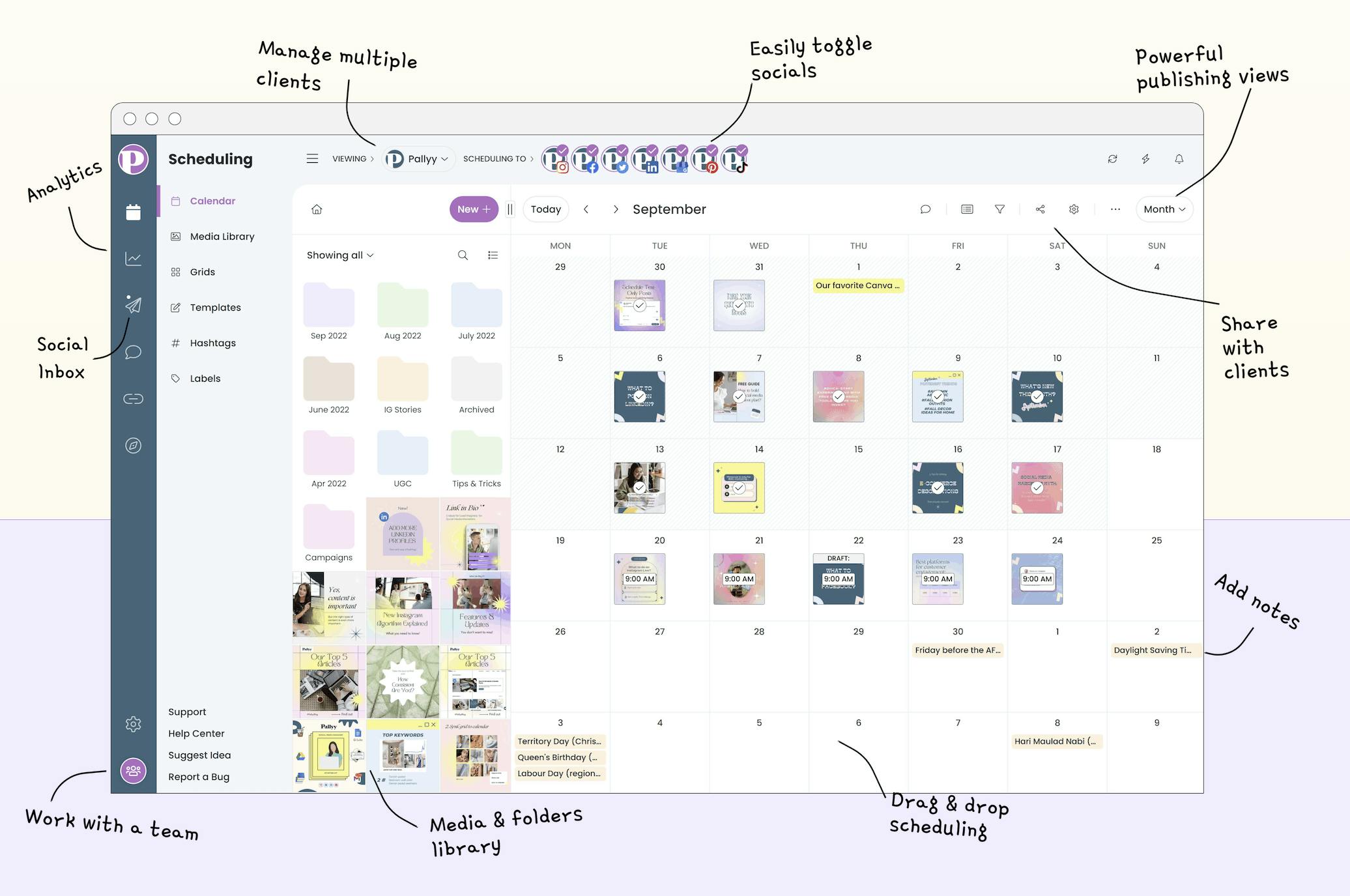 Pallyy is aimed towards social media agencies but also works great for small brands and businesses who are looking to get organized when it comes to managing their socials.
One of my favourite features is the Instagram feed planner. You can plan exactly how your feed will look while scheduling so that when it's posted, it fits your aesthetic. Pallyy is also one of the more affordable platforms, at $15 per social set.
Canva
Canva is the most comprehensive content creation app you can find for Instagram. You can browse through 60,000+ templates for social media posts, collaboration tools and integrations with other apps.
The app comes with an extensive list of free fonts, an animated stickers library and stock images and videos. Everything you could possibly need from a content creation app, and some.
When you subscribe to their paid plan, you can set your custom branded colours, upload your own fonts and even schedule content on different social media platforms. Talk about options!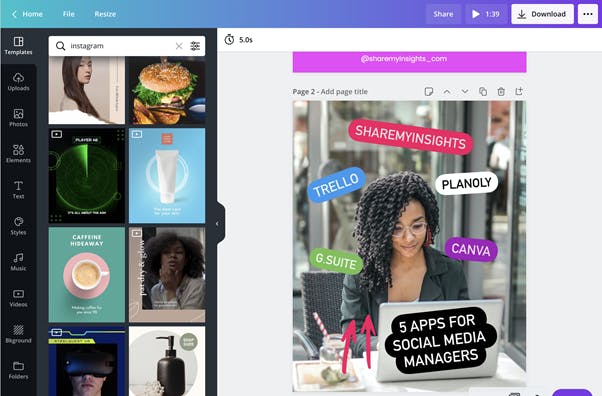 Adobe Spark
Adobe Spark is quite similar to Canva in terms of what content you can create. It comes with 26,000+ templates for social media posts and web design.
The interface is more clean compared to Canva and they both use a drag and drop editor. I personally find that Spark has more options when it comes to creating text graphics than Canva but overall they're both good for both beginners and pros.
Pablo by Buffer
Pablo is a content creation tool that's minimalist that comes with free stock images and options to add text layers. You can also upload your own images and you can choose to export your design in a format supported by Instagram, Facebook, YouTube or Pinterest.
Unlike Canva, you don't get an extensive library of templates, but you can resize your graphic for free. So it's still a great tool to use for beginners who may get overwhelmed with graphic design tools and are looking for something more basic.
Buffer is great, but if you're looking for something similar - check out our full list of Buffer alternatives here.
Instagram video tools
InShot
Inshot is a very powerful video editing tool and one of the best free video editing mobile apps. So if you're someone who records your videos on your mobile phone you'll find it very easy to edit your videos in InShot.
The app comes with a music library, options to cut, trim or merge videos, add your own text, stickers and record your voice over a video. All of that, without even opening your laptop! InShot is great for editing vertical videos for Instagram stories, square videos for feed or 16:9 videos for IGTV.
TikTok
Tikok is a video-editing powerhouse! You may think "hey, isn't TikTok a competitor to Instagram?". Yes, you're right but I find their video editor is much more superior to what you get on the Instagram app (even with Reels).
So, I like to use TikTok to edit video stories, behind the scene videos and even short tutorials. Then I can either share them on Instagram directly or download the videos and schedule them as a new post on Instagram.
Adobe Rush
Adobe Rush is a great video editor by the same company that brought us the professional video editor loved by YouTubers, Adobe Premiere Pro. While Rush is a simplified version, it's available on mobile devices, iPad and Desktop, so you can access your videos from multiple devices.
You will love this app if you're someone who edits horizontal videos for YouTube because you can convert them into vertical videos perfect for Instagram with just a click of a button. Talk about content repurposing!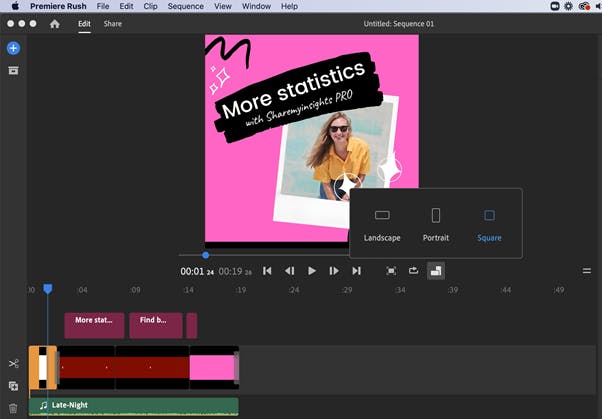 Instagram scheduling tools
Creator Studio
Creator Studio is Facebook's official content scheduler that allows you to cross share and schedule content on both Instagram and Facebook. If you're just starting your career as a social media manager (and your budget is limited) Creator Studio may be the best option for you. It allows you to manage multiple client profiles and schedule as many posts you wish.
The app is also easy to use and it gives you some basic performance Instagram statistics too but if you're looking for more PRO features such as hashtag research and advanced analytics, you should opt for a more powerful automation tool or use it in combination with a standalone Instagram analytics tool.
This is also the only tool that allows you to schedule IGTV videos in advance & Facebook Stories.
Preview App
If you're not looking to create and schedule content from your desktop, you may find Preview mobile app super useful. If you're like me, and you like to take photos and edit them on your mobile phone and share them straight away, you can do so in Preview.
The app comes with all the features you need to schedule your content in advance, including drag and drop features, 30 monthly posts, a library of curated hashtag groups, image filters and basic analytics.
This app is also easy to use even by beginners and it even alerts you when it's time to post. The only downside? Well, if you are managing multiple accounts it can get pricey and you will find it easier to work from a desktop app.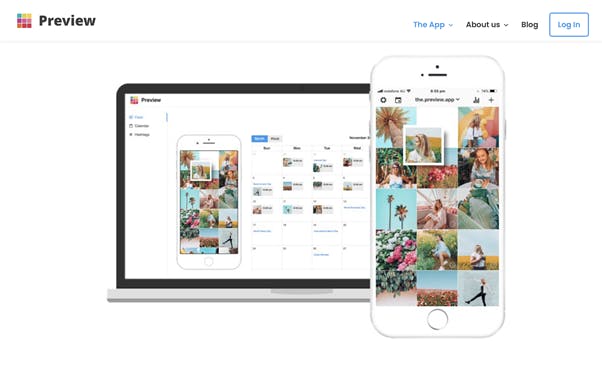 Hootsuite
Hootsuite is for you if you're at a medium-advanced level and you're managing multiple accounts across various social media platforms however, the free version of the app allows you to link only 3 platforms of your choice and comes with limited scheduling and no analytics.
Hootsuite's paid plans start from $19/month and come with auto-scheduling for 10 social profiles, unlimited posts and access to advanced analytics. If you are curious to check them out, you can sign-up for a free 60-day trial with any of their paid plans.
Instagram Story tools
Canva Stories
You already know that Canva is an amazing content creation tool. But did you know they have a standalone app for Instagram Story editing? It's called Canva stories and you can use it to create branded story graphics. It comes loaded with free templates that will help you make beautiful story graphics.
Over
With Over, you can make custom transparent stickers, download them as a png image and upload them into your Instagram Stories videos or photos. They're great for maintaining consistent branding across the images you share in your stories and your feed.
The app is now available on desktop too, so you can make beautiful designs even faster.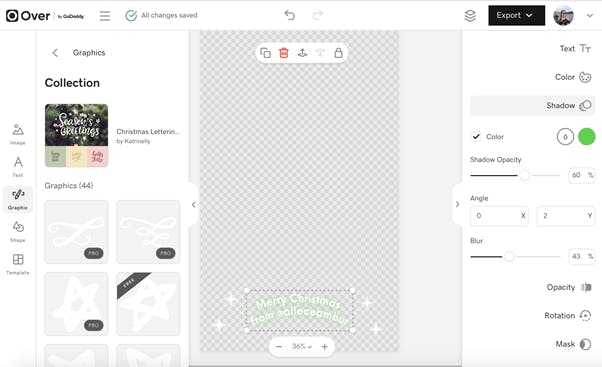 Mojo
Mojo lets you create beautiful animated stories and videos. Start with a customizable template, add your images, music, transitions + text and move them around until you're happy with your result.
You'll like this app if you're a beginner because the templates make it so easy to create professional videos in seconds.
The app comes with free and paid plans, and with the paid plan you get to upload your own fonts and logos and change the format to square/landscape.
Instagram bio link tools
Milkshake
Milkshake app allows you to create a mini-website for your Instagram bio link. You can add an "About me" page, feature your star products and add a list of links.
It's very easy to use and you can make updates using just your mobile phone without any design or web skills.
Linktree
If you're just looking for a free tool where you can create a single landing page with multiple links then I recommend that you try Linktree. It's simple, minimalistic and it does deliver on its promise "One link that connects your Instagram followers to multiple destinations".
Do note that analytics are only available on their paid plans.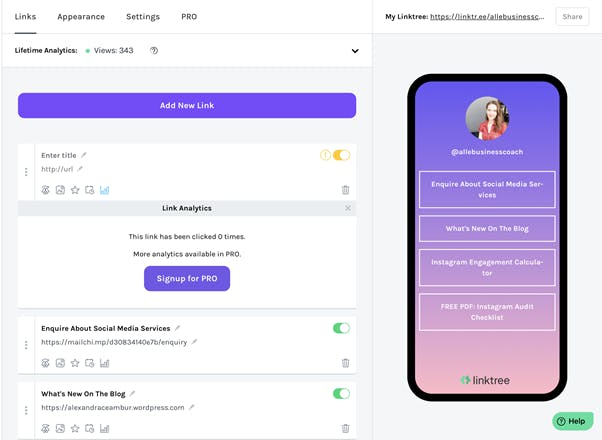 Pallyy
Pallyy is more versatile than Linktree, but not quite "website like" in feel when compared to Milkshake. Besides multiple links, it offers some unique features such as social media buttons, embedded YouTube videos and thumbnail images for your links. Definitely lots of good features that are worth exploring.
Instagram analytics tools
Pallyy
Pallyy is one of the best Instagram analytics and insights apps you can find out there. It allows you to track your followers' growth, check your content performance, see your top hashtags, monitor competitors and more.
If you're a social media manager or strategist, it will help you save so much time! I've been there doing the manual work - so for me, it's been a time saver!
Want to know how I use Pallyy? You must watch this tutorial:
Iconosquare
Iconosquare offers beautiful charts and a comprehensive list of statistics about your Instagram performance that can help you improve your Instagram content strategy.
I've had a positive experience using it, however, if you're a small business or a freelancer you may find it a bit on the expensive side. For example, for 10 social profiles, you'll have to fork out $129/month.
Ninjalitics
Want to know what your Instagram competitors are doing? What hashtags are they using? How many posts do they share? Which posts bring them the most engagement? Then, I'd like to introduce you to Ninjalytics. You can just type in an Instagram user handle and they'll generate a quick report.
Check out this YouTube video where I break down iconosquare vs ninjalitics:
Instagram hashtags tools
No list would be complete without talking about hashtags. How to use hashtags on Instagram? Where to find the best hashtags? Why my hashtags aren't working... are just a few questions I get almost daily! So, here are the best tools to find relevant Instagram hashtags:
Instagram Search
If you're serious about using Instagram hashtags strategically, then you need to research your hashtags before posting. Not only that, but Instagram keeps updating their list of banned hashtags on a regular basis, so you need to know if your hashtags are banned.
The Instagram app comes with an inbuilt hashtag search tool which tells you the number of posts shared under a hashtag.
Display Purposes
Display purposes is a website that comes with a hashtag generator tool. You just need to type a keyword and the website will come up with a list of hashtags you can copy and paste on Instagram.
HashtagsForLikes
HashtagForLikes helps you search popular hashtags and ranks them by difficulty (low, medium, high). You can then experiment with creating your own hashtags sets which you can curate directly from the hashtag search tool.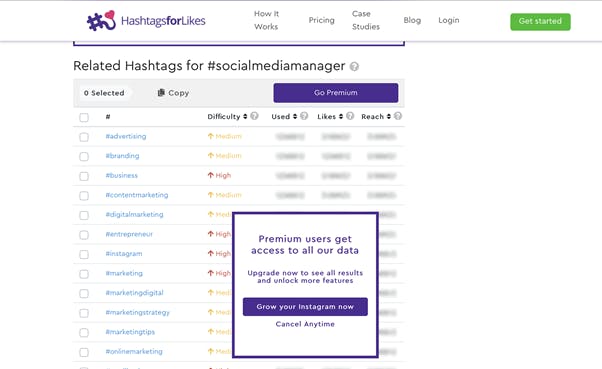 Check out a few more of our favourite Instagram hashtag tools here.
Instagram feed embedding tools
Juicer
Juicer offers an easy way to integrate your social media posts and feeds onto your website. You can bring your social media right into your site landing pages or blog posts. It also has a moderation option so that you can include only the best user-generated social media content. 
You can embed your Instagram account and pull in your whole feed into your website on a dedicated page or choose to feature only specific posts through hashtags (Great for running social media competitions and campaigns). You can also have a view of your various social media platforms in one place. There are many options - time to get creative! Juicer offers free and paid plans.
Related Articles