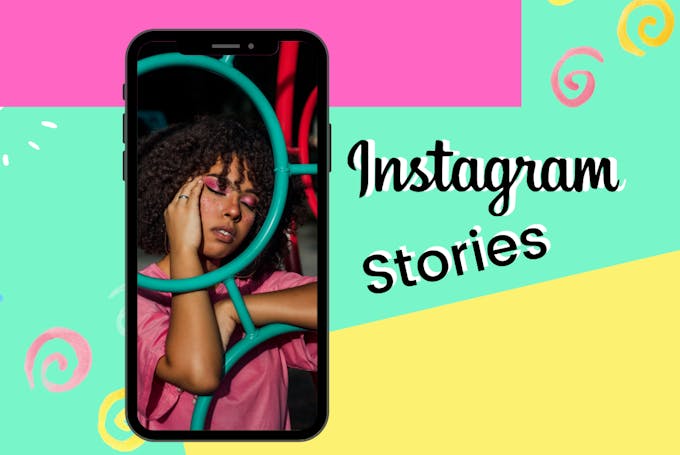 Do you post to your Instagram Stories? If not, you are missing out on a lot of opportunities to grow your business.
Stories are where brand awareness is built, latest updates are shared and friendships with customers are made. Some of the best marketers have successfully used Stories to build engagement and drive sales.
If you're new to Instagram stories, then this post is for you. We'll show a simple step by step guide on how to post a Story on Instagram from scratch.
What is a Instagram Story?
Instagram Stories are vertical images and short videos (up to 60 seconds) that only live for 24 hours after which they disappear (unless you save them into a Highlight). Stories offer a wide range of tools for engagement including polls, questions, quizzes and more. Also, while watching your Story, viewers can easily send you a direct message.
Since they're fast moving content they're often used much more casually than the Instagram feed. While your feed images should look polished and on brand, there's more room for experimentation when it comes to Stories.
How to post a Story on Instagram in 2023
When it comes to posting a Story on Instagram you have a few options:
Create your story on the Instagram app itself.
Create your stories using a Instagram Story tool like Canva, Spark or Over and then upload it on Instagram Stories.
If you're a beginner, you'll probably start with the first option and learn how to use all it's features before venturing into other tools. The cool thing is that the Instagram app offers you all the necessary tools to create and edit and post Stories.
How to post a Story on Instagram using the Instagram app
Step 1: Tap the camera icon in the top left corner of your app to create a new Story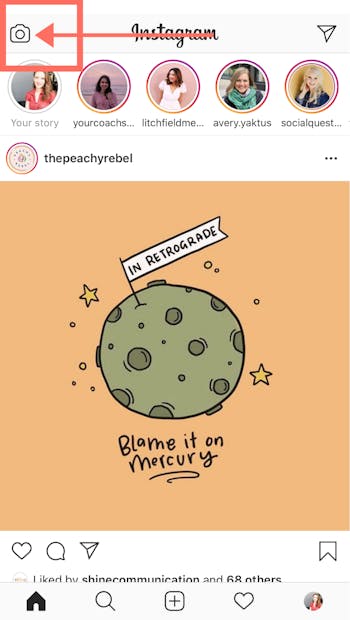 Step 2: Pick a camera effect for your Story by scrolling through the Instagram filters menu located at the bottom of the screen.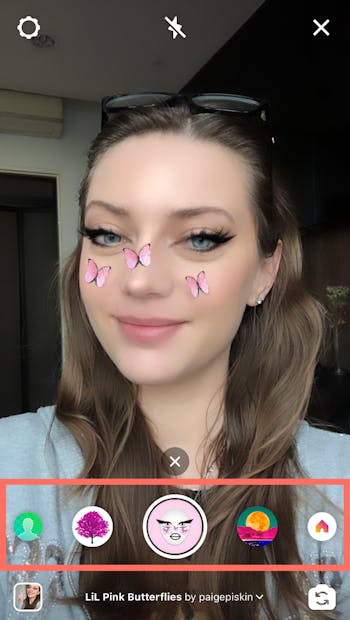 Step 3: Tap on the white record button located at the centre of the screen.
A single tap on this button allows you to capture a photo. Holding the button down and you'll record a short video (up to 60 seconds).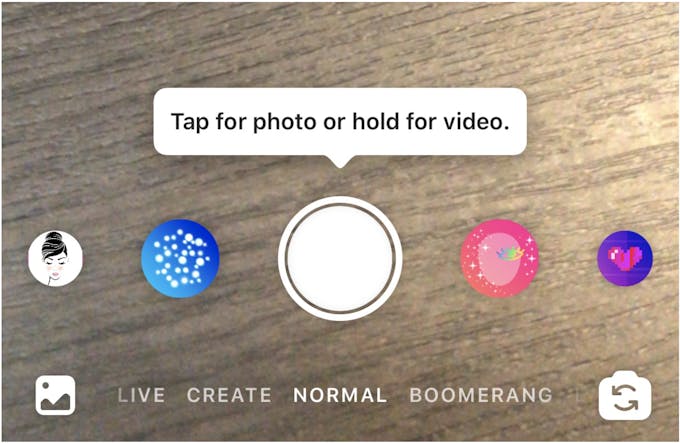 Step 4: Add additional elements to your story from the editing tools menu. You can add text overlay, Story stickers or use the drawing tool to make your story unique. Some of the editing tools include:
Aa - add text
Pen icon - opens drawing tools
Smiley face icon - add stickers
Link - add a URL link
Arrow - download story to your phone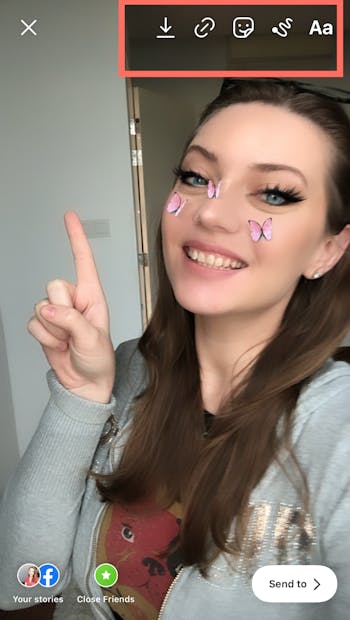 In this example, I used the drawing tools to write "Hello" on my image. Then, I added an emoji slider sticker from the sticker menu.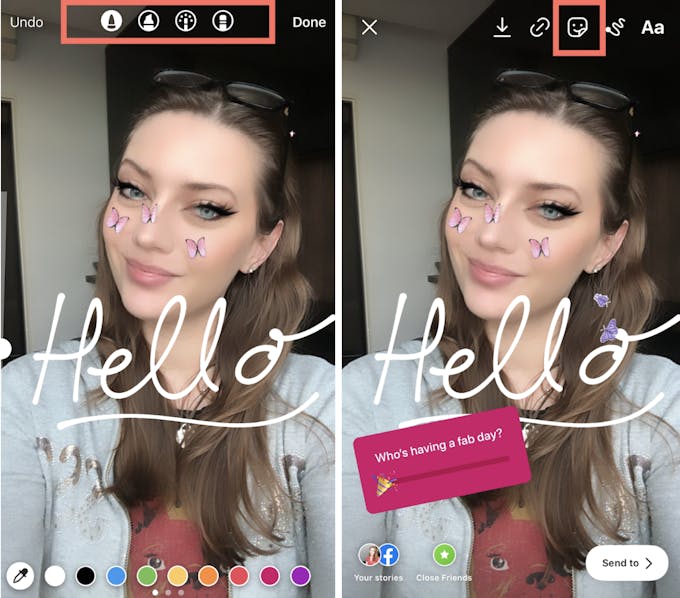 Step 5: Tap on "Your stories" icon at the bottom left corner to post your Story.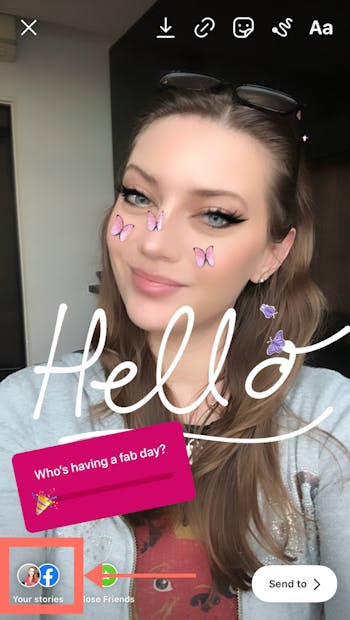 And you're done! This whole process is very quick and you don't have to be a pro to post Instagram Stories.
How to post a Story on Instagram on desktop
If you're feeling super creative, or you just want to share unique stories that have a "branded look" using your colours and fonts you can design them in a desktop app and then share them on Instagram.
Apps like Canva, Spark Post or Over allow you to design vertical images perfect for Instagram stories.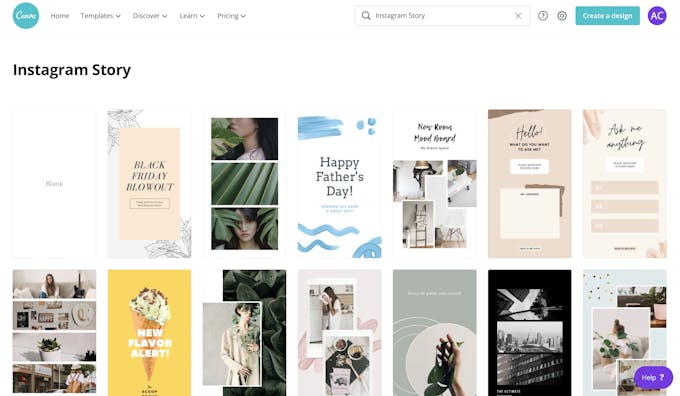 Start with an editable Story template, or create your own designs that reflect your branded elements and style. Here's a list of our top Instagram story tools that will really help to make your stories stand out from the crowd!
Pro tip: Creating Stories this way gives you the option of scheduling them ahead of time with a tool like Pallyy!
How to post a Story on Instagram with music
Posting a Story on Instagram without any music can sometime be boring, which isn't good for your engagement and may result in people only watching a few seconds of your story.
Instagram now let's you add music to your Instagram Story by using their music sticker. It works for images and videos and there's thousands of tracks to choose from, so you'll be able to find one no matter what type of content you're posting!
Open a new Instagram story
After you've taken a post/video, hit the sticker button at the top of your screen
Find the music sticker
Search for a track to add to your Instagram story
Trim the track to get the right part of the song
Choose if you want lyrics, and change the style of the text
Customize the story sticker to match your story style
And that's how easy it is to add music to your Instagram story, go and try it out!
How to post a Story on Instagram and tag someone
If you have posted a Instagram story using someone else's content, or a story that includes other people - it's a good idea to tag them in your story. When you tag someone in a Instagram story they'll receive a notification, so it can be a good way of getting someone's attention.
Add text to your Instagram story by tapping the "Aa" button
Type the @ symbol and then start typing the user you want to tag
Select the user from the drop down suggestions
You can also tag someone in a Instagram story by using the mention sticker. Simply click the sticker icon at the top and search for the @mention sticker. Type the username in that you want to tag and select from the list.
You can only tag a maximum of 10 people in your story.
Related Articles