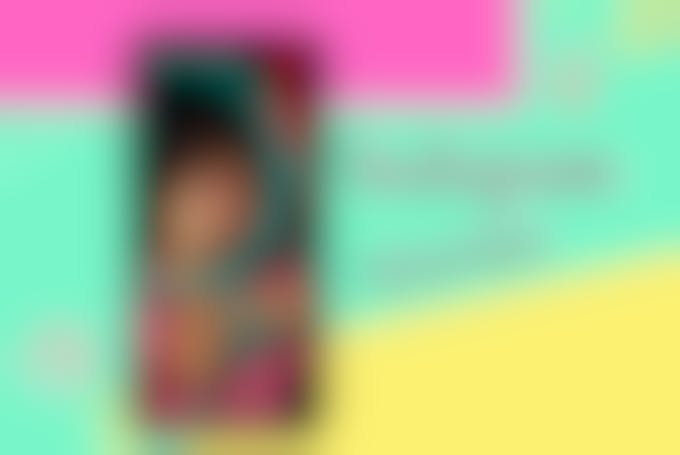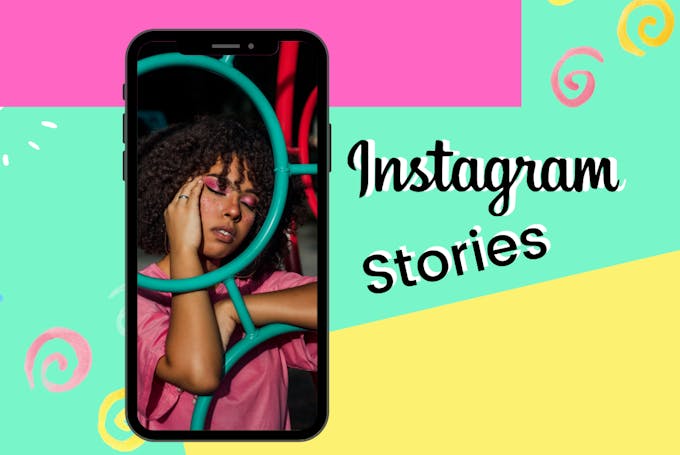 Do you post to your Instagram Stories? If not, you are missing out on a lot of opportunities to grow your business.
Stories are where brand awareness is built, latest updates are shared and friendships with customers are made. Some of the best marketers have successfully used Stories to build engagement and drive sales.
In this post, we'll show a complete guide to using Instagram Stories to improve your marketing efforts. We'll start with the basics of how to create and post a story, and move our way up to tracking Instagram analytics for your stories.
Ready? Let's dive right in.
What is an Instagram Story? #
Instagram Stories are vertical images and short videos (up to 15 seconds) that only live for 24 hours after which they disappear (unless you save them into a Highlight).
So what makes them a popular Instagram feature?
Stories offer a wide range of tools for engagement including polls, questions, quizzes and more. Also, while watching your Story, viewers can easily send you a direct message.
Instagram Feed vs. Instagram Stories 🖼️ #
Since they're fast moving content they're often used much more casually than the Instagram feed. While your feed images should look polished and on brand, there's more room for experimentation when it comes to Stories.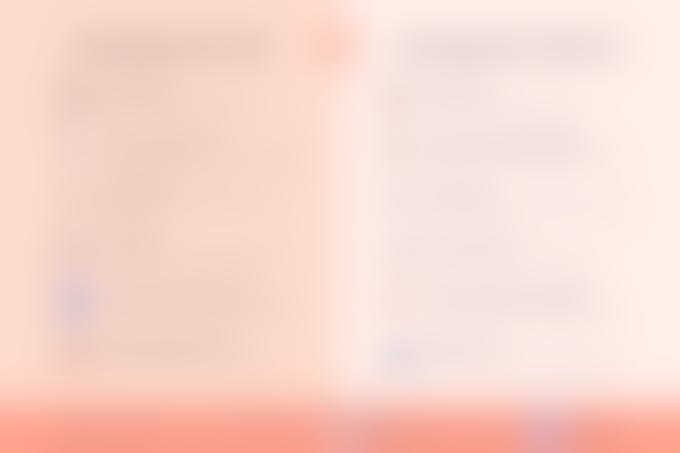 Source: Animoto.com
Instagram Stories Usage Stats 📊 #
Instagram is one of the most popular social media networks. In 2019, the number of American adults who use Instagram rose from 35% to 37% and a large contribution to that is owed to Instagram Stories.
Knowing who uses Instagram stories and why they're popular can help you plan your strategy.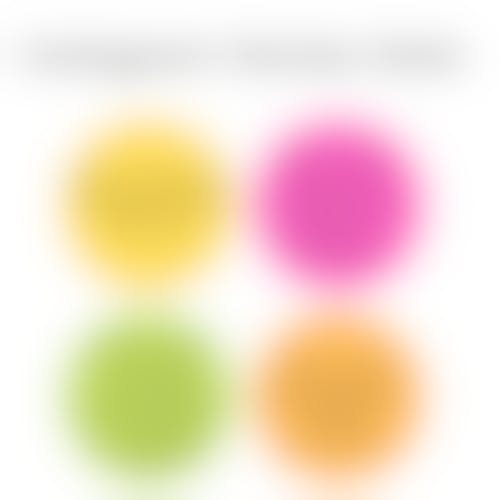 How to Use Stories For Business 💼 #
There are many ways you can use Instagram Stories for your business depending on your goal.
Want to grow brand awareness?
Want to boost reach?
Want to grow engagement?
Want to drive more sales?
Let's explore using Instagram Stories to support all these different marketing strategies.
Strategy #1: Use Stories To Grow Brand Awareness 📣
Bite sized Instagram Stories can provide a boost for your brand awareness.
Here are a few ways to differentiate yourself on Instagram using Stories:
1. Share your uniqueness
Stories are perfect for showing your audience who you really are as a brand owner and a person. With so many competitors selling a similar product what's going to make you stand out?
Your uniqueness
Your personality
Your background
Your life story
@madison.tinder, a marketing coach shows a mix of personal things about her life: her dog, her home and her personality as well. It's not always about business on her Instagram account.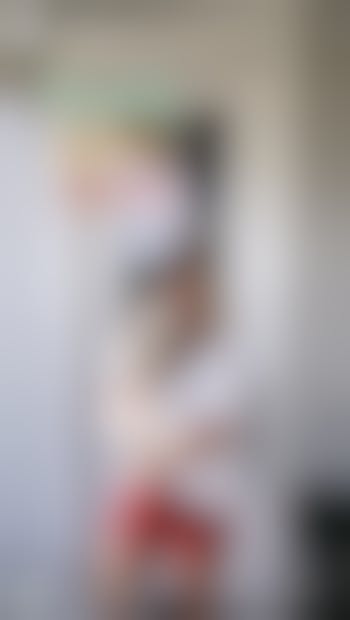 2. Offer a glimpse behind the scenes
People love knowing more about how their favourite products are made and how the work is done behind the scene. Especially if you're a startup entrepreneur you should know that building credibility with a cold audience is not easy. That's why you should post behind the scene videos - give people a chance to see that you're a real business and an expert in your field.
Introduce yourself to your audience
Do a virtual office tour
Answer customer FAQs
Show your work process
Share a customer review
For example, @starbucks tasked their audience to submit questions. Then, they answered each question in a series of Q&A Stories.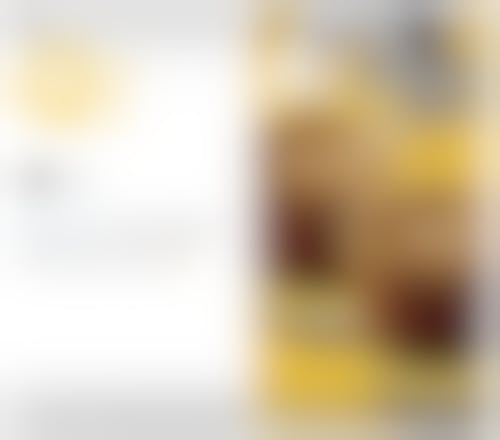 Strategy #2: Use Stories To Boost Reach 🚀
1. Use hashtags and geotags 🗺️
You know that Instagram allows you to use up to 30 hashtags on a feed post. But did you know you can use up to 10 hashtags in your Stories?
Using Instagram hashtags in combination with geotags will help you broadcast your stories to a wider audience because now Stories get featured on the explore page.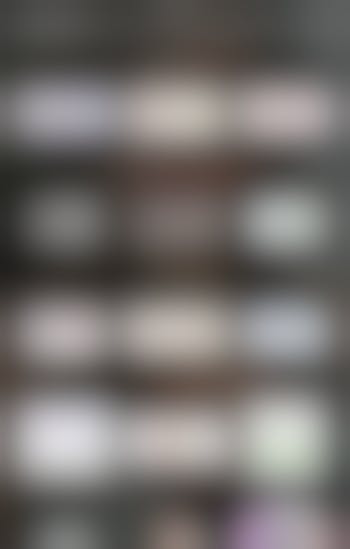 2. Influencer Takeovers
Another effective Instagram tactic is the Instagram Story Takeover.
A "takeover" is when you're inviting influencers to post to your Stories for 24hrs.
This is a popular tactic used by brands as by sharing user generated content regularly you can reach a whole new audience in a short time.
Takeovers can include:
A day in a life
Tutorials/Teaching a skill
Live Q&A/Interviews
One brand that's currently reaping the benefits of regular takeovers is @buzzfeedtasty.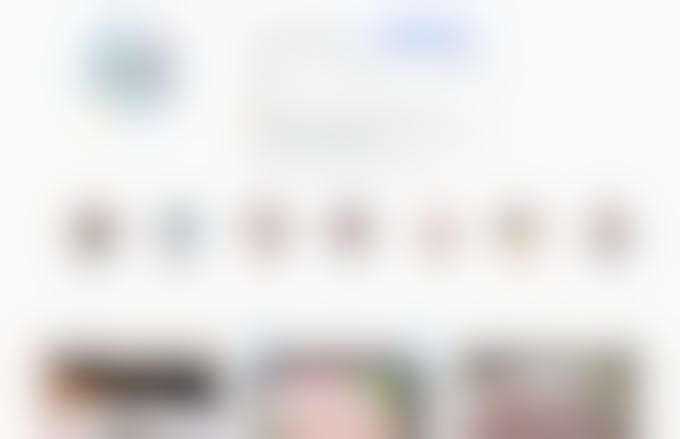 They're getting influencers and employees to post recipes tutorials on their stories. They then saved each Takeover into a separate Highlight where new visitors can re-watch the content.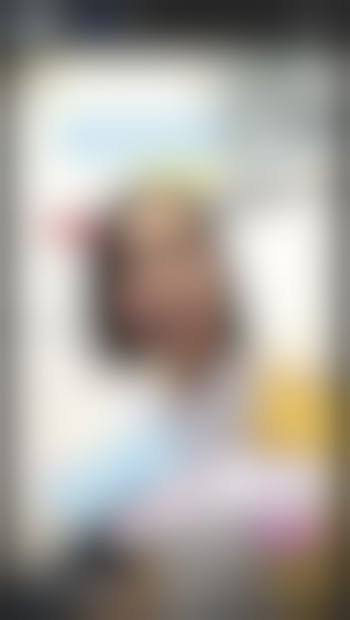 This way, Tasty created an evergreen content library made from influencer Takeovers.
Strategy #3: Use Stories To Grow Engagement 🌱
1. Stickers
Instagram stories stickers are an excellent way to engage with your existing followers. They are animated features that make interactions between brands and customers easy and seamless.
The 5 main stickers that you can use to grow engagement are:
Question
Poll
Quiz
Emoji slider
Shoutouts
Question Sticker
You're more likely to turn followers into fans by asking them questions.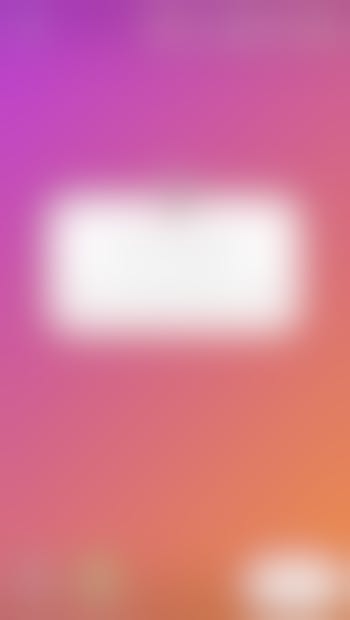 Users that took the time to answer your questions can be qualified as warm leads. You can use a bunch of Instagram marketing tools to target them with your future campaigns and not only that, using question stickers in your Stories can help you get valuable customer feedback and use it to create better products.
If you have no idea where to start, ask simple questions like:
What's your favourite ...?
Do you like ... ?
What's the best ...?
Ask me anything about ...
Poll Sticker
"A or B" and "Yes or No" polls are another Instagram feature that you can use to engage with your followers.
They're easy to use and quick to reply which makes it a favourite among big brands and small.
For example, Starbucks uses polls to get their audience to part take into conversation about coffee culture. This effort makes their followers happy to be part of an exclusive club.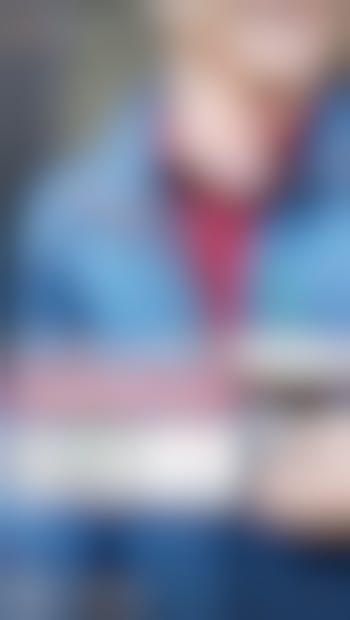 Okay, so how do you use Polls to grow engagement? Here are some ideas you can implement:
Use polls to gather feedback on your product/service.
Use polls to get to know your target audience and their preferences so you can create better products for them.
Use polls to find a common interest with your followers.
Quiz Sticker
These are trivia style questions that you can use to engage your audience.
As soon as someone casts a vote on your Quiz they get instant feedback about their response. If it's correct, they'll be greeted by an animation to celebrate! If not, they'll see their response marked in red.
Here are a few ideas for using Quiz Stickers to engage your audience:
What's your favourite ...
Guess which option is true ...
Our best selling product is ...
What's the name of ...
What's the no #1 ...
Source: Social Bakers
Emoji Slider 😃
This is another sticker that can help you engage with your community. The Emoji slider allows you to ask a question and get a reaction from your followers.
You're also able to customize the sticker with different emojis to fit in with your brand message.
Ask your followers the following:
How much do you love ... (eg. your product)
Are you excited to see ... (eg. new product)
Ask a question and add a few answers next to the slider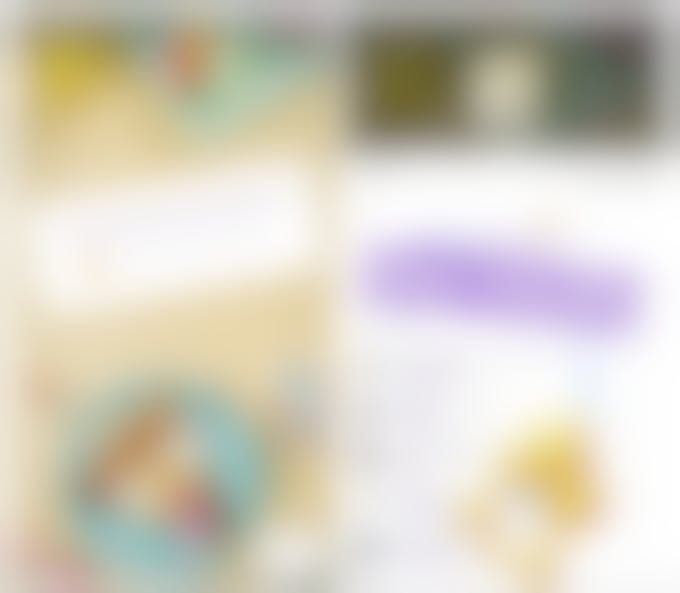 Source: Instagram
Strategy #4: Use Stories To Drive Sales 💰
Swipe Up Links ☝️
The "Swipe Up" feature allows you to add links to your Stories. This makes it convenient to move a prospect through your sales funnel right from your Instagram Story.
All a user has to do is to swipe up with their finger and be redirected to a conversion site.
Here are a few ways you can use this feature:
Share a link to your website to get more leads and sales.
Create a promo link that influencers can share onto their Stories.
Direct people to download a freebie and enter your sales funnel.
You can draw inspiration from Starbucks. In the example below, they're using the Swipe Up feature to take orders (via a link to their mobile app).
Instagram Ads
If you're looking for the best way to promote your product to a targeted audience on Instagram then Stories ads are the best option.
Instagram Stories ads are so seamless that most people don't even realise they're watching an ad - like in the example below, and since Instagram used Facebook's advertising system you can target your ads based on your audience's demographics. Interests, behaviours and more!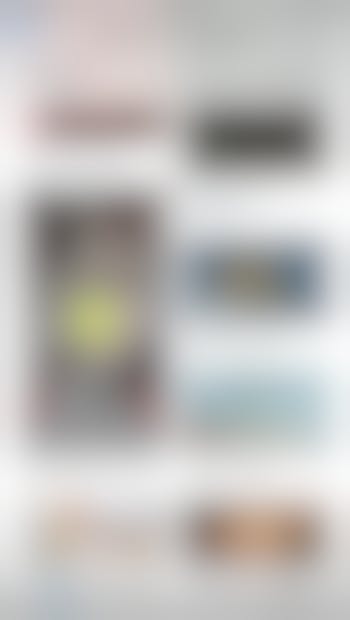 Source: Vimeo
Shoppable Story Sticker 🛍️
This is similar to the regular Instagram shoppable post:
As a business owner you're able to tag physical products from your e-commerce shop inventory. When someone clicks on a shoppable item icon, they're able to see the price and if they click on it, they'll be redirected to your online shop checkout page.
An influencer or brand ambassador can tag your products to promote them as well. Here Victoria's Secret used an Influencer shoppable post which leads to their website.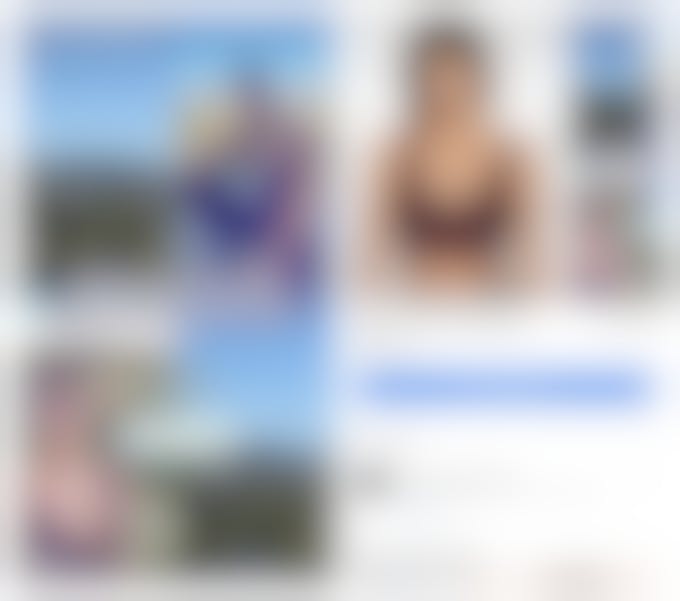 How To Create And Edit Stories 📹 #
Now that you know a few different strategies and benefits of using Instagram Stories for your business, let's show you how easy it is to create a story.
You have 2 options:
Create your story on the Instagram app itself.
Create your stories using a 3rd party Instagram story tool like Canva, Spark or Over and then upload it on Instagram Stories.
If you're a beginner, you'll probably start with the first option and learn how to use all it's features before venturing into other tools.
Option #1: Using the Instagram mobile app 📲
The cool thing is that the Instagram app offers you all the necessary tools to create and edit Stories.
Here's how to create a story using the Instagram app on your phone:
Step 1: Tap the camera icon in the top left corner of your app to create a new Story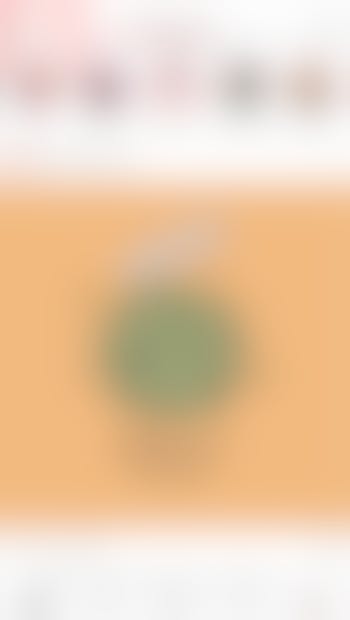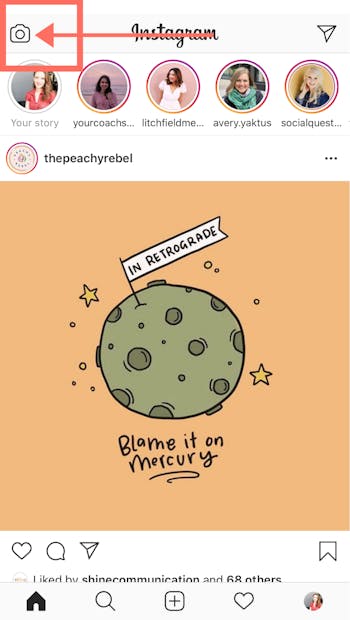 Step 2: Pick a camera effect for your Story by scrolling through the Instagram filters menu located at the bottom of the screen.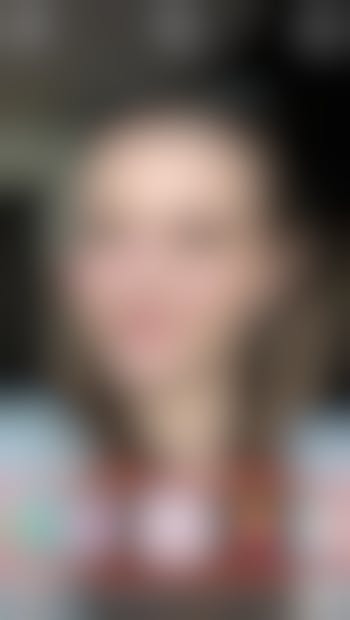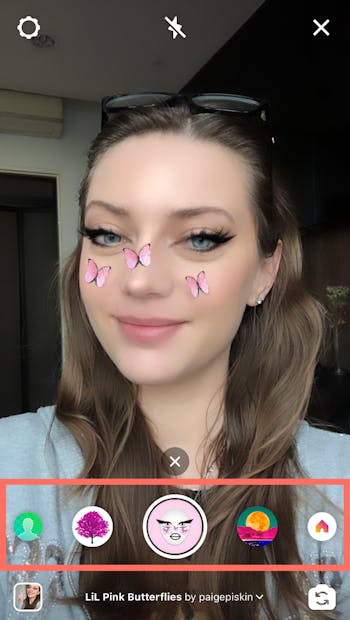 Step 3: Tap on the white record button located at the centre of the screen.
A single tap on this button allows you to capture a photo. Holding the button down and you'll record a short video (up to 60 seconds).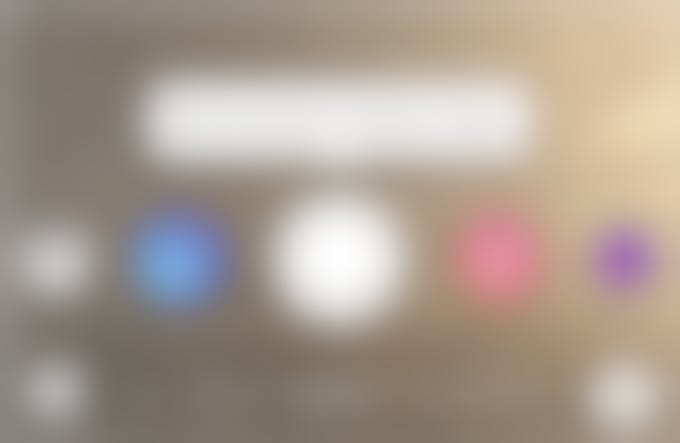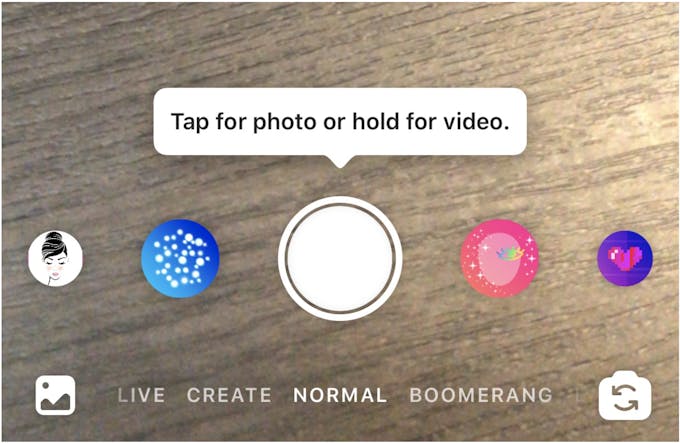 Step 4: Add additional elements to your story from the editing tools menu. You can add text overlay, Story stickers or use the drawing tool to make your story unique.
Editing Tools:
Aa - add text
Pen icon - opens drawing tools
Smiley face icon - add stickers
Link - add a URL link
Arrow - download story to your phone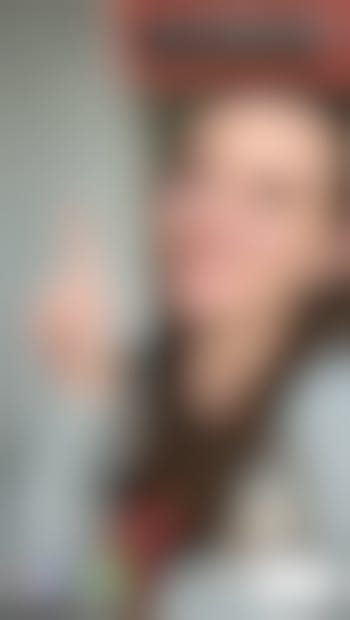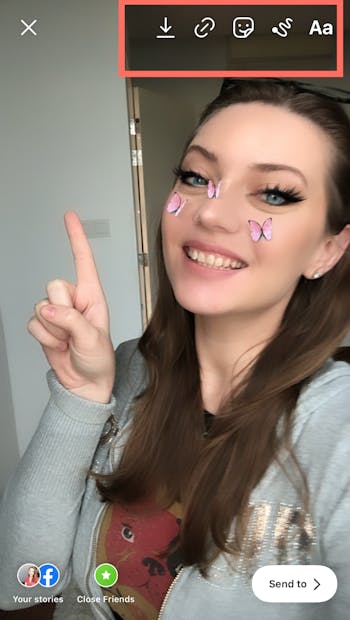 In this example, I used the drawing tools to write "Hello" on my image.
Then, I added an emoji slider sticker from the sticker menu.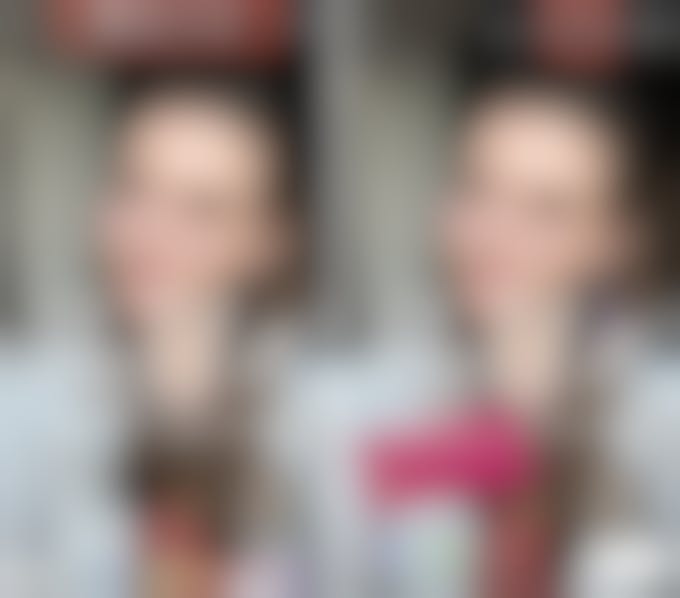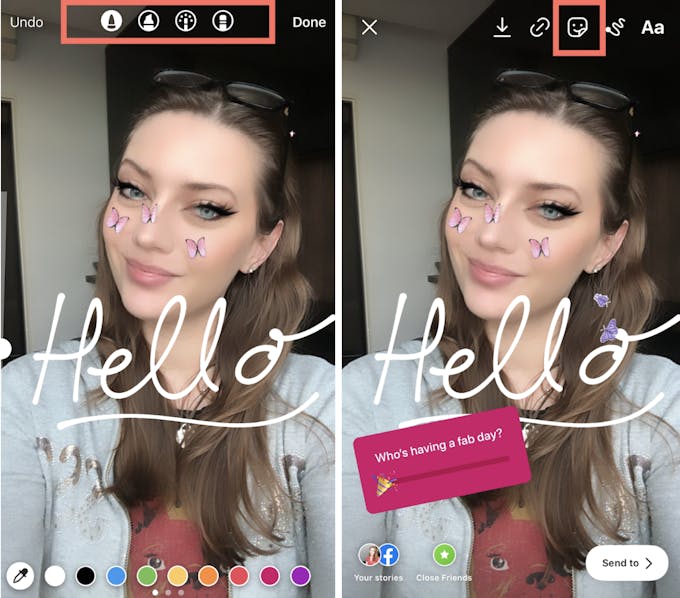 Step 5: Tap on "Your stories" icon at the bottom left corner to post your Story.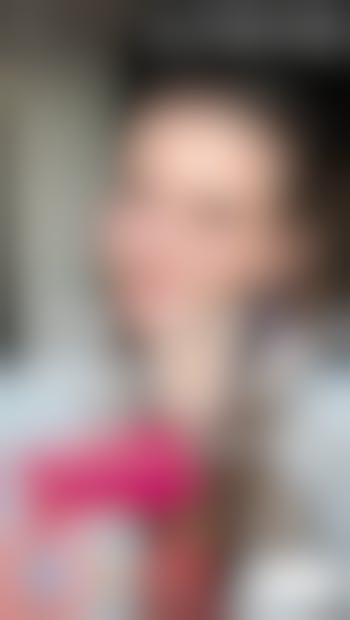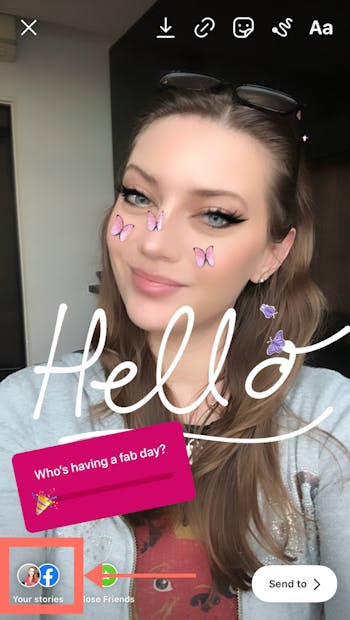 And you're done! This whole process is very quick and you don't have to be a pro to share Instagram Stories.
So now that you know how to create a story using the Instagram app editing tools it's time to show you how to take Stories to the next level.
Editing Stories on Desktop 🖥️
If you're feeling super creative, or you just want to share unique stories that have a "branded look" using your colours and fonts you can design them in a desktop app and then share them on Instagram.
Apps like Canva, Spark Post or Over allow you to design vertical images perfect for Instagram stories.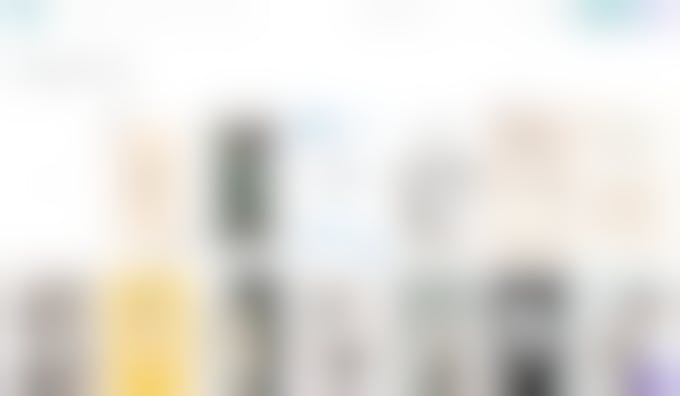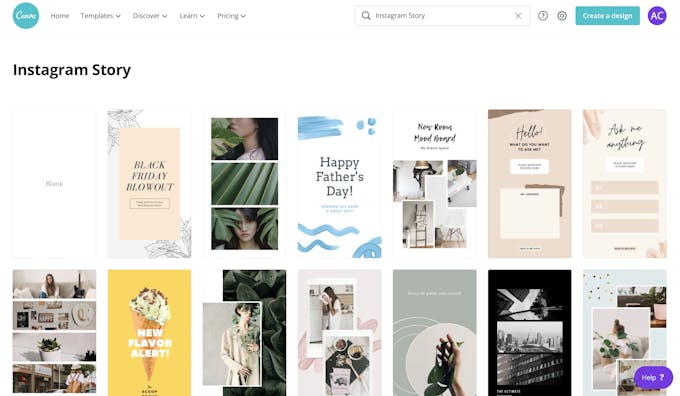 Start with an editable Story template, or create your own designs that reflect your branded elements and style.
Here's a list of our top 5 Instagram story tools that will really help to make your stories stand out from the crowd!
Level Up Your Stories with AR Filters #
Did you know you can now create original AR filters for Instagram Stories using the Spark AR Studio platform?
These filters (unless they're promotional) will be displayed in the new Instagram Effects Gallery.
I know what you're thinking: "How can my business benefit from this?". While not everyone will benefit from building custom AR filters for their brand - they're more likely to appeal to a younger audience - there are a few benefits you should note:
You can add your brand elements (logo, fonts, colours) to a custom AR filter as a way to grow brand awareness
If you have an e-commerce shop you can create an AR filter for customers to try on your products before purchase
Your filter (unless it's promotional) will be displayed on the Instagram Effects Gallery where your target audience can find it
When users share stories using your filter, their followers will be exposed to your brand too
Here are a few Instagram AR Filter examples by top brands: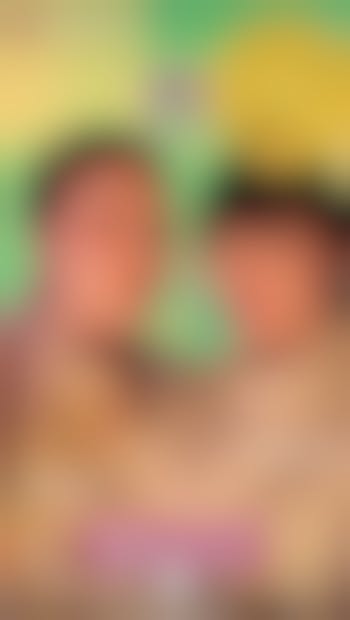 H&M Studio AR filter reflects its playful, colourful and young personality.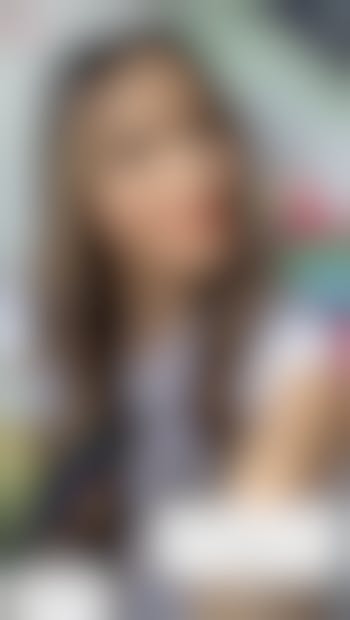 @Swarowsky designed an AR filter to promote its Tropical Crush collection.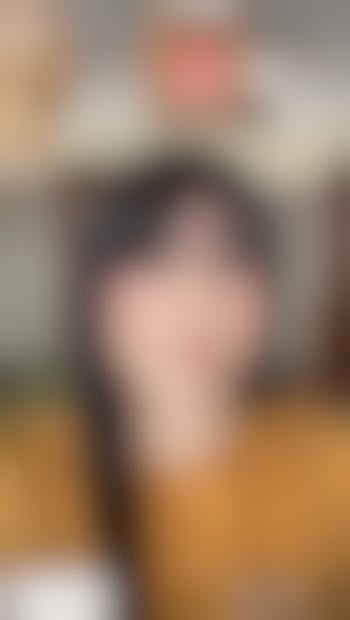 @benefitcosmetics Blush Try-On filter allows Instagram users to try-on their top blush and bronzer make-up line.
Understanding Instagram Stories Insights 📈 #
Want to know whether your audience loves your stories? Do they find them engaging? Or are they skipping to the next profile? If that's so, then you need to check your Stories insights and understand what those metrics mean.
Top metrics for Instagram Stories
Reach
Impressions
Taps Forward
Taps Backward
Replies
Exits
To view your Instagram Story Insights on ShareMyInsights, just click on the Stories tab in the left hand side menu.
From here select "Insights" to view your Stories performance over time. Here's what each Instagram Story metric means:
Reach: This number indicates how many unique accounts have visited your Story. Hot Tip: If you notice your reach is declining, it may be a signal that your audience isn't interested in the content you're posting. So, it's time to switch it up. Use these tips to get more engagement on your Instagram stories.
Impressions: These are the total number of views of your Story. They're usually higher than your reach - as some users may view your story more than once. Taps Forward: The number of accounts that skipped your Story Taps Back: The number of accounts that went back and re-watched your previous story
Replies: The number of message replies to a particular Story Exits: The number of accounts that exited after watching your IG Story
Besides these metrics, Share My Insights allows you to check your top posts performance, hashtags performance and find out which post formats get you the best engagement. All the good stuff that you need in order to grow on Instagram!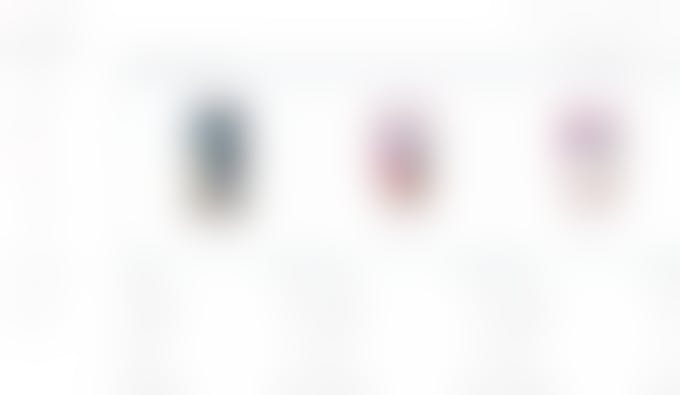 How to Add Music to Instagram Stories #
Creating a Instagram without any music can sometime be boring, which isn't good for your engagement and may result in people only watching a few seconds of your story.
Instagram now let's you add music to your Instagram story by using their music sticker. It works for images and videos and there's thousands of tracks to choose from, so you'll be able to find one no matter what type of content you're posting!
Here's how to add music to Instagram stories:
Open a new Instagram story
After you've taken a post/video, hit the sticker button at the top of your screen
Find the music sticker
Search for a track to add to your Instagram story
Trim the track to get the right part of the song
Choose if you want lyrics, and change the style of the text
Customize the story sticker to match your story style
And that's how easy it is to add music to your Instagram story, go a try it out!
How Long Do Instagram Stories Last #
Instagram launched Stories as a way for users to showcase what they're doing in real-time with small snippets of content that expire after some time. Because of this, Instagram stories only last for 24 hours.
Each Instagram story that you post will last for 24 hours from the time you posted that specific story.
How to Tag Someone on a Instagram Story #
If you have posted a story using someone else's content, or a story that includes other people - it's a good idea to tag them in your story. When you tag someone in a Instagram story they'll receive a notification, so it can be a good way of getting someones attention.
Here's how to tag someone in a Instagram story:
Add text to your Instagram story by tapping the "Aa" button
Type the @ symbol and then start typing the user you want to tag
Select the user from the drop down suggestions
You can also tag someone in a Instagram story by using the mention sticker. Simply click the sticker icon at the top and search for the @mention sticker. Type the username in that you want to tag and select from the list.
You can only tag a maximum of 10 people in your story.
Now that you've learned how to use Instagram Stories it's your turn. Get creative and start posting on your Instagram Stories to optimise your Instagram efforts. Good luck and let us know how it goes!