With Instagram Stories you can share videos and photos with your audience that will disappear after 24 hours. When used as part of a marketing strategy, Stories can boost visibility and help you stay connected with your audience even better than regular feed posts.
Check out the guide below to find the recommended Instagram story sizes, dimensions and ratios so your Stories get more views.
Instagram Story sizes in 2023
When talking about Instagram Story sizes, it can usually mean one of a few things: photo dimensions, resolution, aspect ratio, or the duration of a video file.
To help you understand and learn the best Instagram story sizes we will discuss them in more detail below.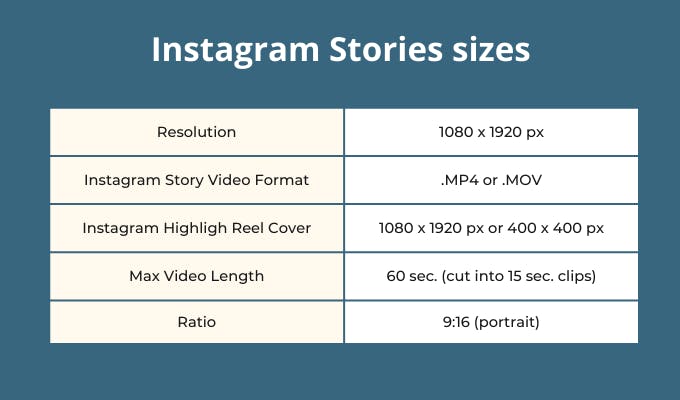 Instagram Story size in pixels
The recommended size of an Instagram Story is 1080 x 1920 pixels. Following this size will ensure your photos, graphics and text are crisp and clear. If you're using a third-party design tool double-check that they support the recommended Story dimensions.
*Resolution is measured in pixels and indicates the sharpness or clarity of an image.
Instagram Story cover photo size
Your Instagram Story cover photo size can be a vertical image or a square.
Vertical photo size: 1080 x 1920 pixels
Square cover size: 400 x 400 pixels
Design tip: When you create your Instagram Story cover photo artwork keep your focal point in the middle of your artwork.
*Instagram Story covers are also known as Instagram Highlight Reels covers.
Instagram Story length
The maximum Story length depends on what you post:
Photos are shown for a duration of 7 sec.
Videos can be maximum 60 sec. long, cut into 15 sec. clips
Instagram Story caption length
Instagram caption length is maximum 2,200 characters (or approx. 500 words). Story captions don't have a limit, they are auto-generated for videos with speech when you activate the "Captions" sticker.
Instagram Story compression
Instagram compresses the size of any Story uploaded that is larger than 1080 pixels. Even if you have a very good quality camera that can shoot up to 4,000 pixels, Instagram will automatically compress it.
Recommended Instagram Story size
For best results, you should record your Instagram stories using your mobile phone in portrait mode so that you don't have to resize it.
Recommended Instagram story size: 1080 x 1920 pixels, 9:16 aspect ratio.
How to resize a Instagram Story
You can resize any video or image to fit the recommended dimension for Instagram stories using a third-party design tool.
Here's how to resize an Instagram story with Canva:
Step 1: Start with a pre-designed Instagram Story template
Step 2: Customise it by replacing the design elements with your own images and videos
Step 3: Download it in a JPEG, PNG or MP4 format
Step 4: Upload the file from your mobile phone to Instagram Stories
Related articles