Although Instagram is all about beautiful graphics and eye-catching photography, your captions are where you can relate to your audience, tell a story, and build a community around your brand.
Just because it's not a full blog post doesn't mean your caption shouldn't have a headline. When people share your post – they have a choice to show the first few words of your caption too, so make them count!
You've only got a few moments before your reader decides if they keep reading or keep scrolling. Here are some key tips you can use to ensure you're making a caption that reels people in and boosts your organic growth.
Kick off with a little brainstorming 🧠⚡
Before we dive into what type of headline you should write – let's brainstorm a few big ideas that you should keep in mind when writing your Instagram caption headline.
What Emotion Do You Want to Create?
First, think about how you can inject emotion. Look at the image that you're writing a caption for. Cool colors might be moody and reflective, whereas warm colors might be happy and optimistic.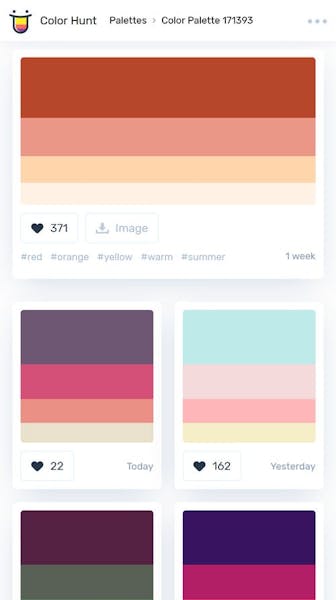 Source: colorhunt.co
Think about your audience's challenges, personal goals, and other life happenings so you can write a headline that sparks a feeling, memory, or reaction in them. When people feel emotionally moved by an idea, they're more likely to share it with their friends.
What story do you want to tell?
You should also keep storytelling in mind. Stories are a great way to convey a lot of information in a short period. People also love reading stories from beginning to end because they crave a resolution and want to know how it's resolved. Make sure the 'conflict' of the story relates to your reader and their problems – and resolve the story by sharing what your reader can do or learn to avoid the same conflict.
Check out similar brand's captions
This isn't school anymore, so even though you should NEVER plagiarize, there's no harm peeking on your friends and frenemies. Check out their captions and see which ones get a lot of engagement. Read a few of the comments people leave and see if you get any inspiration from there as well. You can also get a few ideas for what's trending and what's no longer popular.
Be remarkable ✨
Even though it's helpful to check on your competitors – don't ever stop being true to yourself and your brand. Like Seth Godin said in his book Purple Cow, "In a crowded marketplace, fitting in is failing. In a busy marketplace, not standing out is the same as being invisible."
A great headline will get people to read, but a great brand personality will get people to stay. Make sure you're showing off your brand values and passions in every post you put out. Showing off your personality will help you stand out and be memorable. If that means using all caps, using emojis, telling stories about your dog, do it! It's better to be favorite to a few than to be bland to all.
6 Instagram headlines ideas you should be using
Alright, so you've done a bit of brainstorming about your topic. Nice work! Now, it's time to choose from one of these six types of headline ideas. These Instagram headlines are common because they get a ton of engagement – so it's time you start using them for yourself.
1. Ask a question & tease the answer
Questions are a great way to engage with your readers because they need to take a moment and ask themselves if your question applies to them.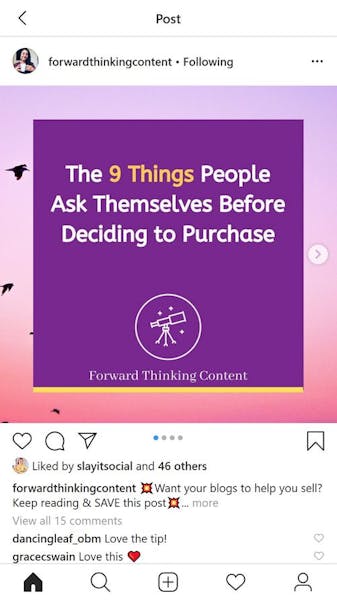 Source: @forwardthinkingcontent
To ask the right question, make sure it relates to your content in some way. If you make a post about podcasts, don't ask a generic question about social media. Ask something specific, and if you can, phrase it in a way that encourages people to leave a comment. Headlines like this can also be known as clickbait - however you don't want to overdo it otherwise you might attract the wrong type of user.
Question headlines need to strike a balance of information and intrigue. You should phrase your question headline so that it leaves the reader wanting more. One way to do this is to subtly tease the answer.
Examples:
Did you know about this new Instagram metric?
Figuring out your marketing goals? These three are total gamechangers.
Have you listened to our newest podcast episode? It's our most popular ever!
2. How-to headlines
How to headlines are always intriguing and valuable because people know you're going to give valuable instruction or guidance for a certain task.
When your audience is searching for information, they are often trying to figure out how they can do it themselves or do something better. How to content not only establishes you as an expert but also helps your readers through their problems.
Source: @allebusinesscoach
How-to headlines take a variety of forms. Here are a few examples:
How to…
The ultimate guide to…
The only steps you'll need to start…
3. Tell them exactly what they'll gain 📍
Spoilers usually suck – but not for headlines. Your headline should make it immediately clear what your reader might gain by continuing to read your caption. Jump to the end and let them know what benefit they can hope to expect by reading your post.
Let's say you're sharing tips on how to create less plastic waste. If you have results from doing this yourself, you should share those in the headline.
For example, here are two headlines: How to Reduce Plastic Waste OR How I Reduced my Plastic Waste to One Small Trash bag a Month.
The latter one tells you exactly what result you can hope to achieve by following these tips. It's much more exciting and intriguing because you can visualize achieving something new.
Whatever it is – make it clear what the benefit is and try to be specific. Studies show that headlines with numbers tend to generate 73% more social shares and engagement.
4. List post
If you feel like you've seen a ton of list articles, that's because they work. They get the most social shares after infographics.
List posts are helpful because people know that they can skim them and still get a lot of information. And like making the benefit clear, they know how much value your post will have because you'll tell them how many items are in the list.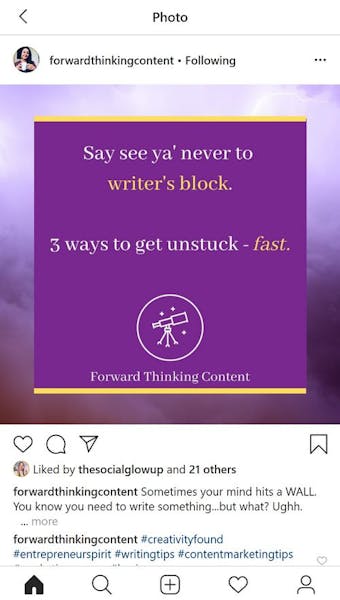 Source: @forwardthinkingcontent
List headlines are common, so don't forget to be creative. You can offer a list of tips, steps, things, products, reasons to do something, and more.
Some examples might be:
11 Ways to Use Your Bullet Journal to Meet Your 2020 Goals
5 Ways to Start Blogging and Gain Readership
5. Avoiding mistakes
Nobody likes to make mistakes. It's embarrassing, awkward, and uncomfortable. This is why having a 'mistakes' headline is a great way to grab everyone's attention.
Examples of mistake headlines include:
What I wish I knew when…
Mistakes I made when…
Things No one Told me When…
What not to do when…
6. Handle an objection
Handling an objection in your headline is a great way to grab a few more readers who would have otherwise scrolled by.
Objections are things that people might say to themselves while reading your content. They might include this is too expensive, it'll take too much time, I'm not the right person to do this, I don't know where to start, etc.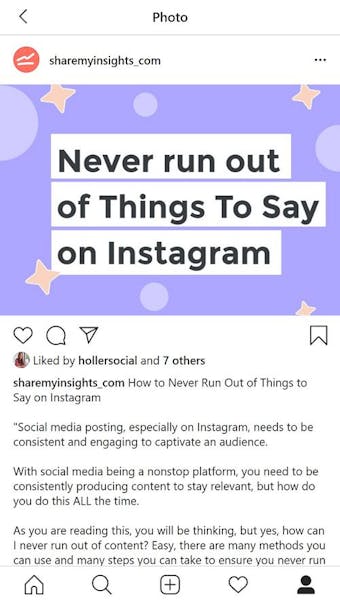 So, a headline that tackles an objection makes people interested and more likely to keep reading because they believe they have a chance of making the most of the information you have to offer.
Some examples might be:
Set up your Fashion Blog (no WordPress experience required)
Tools You Can Use to Do Keyword Research (for Free!)
Wrapping Up...
Congrats! You're now ready to pull together an awesome headline. We have one final tip for you. If you can throw in two or more of these headline types, the more effective your headline will be.
You'll send sparks flying around your reader's brains until they just have to keep reading! Here are just a few examples of headline formulas you can use to truly create irresistible headlines.
(How To) + (Handle Objection): "The Ultimate Guide to Setting Up Your Blog (even if you're a total beginner)""
(Ask a Question) + (List) + (Handle Objection): "Have you listened to VA Podcast? Learn 3 Ways You Can Become a VA (without Upwork or Fiverr!)""
(List) + (What They'll Gain): "5 Ways You Can Get to a Zero Waste Household in Just 30 Days"
(Ask a Question) + (Avoid Mistakes): "Do you run an eco-blog? Don't make these three mistakes"
(How to) + (What They'll Gain): "How to Boost Your Insta Engagement by 123%""
Overall, the main tricks to a great headline are to be specific, spark emotion, and inspire a bit of mystery so your readers keep reading.
Don't forget to check out your Instagram analytics to see which posts perform the best. This way you can play off what works and continuously improve your headlines.
Don't forget to share this post with anyone who posts regularly on social media!
Related Articles