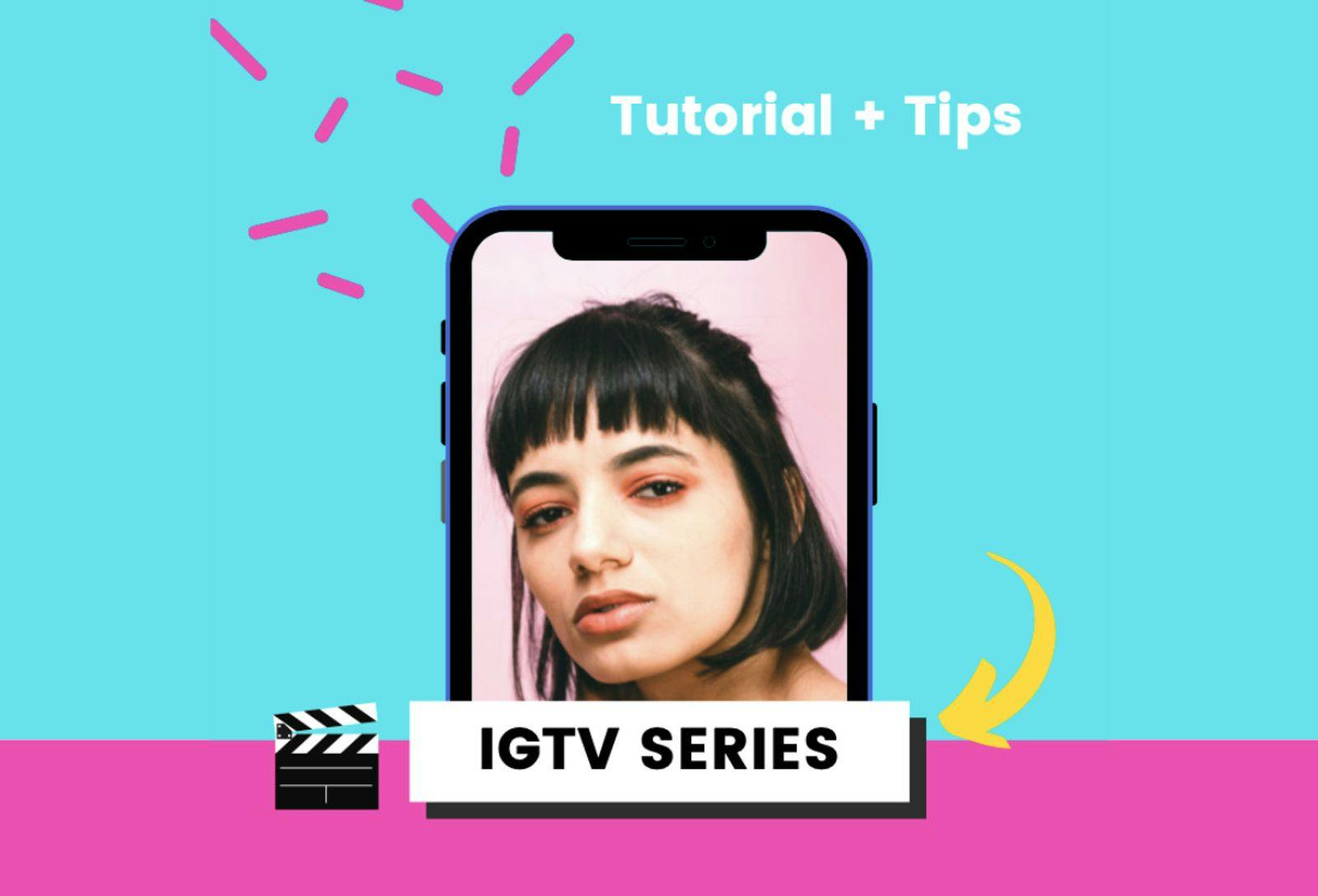 Instagram has just made a BOMB 💣 update that is still shaking the internet. In an announcement (back in Feb 2020), Instagram announced that they are currently working on revamping their IGTV tool and make it a strong contender to YouTube and TikTok.
What is IGTV?
Instagram TV (IGTV) is Instagram's long-form video platform—and it can be a great marketing tool for your brand. It's also called Instagram series
Launched in June 2018, Instagram series has a few unique features. The main one being users can upload longer videos (up to 20mins) compared to Instagram stories, and you can share 30 second previews to your feed to help capture your audiences attention.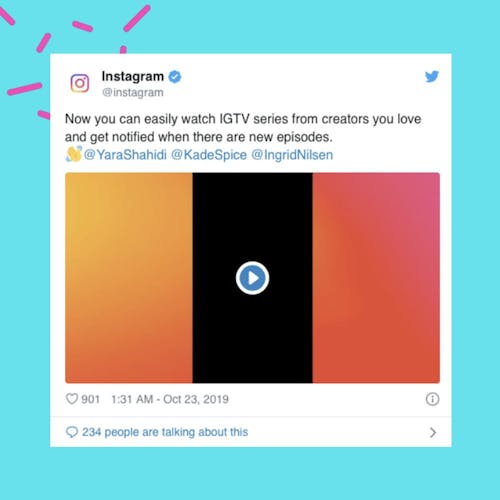 IGTV did have it's own standalone app however it was shutdown recently by Instagram.
What is a IGTV series?
This is a regular series of videos that you can plan, film and release on a prescheduled date: once a week, once a month, or if you're really dedicated to putting out valuable content - you can also do it daily. The limit is your budget and how fast you can produce quality content.
How to create a IGTV series
There are three ways make a IGTV series. Via the Instagram app or Facebook creator studio.
Step 1: Record a video 📹
First, you need to record a video in the 9:16 or 4:5 aspect ratio
Make sure it's between 1 - 20 minutes long
Edit the video as you normally would
Trim your video frame to get that perfect IGTV frame size, add subtitles, stickers or music in your video editing app
Have your final video ready on your phone
Create an IGTV video cover image (aspect ratio 4:5)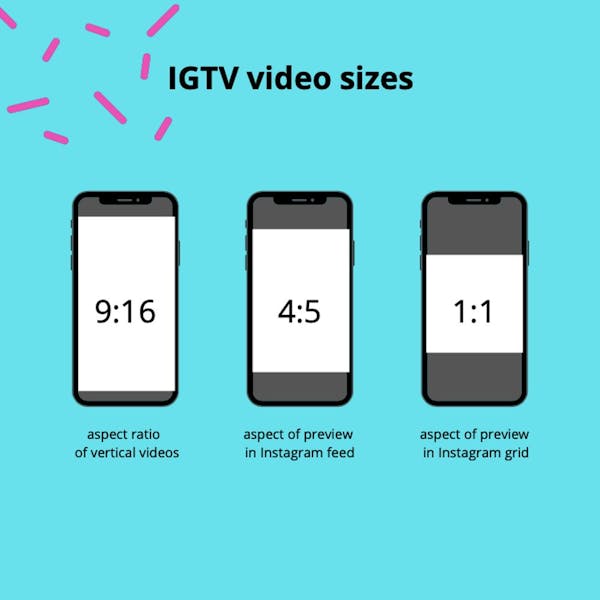 Step 2: Open your Instagram app 📲
Once you're happy with how your video looks from start to end, open your Instagram app and click on the "+" button. You'll be prompted to choose between:
Posting a short video to your Instagram feed less than 30 seconds long
Posting a long IGTV video that's over 1 minute long
You'll want to go with the second option.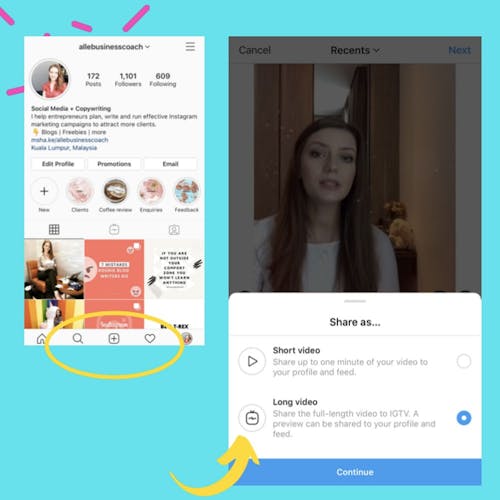 Step 3: Create a new IGTV series
Next, you'll need to create a new IGTV series. Choose "create new series option" and go ahead and give your series a name and a brief description. Think about what is this Instagram TV series going to be about, who would benefit from watching it and a few key highlights.
Don't worry about writing too many details at this stage, you'll be able to elaborate more in the description box of each video in this series later on.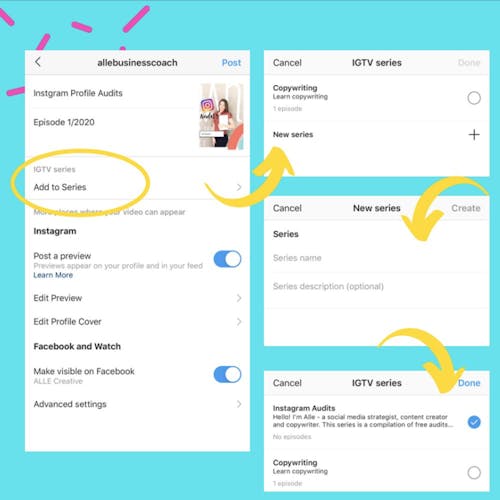 Step 4: Add videos to your IGTV series
Select the "add to series" option and your new video will be parked under the series you've just created. You also have the option to add an existing video to the series you've just created.
Just tap on a video you'd like to add to the series, then click on the "edit" option under your IGTV video menu and select the "add to series" option.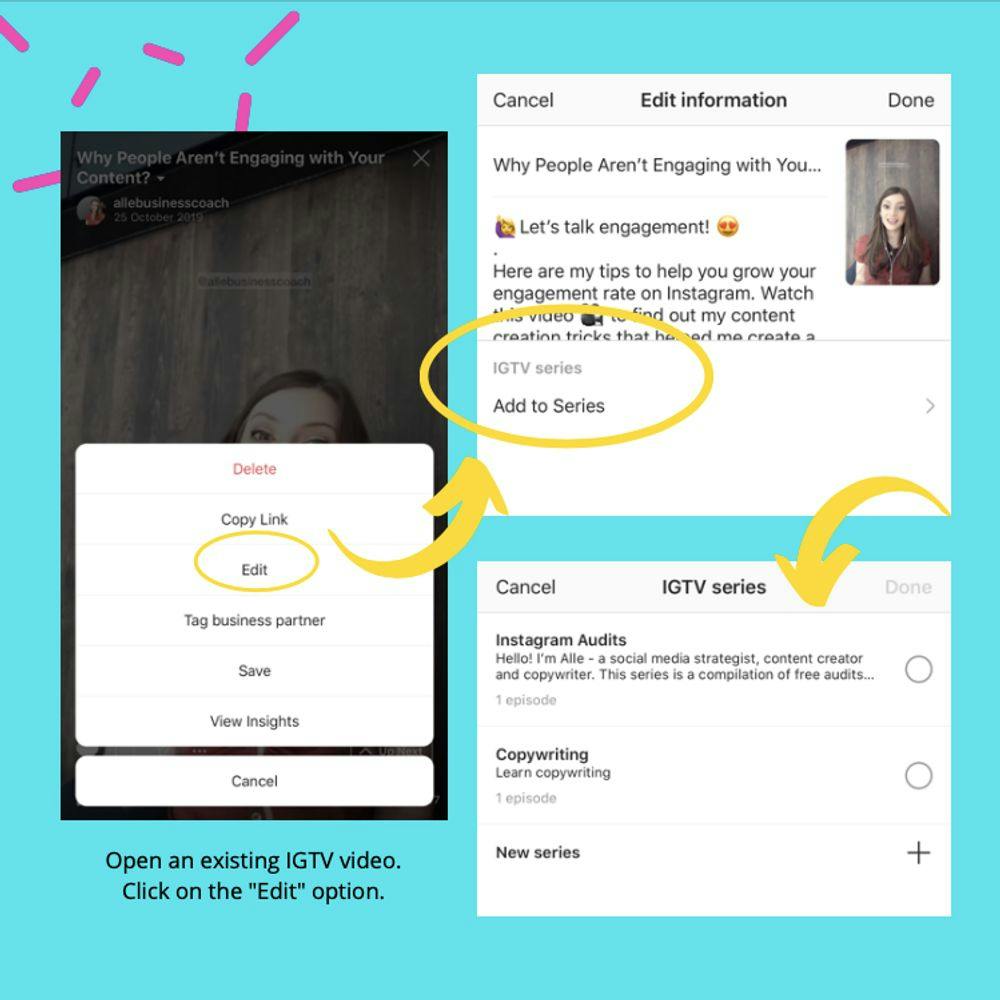 Step 5: Fill up the name and description
Now you need to give your video (or episode) a title and write a short description. This is similar to how you would write a caption to go along with an Instagram feed post.
You can also format the IGTV caption with emojis 🤩🥰 and even include hashtags so your content will be more targeted and appear on the explore page of your target audience.
Step 6: Post a preview and add a custom cover photo
To add a custom cover photo for your video click on "Edit Cover Photo" and select the option to add a new cover photo from your camera roll. Select the picture (4:5 ratio) that you want to use and click "next" to save it.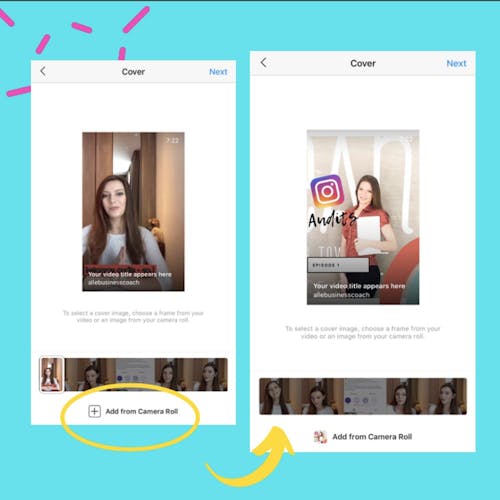 You also have the option to share a 30-sec. preview of your IGTV video to your Instagram feed. Make sure you've ticked the "Share a Preview" option before saving the changes and moving to the next step.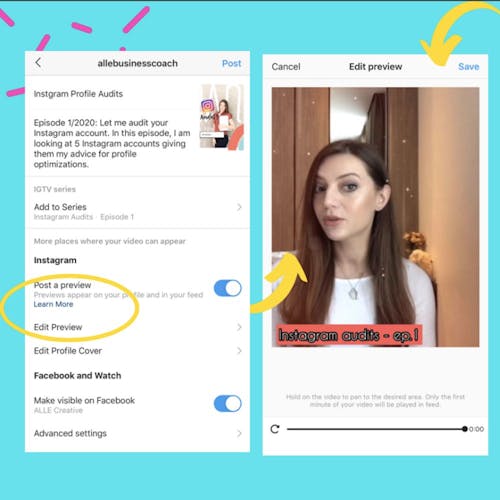 Step 7: Post-it
Once you're happy with the title, the cover photo and the caption looks good it's time to hit the "post" button and wait for the magic to happen!
Step 8: Promote it
After your first IGTV episode goes live, don't forget to promote your series onto your Stories and let your audience know when to expect new episodes from you.
Now that you've created your first IGTV series, promote it and tease new episodes like a professional TV channel.
Benefits of using a Instagram series
Your IGTV series can be an integral part of your inbound marketing strategy. Same as you would write a blog post to educate your audience, you can use long-form videos to discuss a topic in more detail.
1. You can create a series that explain how your product works, Q&A series or step-by-step tutorials.
Your IGTV series is part of your customer attraction stage in the "attract - engage - retain" customer acquisition process.
In this stage, you want to make sure you're attracting the best leads for your business and viewers who will most likely become customers. An IGTV series can help you achieve that.
2. You can create a series of videos that people need to watch in a predetermined order
It makes more sense to create a series of videos that people need to watch in a predetermined order for them to reach a conclusion.
Think of the popular video series people post on YouTube such as "Building a house in 2 weeks" or "10 days of living in a van in Thailand ". Why is this type of videos popular? They get much more views because they open a loop with the first episode and with each video uploaded, they leave the viewer at a cliff-hanger point.
3. Helps you to build a loyal fanbase
A series of videos build a loyal fan base and generates consistent views across all your videos, resulting in a stable income hence why Facebook introduced IGTV series.
Intuitively, the IGTV algorithm will recommend your viewers to continue watching all your videos in the series rather than suggesting a random video from another user. So, the algorithm on IGTV is your friend.
Tips for a successful Instagram series
Now that you know the step-by-step process of how to create an IGTV series, do you know what makes an IGTV series successful?
1. You have 30 seconds to hook your audience
To engage your viewers you need to get their attention in the first 30 seconds. These first seconds are crucial and you don't want your viewers to jump out of your video so quickly.
A common mistake is to over complicate things by adding a standard video intro or a song that will make people confused or want to click exit fast. Instead, start your video with something compelling or irresistible.
2. Research & plan your IGTV videos
Sounds counterintuitive, but you don't want to make the mistake of turning your camera on and start filming without any research, a plan or a plot. You may waste a lot of time, editing your video will be a hassle and nobody will watch it.
Spend some time researching topics and issues that your audience is interested to learn about. Every single person, including your customers, are looking to learn something new or find ways to solve the problems they are facing.
3. Use hashtags to boost the reach
By listing relevant hashtags in the description of your series' videos, you'll get a better chance for your videos to show up on the Explore page on Instagram where they can be discovered by non-followers.
4. Review previous IGTV videos
Making sure your audience likes your content is a sure fire way to create good content moving forward. Using Instagram analytics, you'll be able to see which videos got the most engagement, so take notes from those and put them into your next video plan.
IGTV series tools
If you really want to give your videos that little extra flare you should be using a video editing tool that specializes in IGTV videos.
Video editing tools will allow you to add background music, overlays, trim and a lot more - that's going to make your life easier, and make your IGTV series videos looks professional! So if you're not, go and try a few IGTV video editing tools out until you find one that's right for you.
Related Articles