One of the most useful features on Instagram is Instagram drafts. Instead of uploading and editing a post, only to find you need to look up a username to tag or there's something in your photo that you need to edit out, you can save your post rather than having to delete your progress entirely.
With so many types of posts like photos and reels, you need to know how to use this feature so you don't lose your work.
This guide will explain how to save photos, stories, and reels, how to find your drafts again, and how to get rid of posts you don't want to publish.
Keep reading for a complete introduction to Instagram drafts. 
What are Instagram Drafts?
Need a place to save your Instagram posts while you're editing before they're ready to go live? That's what Instagram drafts is for.
Instagram drafts is a simple but helpful in-app tool that allows you to keep editing a picture or video to create professional-looking content without needing to post it right away.
With the drafts feature, you can save stories, posts, and reels before they go live and make sure your content is perfect and on brand before publishing. Drafts is an Instagram feature that helps you edit, save, and plan your content.
If you've never used Instagram drafts, keep reading to learn how to streamline your content creation process with this tool.
How to Save a Draft on Instagram
To save a draft on Instagram, all you need to do is follow these steps:
Tap the + sign at the bottom of the screen, then take or upload a photo or video.
After uploading, add effects, filters, a location, and a caption.
When you're done editing, click the arrow in the top left corner of the screen.
Click "save draft" at the bottom of the screen.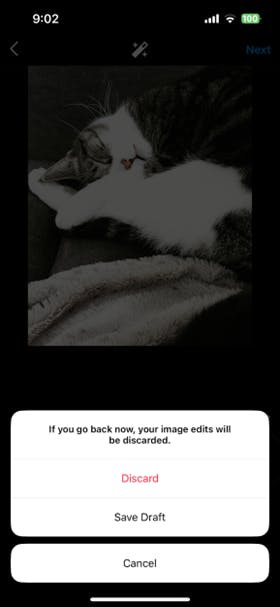 How to Find Drafts on Instagram
Saved something to Instagram but can't find it again? Here are the steps you need to take to find drafts on Instagram:
Tap the plus sign at the top of the screen.
Click "post" to see the drafts menu.
Click "drafts" to see all the drafts of your posts.
Choose a draft to edit, share, or delete.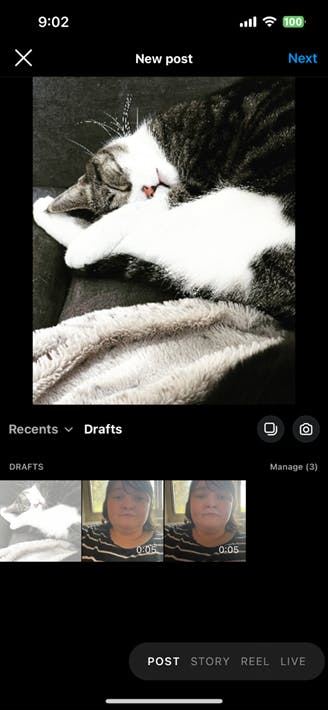 Regular post drafts will stay on Instagram indefinitely, so you don't have to worry about them disappearing. However, stories will stay in drafts for seven days, so make sure to post those ASAP.
If you think you're missing a draft, make sure you're in the right tab. You can switch between posts, reels, and stories to find the draft you're looking for. 
How to Find Reel Drafts on Instagram
 If you can't find a reel on Instagram, make sure you're in the right tab.
 Here's how to find a reel in drafts on Instagram:
Click the plus sign at the top of the screen.
Click the "reels" section of the screen.
Tap the plus sign or gallery icon at the bottom of the screen.
Click the "drafts" button to view your reel drafts. 
There's also a second way to find reel drafts on Instagram by going to your profile.  
After clicking your profile, follow these steps:
Click the middle button on top of your posts that looks like an arrow in a box.
This will immediately take you to your drafts. Next, click the draft you want to edit.
Edit your draft, add tags, products, etc., then click "save draft" to keep working or "share" to publish.
How to Delete Drafts on Instagram
Have you decided a post you saved as a draft doesn't work with your content strategy? This is how you can delete your post:
Tap the plus sign at the top of the screen.
To the right of the "drafts" button, tap "manage."
Tap the edit button in the top right.
Select the drafts you want to delete, then tap "done" at the bottom of the screen.
Click "discard" to confirm.
Can People See Your Drafts on Instagram?
No, people can't see your drafts on Instagram until you publish them.
The drafts tool is useful because it allows you to see your content before posting and plan how it's going to look, but your audience won't be able to see it. 
This allows you to make sure your content is edited and polished before you publish it for your audience.
Final Thoughts on Instagram Drafts
Instagram is one of the most popular social media platforms, so brands and businesses need to make sure their content is ready to be seen by billions of users before posting.
That's where Instagram drafts come in. With this feature, you can edit your content and plan how your feed is going to look before clicking publish.
Instagram drafts is a great free in-app tool that helps you create polished, consistent content that helps tell your brand's story. This tool will ensure your posts look great every time and show the best side of your business.
If you want to improve your engagement and grow your follower count, posting content that looks amazing and makes your brand recognizable is a must.
Related Articles