Writing captions for TikTok videos is a completely new challenge for marketers. With videos being the main factor that attracts people to watch your content (as well as posting at the best time), TikTok captions usually take the back seat. But you should not forget about them completely because well-written captions can boost your engagement if used properly.
Want to get inspired? Check out our post to learn more about writing TikTok captions that make people laugh, engage and want to learn more about your brand!
TikTok caption tips
Get inspired by these TikTok captions ideas and learn to create your own!
Tip #1: Ask your audience a question about the video
What would you add to this list?
Do you agree?
Have you ever tried this hack?
Tip #2: Direct people to take an action
Double tap if you agree!
Check out the link in the bio!
Follow us for more inspiration!
Tip #3: Share a surprising detail about you or your brand
Our business just turned 2 today! #yay #businessgoals
Tomorrow marks a new month, with new goals!
Tip #4: Share some important news with your audience
The new collection drops on 25 Jan 2022! Visit the link in bio.
Tip #5: Ask people to watch your video till the end
Watch till the end for a surprise ... PS: Did you see it coming?
How to add captions on TikTok
Adding captions on TikTok is very easy. You can either type your captions directly into the post editor or paste a pre-saved caption template from Pally's caption generator tool.
Here's how to add captions to your TikTok:
Open your TikTok app
Tap the "+" button to create a new post
Upload a video from your phone's camera roll
In the TikTok post editor write your caption
Optional: Add hashtags and mention other creators
Click "Post" to publish your TikTok video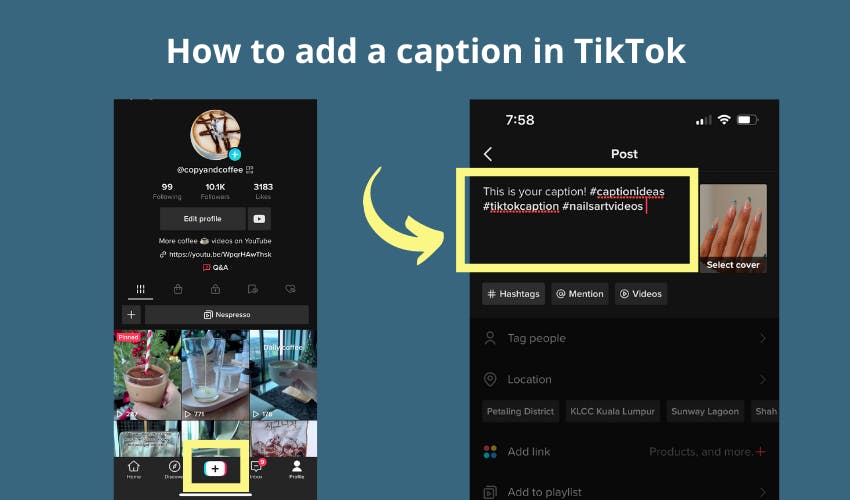 How to turn off captions on TikTok
TikTok has a feature that adds captions to videos by automatically converting speech to text. If you don't want to see captions displayed on top of videos you can turn this feature off from your settings.
Here's how to turn off your TikTok captions:
Go to your TikTok profile
Tap on "Settings & Privacy"
Click on "Display"
Toggle off "Always show captions"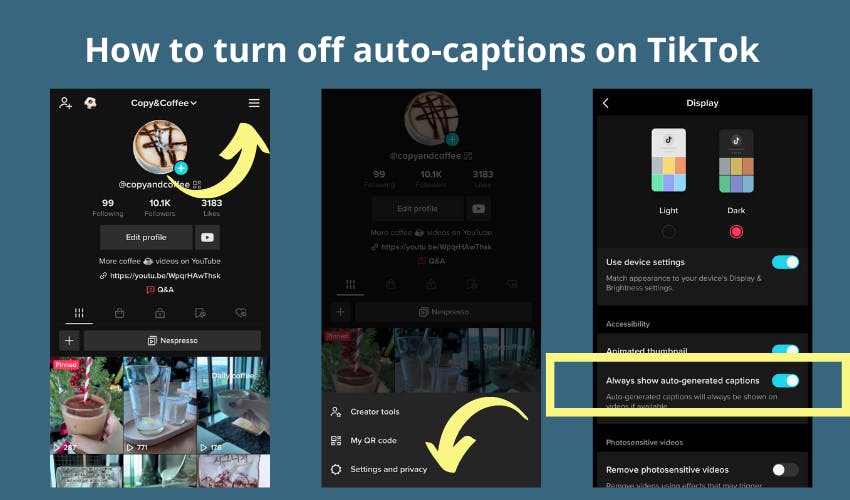 Can you edit captions in TikTok?
Unfortunately, you cannot edit captions after posting a TikTok video. The only way to edit a post is to delete it and repost it with a different caption.
TikTok caption character limit
In 2022, TikTok increased its caption character limit from 300 to 2,200 characters to match that of Instagram.
Tip: While it's great that TikTok now has the option to write longer captions, most people won't read past the first 2 lines. So, shorter captions are still the way to go on TikTok!
TikTok captions ideas
Here's a collection of TikTok captions ideas that you can use for your next TikTok video. Remember: you should make sure to tweak them to make them unique to your video!
Short TikTok captions
Life is an adventure! Take risks, explore new places, and create amazing memories that you'll cherish forever.
Life is about soaking up every moment and living it to the fullest. Have fun, live deeply and make memories that will last a lifetime!
Spark joy with a day of shopping- treat yourself to something special and lift your spirits! Take time for self-care and splurge on something you'll cherish forever.
With just a few magic ingredients, this meal comes together in minutes! Whip up something quick, delicious and wholesome for the family tonight!
Exploring the great outdoors is one of life's greatest joys. Breathe in the fresh air and take in the beauty of nature - it'll fill your soul with peace!
Stay happy, stay healthy - make the most of this summer and enjoy each day!
Embrace the unknown and discover something new - life is an adventure, so take the plunge and explore!
Embark on a journey of self-exploration and be amazed at all the wonderful things you'll discover along the way! Challenge yourself to push past your limits and uncover hidden depths within.
"We don't need luck when we've got determination and courage. Nothing can stop us if we strive for our goals together!"
Take a look at the beauty that nature has to offer - take it in, enjoy it, and appreciate the wonders of the world around us!
Explore the world around you - discover something new every day! Let's embark on a thrilling journey and experience the beauty of life together.
"When it rains, look for a rainbow and create a spark of hope that this too shall pass."
"When life hands you lemons, make some lemonade. Create a little sweetness in life, it'll be worth the effort!"
Starting a new adventure can be daunting, but pushing yourself to take that first step can open up an endless list of possibilities. Here's to new beginnings!
Life is too short not to make the most of every moment; seize the day and take advantage of all that it has to offer!
Life doesn't have to be perfect to be beautiful. Embrace the chaos of it all and make the most of every moment.
Discover yourself every day! Life is for living and exploring, so make the most of your adventure and see what you can find.
"Life is what we make of it - let's make it beautiful! Dream big, work hard and enjoy every moment along the way. #SeizeTheMoment #LiveYourDreams
Life is too short to waste time worrying about the things you can't change. Embrace the things you can, and make every second count!
I know I can succeed when I stay focused, even when the situation is difficult. With the right mindset and effort, anything is possible!
Cool TikTok captions
Cool as a cucumber, I'm still the same me - taking on life's challenges with ease!
Take a deep breath and let yourself fly! Feeling the warmth of the summer sun as you drift away, savoring every moment.
Break free from the ordinary and reach for something extraordinary! Unleash your awesomeness and make it known to the world. Dare to be different!
"Feeling alive? Channel that energy into something new and amazing - you never know what can happen when you take a chance. Make today the start of something awesome!"
Chill out and let your soul shine with style! Enjoy the cool vibes and express yourself fearlessly.
Ready to have the time of your life? Come join us and make memories that will last forever! Get ready to party in style and make some epic stories!
"Feeling daring? Let's make some waves. Electric vibes await those who are brave enough to take the plunge. #makeyourmove"
Let's step up the style and make a statement. Make an impression that won't be forgotten.
Be the coolest one in the room and show them who's boss - with style!
"Trendy and chic, let's set the tone with style! Show your true colors and be who you want to be."
Cute TikTok captions
When life gives you lemons, smile and make lemonade! Let's make the best out of this together! 🍋
"This is me wishing you a day filled with sunshine and lots of smiles! May there always be joy in everything you do!"
I'm so excited to start this new adventure! It's gonna be full of happiness and lots of smiles. Let's make this one special and filled with all kinds of fun! 🤗
"Life is an adventure full of surprises, so why not make the most of it and have some fun? Let's spread some joy and laughter! ♥️"
"Sending positive vibes your way! May your day be filled with happiness and laughter ✨"
I'm so excited for today! This is going to be the best day ever - filled with lots of love, laughter, and lots of smiles! #justsmile
"Life is sweeter when shared with good friends! Let's make memories together and enjoy the simple moments.😊"
Let's take a break from the hustle and bustle of life and enjoy some fun together! From playing games to going for a walk, let's make time for each other and just be cute!
"Let's get together, because life is sweeter when we're living it together! ♥️ Spread the love and happiness around us today and always!"
I'm so excited to hang out with my bestie today! Sending lots of love and good vibes their way 💗
Happy TikTok captions
"Life is like a roller coaster – full of ups and downs. But when you ride through it with the right attitude and stay positive, the view from the top can be simply breathtaking!"
"Let's celebrate life and all its wonderful moments! Every day is an opportunity to make a beautiful memory, laugh until we cry, and appreciate those around us. Let's cherish all the small and big things that make our lives special."
"It's time to put on a big smile and enjoy the day! Life is too short to let it pass by without savoring every single moment. So let's take a step back, be in the here and now, and savor all of life's wonderful gifts!"
Life is what you make of it, so why not make it wonderful? Seize the day and find something to be grateful for; each sunrise is a chance to create something great and make your mark on this world. Focus on the joy that comes from living life with passion and purpose. Carpe diem!
I'm feeling so joyous and thankful today! Every day is full of new possibilities and I'm excited to find out what they bring. Life is vibrant, exciting, and wonderful. Here's to embracing everything it has to offer!
"Smiling from ear to ear, feeling joy and contentment flooding every part of me. Life's little moments are what make everything worth it! I'm grateful for each and every one."
Feeling grateful and full of joy, today is the perfect day to celebrate life! Nothing can dampen my enthusiasm or take away from this moment - I'm determined to make the most of every minute! Here's to remaining positive, celebrating our successes and learning from our mistakes. Cheers!
Happy days are here! Let's enjoy the beautiful things in life and make new memories. Whether it's going for a walk, taking a dip in the ocean, or simply sitting in your garden watching the sunset - let's pause to bask in the wonders this world has to offer. Each moment is precious so let's savor every second with hearts full of joy and gratitude!
I'm having the best time! Surrounded by loved ones and feeling so incredibly blessed in this moment. Life is truly amazing and I'm making the most of every second! No matter what comes, I know that joy will always remain.
"I'm feeling so joyous and grateful today! Life is full of surprises and I'm soaking it all in. Every moment brings something new to fill my life with purpose and happiness. Gratefulness floods through as I look around, excited to see what this day has in store!"
Time to take a break and enjoy the little things in life. Nothing can bring me down when I'm surrounded by sun, friends, and laughter. Who said life had to be hard all the time? Let's forget about yesterday's worries and embrace today with joy!
There's no better feeling than starting the day with a smile. Every morning I'm reminded of how much happiness life can bring, and that reminds me to be grateful for all the wonderful things around me. Make the best out of each day and find joy in life's simple moments!
Smiling from ear to ear and laughing heartily! Life is too short not to enjoy every moment, so I'm taking time to appreciate the little things and make memories that will last forever. Here's to living life with a spirit of joy, positivity and fun! 🎉
Life is full of joy and wonders! I'm so excited to start this new adventure as I embark on my journey with a smile and enthusiasm. Everything around me is sparkling with happiness, and I am ready to take on anything that comes my way!
Smiling from ear to ear, I revel in the moment. Surrounded by joy, pure happiness bursting in my heart, I feel blessed to be alive. Every day is an opportunity for new beginnings and I can't wait to seize them all! Life is wonderful and full of infinite possibilities - let's make the most of it!
"Life is full of possibility! Every day brings new opportunities to explore and create something beautiful. I'm so excited to see how the future unfolds! Embrace all that comes your way with a big smile and an open heart."
It's time to spread some cheer! Life is short, so fill it up with moments of joy and laughter. Let's make today a day to remember! From the start of the morning until night, take every opportunity to bring a smile to your face.
Life is full of moments to cherish and enjoy. Taking a moment to pause and find joy in the little things can bring much happiness into your life. Live in the moment and make sure to savor each experience along the way!
Smiling from ear to ear, nothing can ever stop me! I'm full of joy, determination and excitement - ready to take on anything life throws my way! There's no limit to what I can do, and I'm so grateful for the opportunity!
"Life is meant to be embraced and enjoyed, and that's what I strive to do every day! With every moment I'm thankful for the chance to breathe, love, laugh and find joy in simple pleasures. Here's to living life with a smile on our faces!"
Related Articles