Looking for an easy way to repost your favorite TikTok videos from other creators? Learn how to do it with this quick guide! Here, you'll find out everything you need to know about reposting a TikTok video. 
How to repost on TikTok in 2023
With the right tools, it's easy to repost videos on TikTok, so you can show all of your friends what cool content you've found. There are a few different ways to repost content on TikTok. In this post, we'll be showing you how to do it both by using your mobile app and from your desktop.
How to repost on TikTok using the mobile app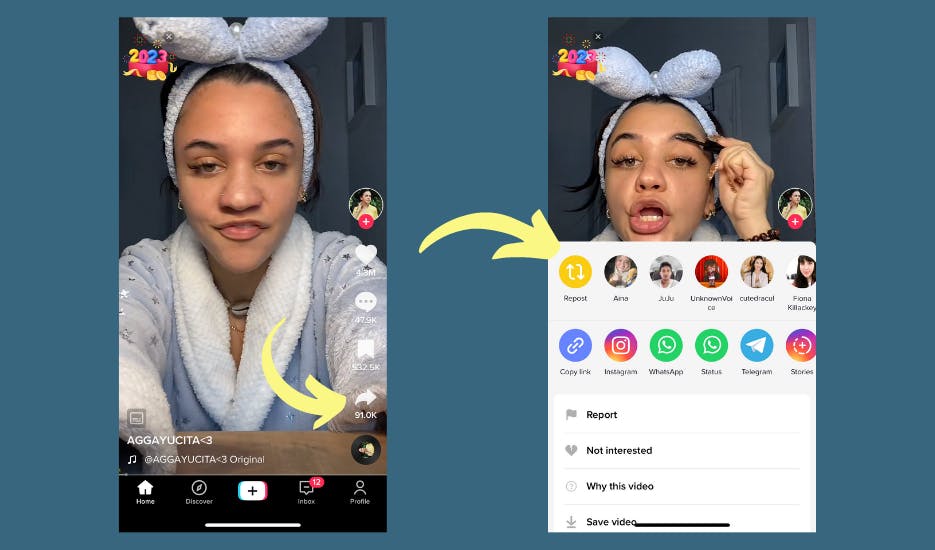 Open the TikTok mobile app
Go to the video you want to repost
Click on it to play the video
Tap on the arrow icon at the bottom right corner
A menu with "send to" options will appear. Select the yellow repost button
Done! The video will be reposted and shown with your profile icon on your followers for you page. 
How to repost on TikTok using Pallyy
One of the easiest ways to repost TikTok videos to other platforms is to use a third party scheduling app like Pallyy. You will need to download the TikTok video first and then publish it or schedule it to auto-post on multiple social media platforms at your chosen time. 
Here's how to do it:
Download the TikTok video
Open your TikTok mobile app
Click on a video you want to repost
Tap on the arrow at the bottom right corner
Select "Download"
The video will be saved in your mobile phone's gallery
Upload the video into Pallyy
Log into Pallyy on your desktop
Connect your TikTok profile 
Go to Media Library
Upload a video 
Repost the TikTok video using Pallyy
Drag video to the Calendar to create a new post
Choose "TikTok" from the list of apps
Type your caption 
Click "Schedule"
Done! Your video should be reposted at your chosen time
Tips for reposting a video on TikTok
Don't forget to tag the original content creator or influencer in the caption and give them credit
Use relevant hashtags to maximize your reach 
Only repost videos that the original author allows to be re-shared 
Related Articles