One of the most important things for social media agencies is to maximize ROI.
That's why, most agency owners are constantly on the lookout for tools that can help save time, money and make team collaboration easier. 
A good social media scheduling tool can help you automate your social media management process and improve your efficiency so you can grow a successful business. 
Sounds like a dream, isn't it?
But with so many scheduling tools on the market, it may be a difficult task to decide which tool is best for your agency.
We're here to help you decide!
In this post, we've rounded up some of the best scheduling tools for social media agencies and teams to boost your efficiency.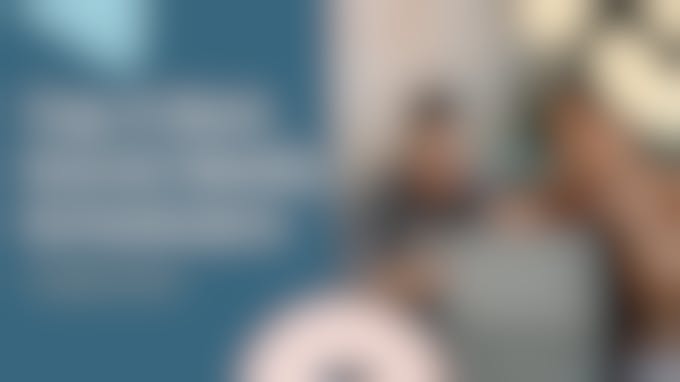 Content
Top 5 Social Media Scheduling Tools for Agencies
Pallyy 
Buffer
Hootsuite
Sprout Social
CoSchedule
Before we jump into the tools, let's talk about the features you should look out for in a scheduling app.
What features are important in a scheduling tool?
Let's be real, every social media manager has a unique way of working and doing things. 
And the features you may be looking for may differ from mine. 
For a start, be clear about your scheduling needs. 
Ask yourself these questions:
What type of content are you looking to schedule? (eg. video, image only, blog posts)
Which social media platforms are a must-have for you? 
Are you working in a team? If yes, how many users?
How many clients do you plan to manage at one time? 
Knowing your needs will help you evaluate scheduling tools and decide which features you're willing to pay for and which features you don't really need.
That's going to help you save more money!
Here are 7 features to look out for in a scheduling tool:
Monthly/Weekly/Daily content calendar
Scheduling to multiple networks
Managing multiple clients
Insights and analytics
Team collaboration feature 
Intuitive design and graphics
Don't forget about pricing

Here are The Best Social Media Scheduling Tools for Agencies and Teams #
1. Pallyy - Most affordable scheduling tool for Social Media Agencies
Pallyy is an all-in-one scheduling, analytics, and management tool built for social media managers and agencies. They offer scheduling to all social platforms and management features that every social media dreams of - at a fraction of the cost that other platforms charge.
Two of my favourite features on Pallyy are the drag & drop post scheduling feature and saved layouts. With saved layouts, I can create presets for posts including caption templates, hashtag lists, and set timezones for each of my clients.
You really have to try it to believe it!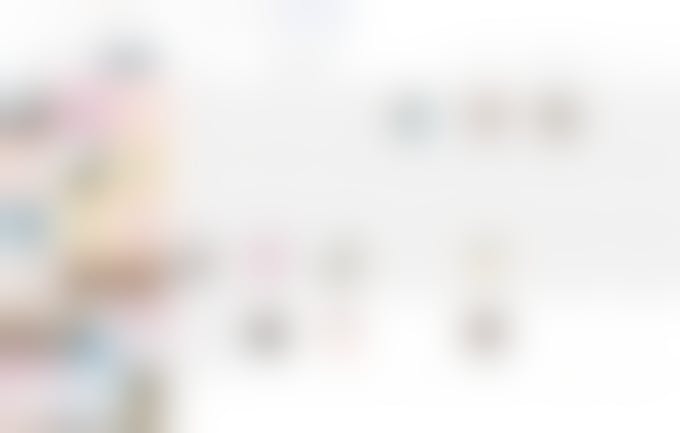 Scheduling Features I like on Pallyy:
Simple, easy to use dashboard
Planner with calendar view
Unlimited social accounts
Create teams and assign roles
Scheduling to Instagram, Facebook, Twitter, LinkedIn, GoogleMyBusiness
Saved layouts for easy scheduling (ie. captions, hashtags, first comment, times)
Engagement tools
Explore feature (for reposting UGC)
Instagram Analytics tools
Automated email reports
Link in bio feature (for Instagram)
Integration with Canva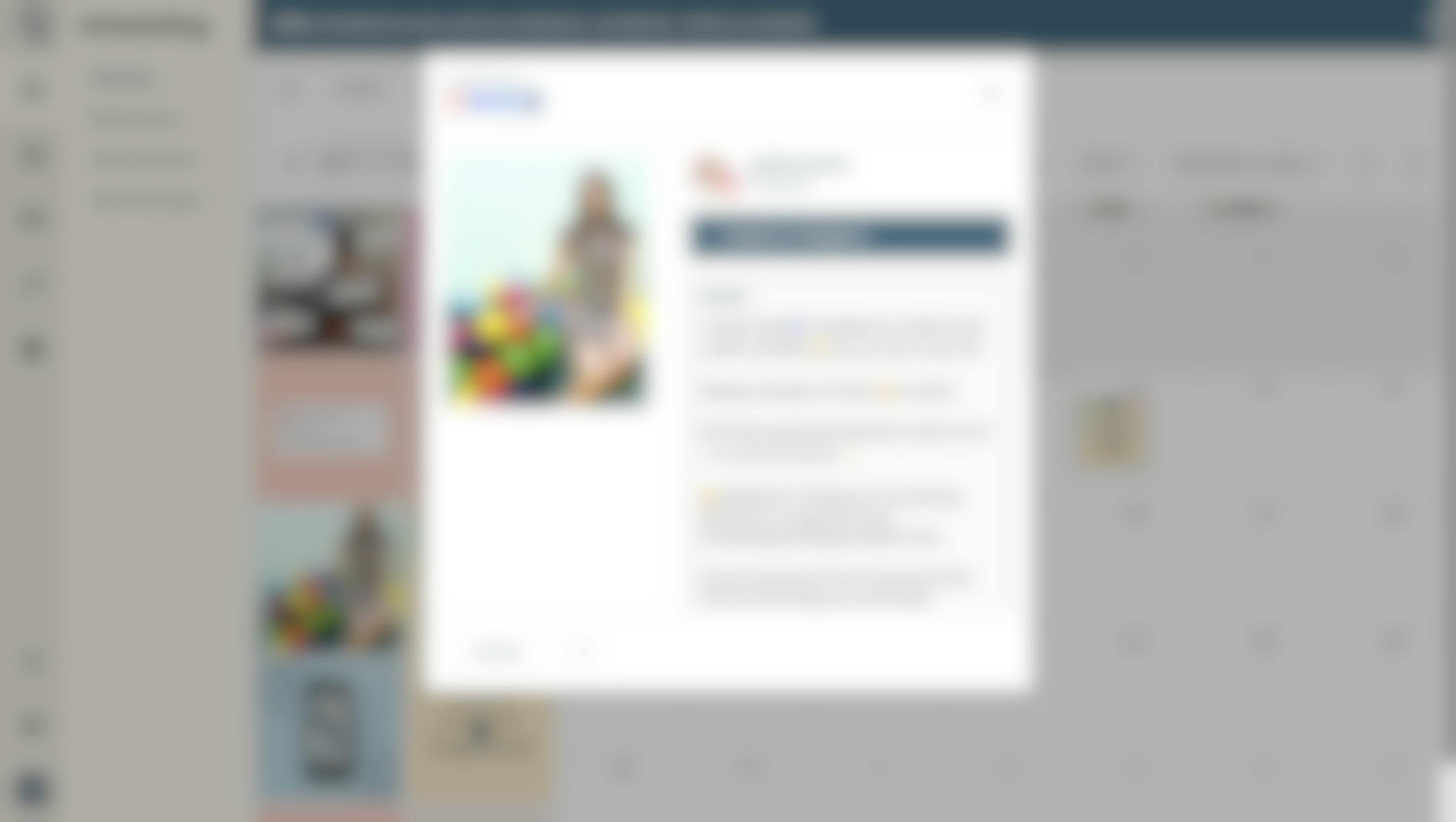 Pallyy Pricing 
Pallyy offers the most affordable pricing for agencies.
They don't limit you on how many clients profiles or social pages you manage, so you can really maximize your savings as you grow your agency. 
Monthly fees on Pallyy start at $15 per client set* for managing 5 clients, and go down to $6.50 per client set if you manage 50 clients or more. 
*Note: 1 client set = 1 Facebook page, 1 Instagram page, 1 Twitter page, 1 LinkedIn page
They also have a free plan so you can test it out before you fully commit!
Learn more about scheduling on Pallyy: https://pallyy.com/ 
Buffer is one of the most well-known social media scheduling tools. It comes with a simple and easy-to-use interface, and offers scheduling across multiple channels. Compared to other scheduling tools, you may feel the calendar is "too simple" or basic. But they really compensate with their Instagram analytics tool which generates PDF reports in no time!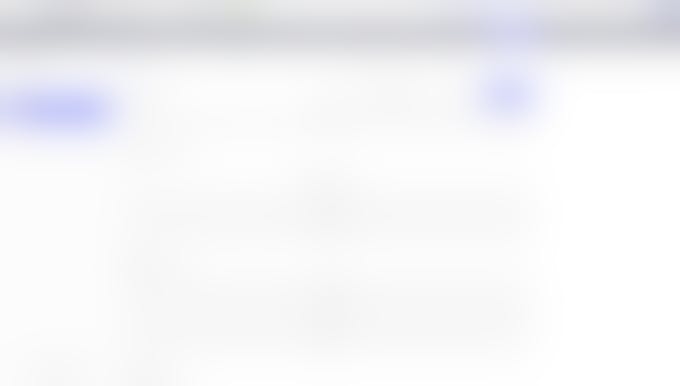 Scheduling Features on Buffer:
Unlimited channels 
Planning & publishing tools 
Daily queue/Calendar view
Buff.ly link shortener
Link in bio tool (Shop grid)
Video thumbnails
Analytics and reporting tools 
Comment management tools
Track hashtag campaigns
Team management (ad-on paid feature)
Buffer Pricing 
Buffer offers a FREE plan and a paid plan that comes with a 14-day free trial. For social media agencies, I'd skip the FREE plan as they limit you to managing 3 social channels. Their Essentials plan comes with unlimited channels and starts at $12/mo per social channel*.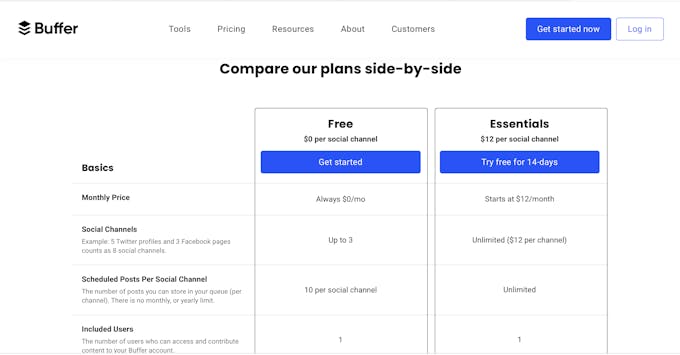 *Note:
1 Instagram page and 1 Facebook page count as 2 channels.
So that's $24/mo for a client that wants to schedule on Instagram + Facebook. 
My advice: Sign up for their free trial and if you find that you really enjoy using Buffer, I'd suggest you sign up for their yearly plan (as opposed to monthly) to get 2 months free. 
Learn more about scheduling on Buffer: https://buffer.com
3. Hootsuite
Hootsuite is another popular social media scheduling platform for enterprises. They allow scheduling to multiple accounts and have integrations with other 250+ apps (most of these apps come at extra cost). The main advantage of using Hootsuite is having a centralized client management platform with the option of assigning tasks to individual team members.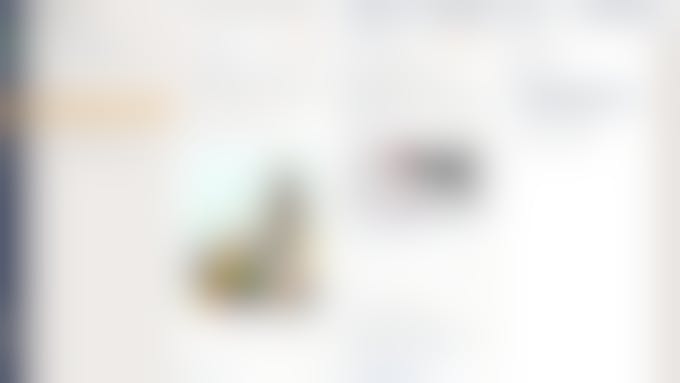 Scheduling Features on HootSuite
Centralized dashboard organized into streams & boards
Scheduling to Instagram, Facebook, Twitter, LinkedIn, YouTube, Pinterest
Assign team roles (up to 5 users)
Manage up to 50 client accounts
Unlimited posts per account
Bulk message scheduling
Analytics reporting
250+ app integrations (at extra cost)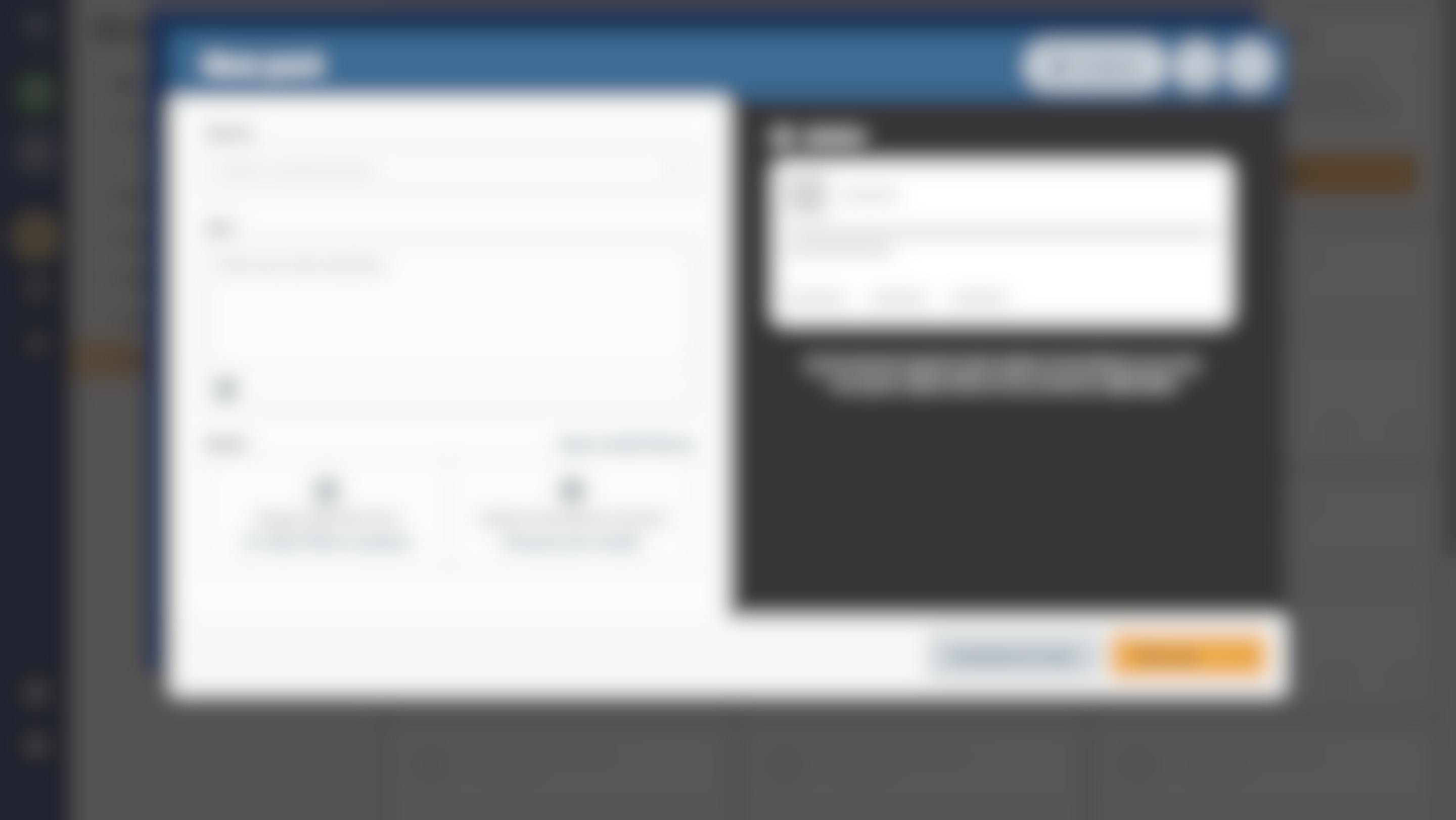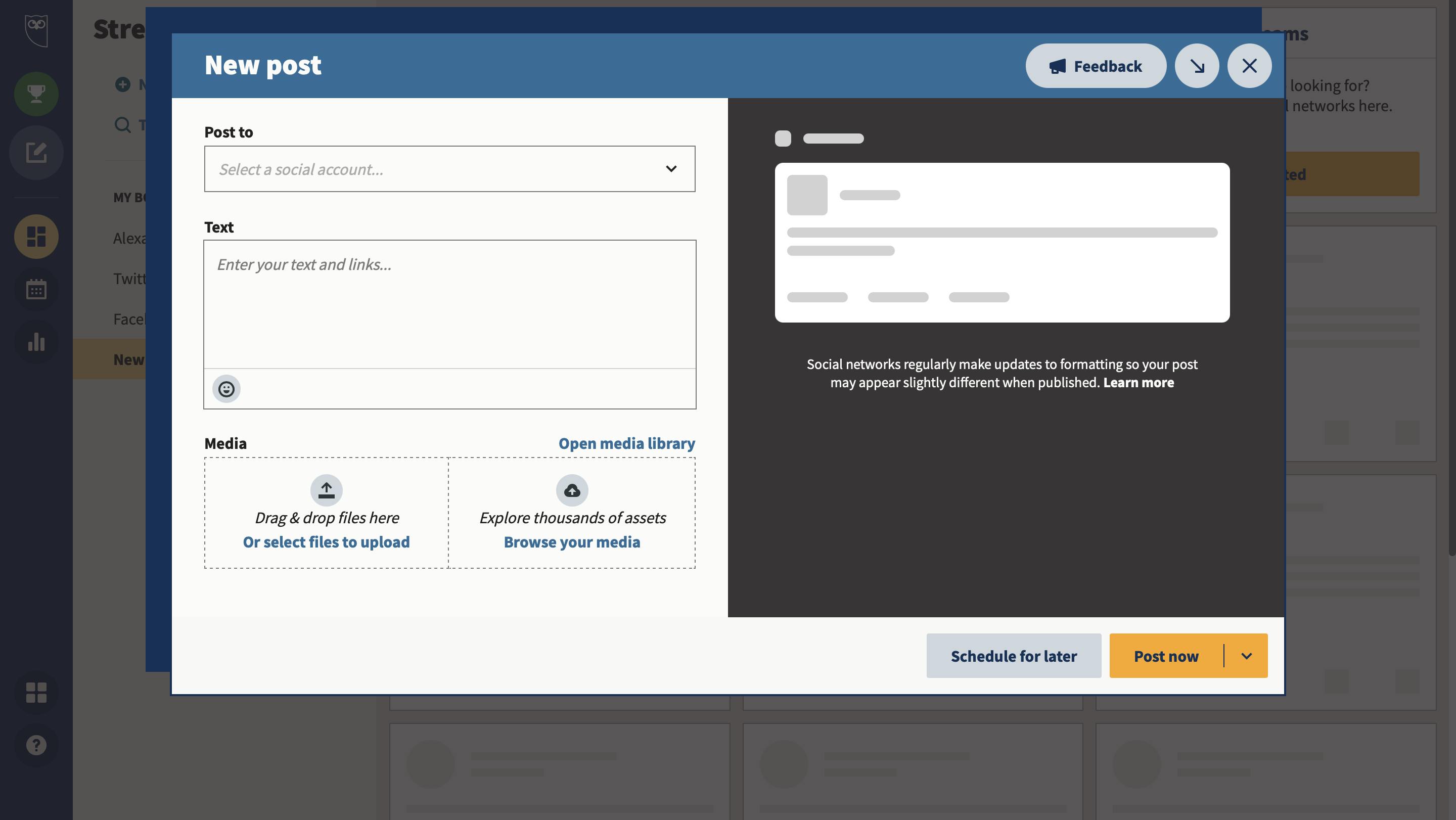 Hootsuite Pricing 
Hootsuite pricing starts at $19/mo for up to 10 social accounts and it goes up to $599 for managing 35 accounts. Each account is a single platform, eg. 1 Facebook page.
If you're keen to try it, you'd be happy to know they offer a 30-day free trial for their paid plans.
You can learn more about scheduling with Hootsuite here: https://www.hootsuite.com 
4. Sprout Social - most advanced scheduling tool comes at a higher cost
Sprout social is an advanced social media management tool.
They offer cross-platform scheduling, customer management, analytics, and social listening.
Some of their unique and most premium priced features include automation (chatbot), smart inbox management, URL tracking and workflows.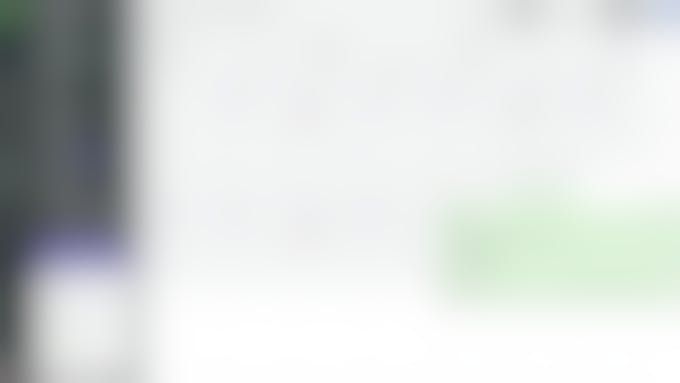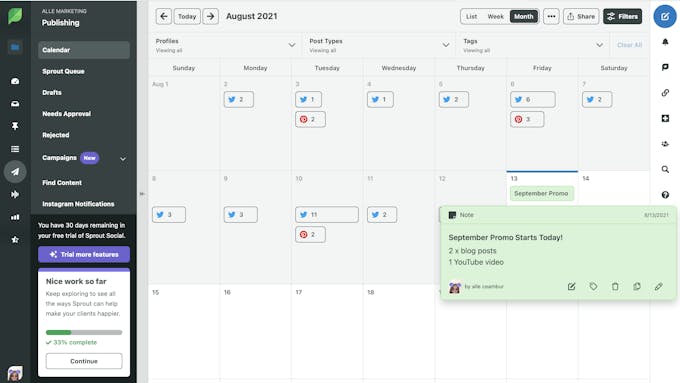 Basic Scheduling Features on Sprout Social
Scheduling to Instagram, Facebook, Twitter, Pinterest and LinkedIn
Client dashboards
Teams collaboration
Shared content calendar
Analytics reporting
Messages management
Social listening
Link in bio feature (Instagram)
Paid ads reporting 
Advanced features on Sprout Social
Automated chatbots 
Message spike alerts 
Digital asset library 
Saved Replies
Scheduled Report Delivery
Automated Inbox Management
Custom URL Tracking
CSAT and NPS Survey
Overall, I enjoyed using their planning and scheduling tools.
The calendar view looks neat and I like that you can add notes next to your post so it's easier to collaborate with other team members.
However, I didn't use a lot of the premium features (ie. automation or social listening) so I wouldn't see myself continue paying for the advanced plan in the future. 
Sprout Social Pricing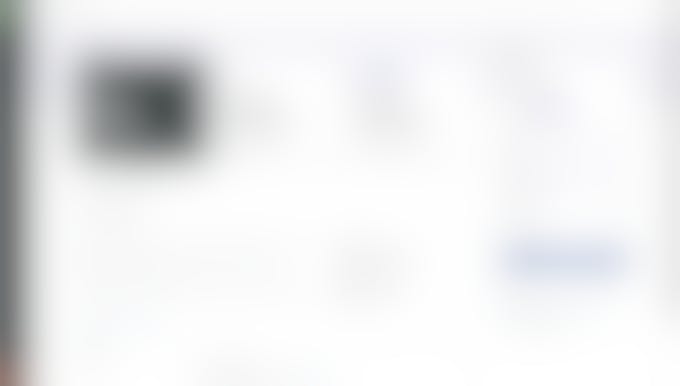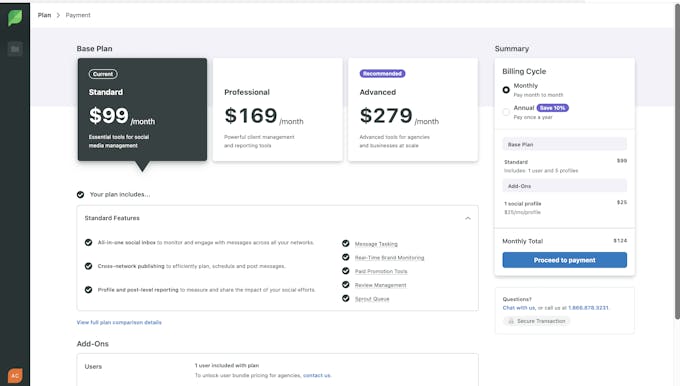 There are 3 pricing levels:
Standard Plan starts at $99/mo for 1 user and 5 social profiles. Each additional profile is charged an extra $25/mo. 
Professional Plan includes 1 user and 10 social profiles and detailed analytics features: $169/mo.
Advanced Plan includes 1 user and 10 social profiles and advanced features: $279/mo. 
SproutSocial plans come with 30 days free trial.
Learn more about scheduling with Sprout Social: https://sproutsocial.com/agencies/
5. CoSchedule - Best scheduler for blog campaigns
If you have a writer on your team, you may be excited to know that CoSchedule allows you to schedule and manage content on WordPress blogs, send email campaigns, and create social media posts from a single dashboard.
The most unique feature is their integration with Trello, Asana, and Monday.com - allowing you to import your existing projects and help you save time!
However, if you're only looking for a tool to schedule social media posts, this tool may be too complex for you.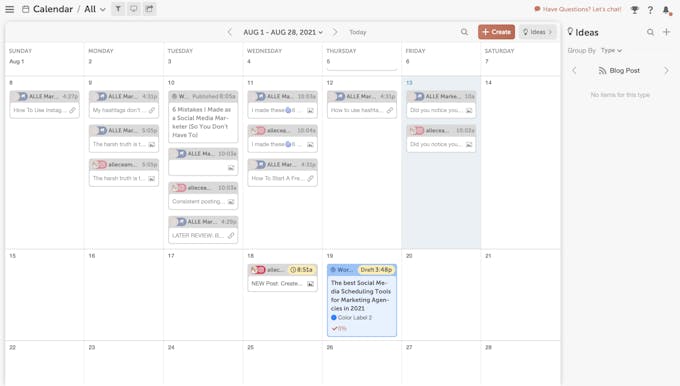 Scheduling Features on CoSchedule
Scheduling emails, social posts, blog posts, campaigns
Scheduling to Instagram, Facebook, LinkedIn, Pinterest, Twitter, and WordPress
Post optimization feature
Import projects from Asana, Trello, Google Sheets & more
Create social campaigns
Social media calendar view
Assign tasks to your team
CoSchedule Pricing 
Pricing starts at $39/mo. for 1 user and 10 social profiles and you're able to customize plans to your needs.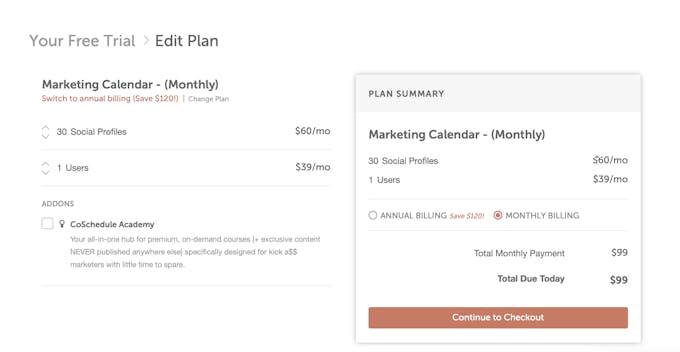 Below are some indicative figures:
$39/mo. for 10 social profiles
$99 for/mo. for 30 social profiles
$159/mo. for 50 social profiles
*Additional user: $39/mo.
CoSchedule also has a free trial.
Learn more about CoSchedule: https://coschedule.com
The takeaway - best social media scheduling tools #
Choosing the right social media scheduling tool is a journey.
Most of the scheduling platforms on the market come with free trials so my advice is to make full use the trial period to get yourself familiar with their features.
Then, you need to think and decide which features are most crucial for you and are helping you optimize your business.
Hope this post has helped give you some ideas.
Now I want to hear from you: Which features do you think are most important for a social media scheduling tool?
Let me know in the comments.